12 Different Ways to Get Luxury Real Estate Clients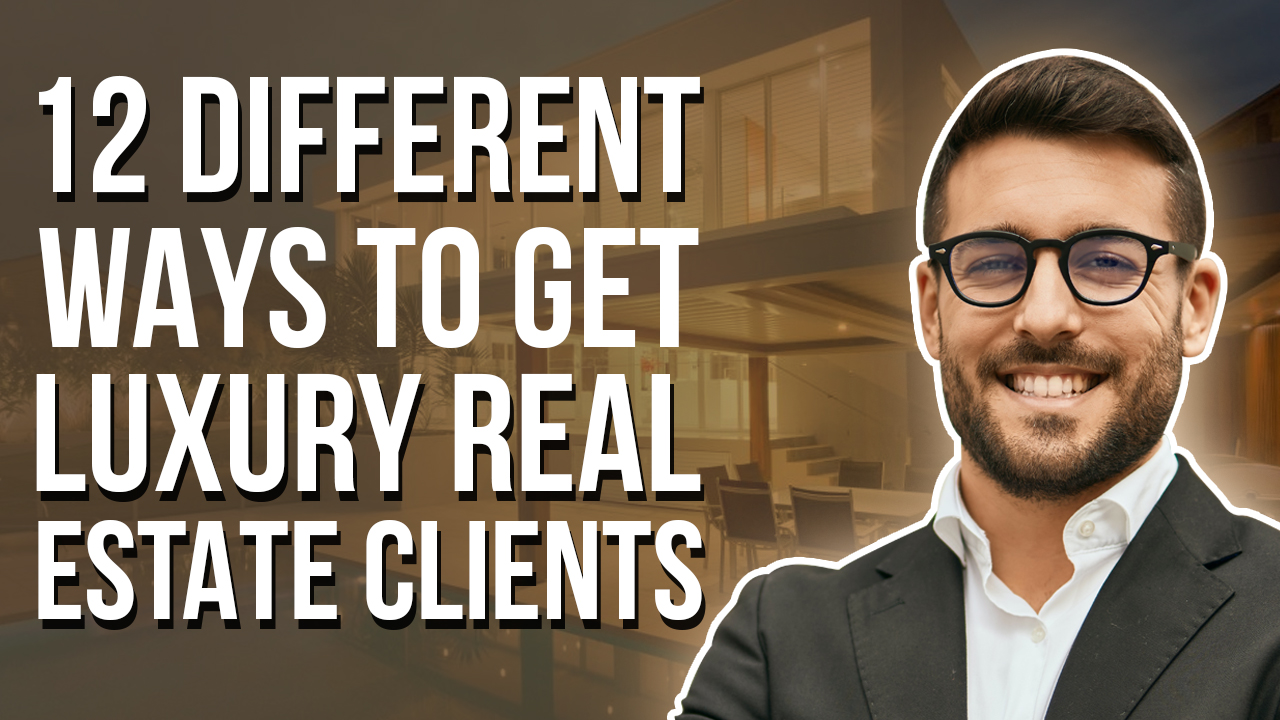 Maybe you want to work with beautiful homes and high-net-worth clients, but you don't know how to break into the world of luxury real estate? You probably feel like you are invisible in the minds of these clients and that may be true. Low-tier agents often don't get leads from this type of clientele, which is because they think they are invisible. So if you plan to become a luxury real estate agent, but have never done so before, it will take time and effort on your part. The number of hours you need to commit will vary depending on your current situation.
For today's blog, exclusive to our TTP members, we will be talking about different ways to get luxury real estate clients. Now without further adieu, let's get into the blog.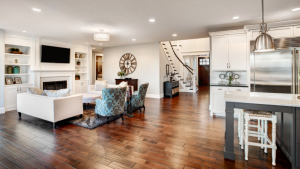 So why are marketing materials important for luxury real estate brands? The luxury market is a lucrative sector. In this market, the residences are grander and more state-of-the-art. As this is a trending upmarket, luxury property marketing materials are in demand as a way to sell these fabulous homes. Using marketing materials in selling real estate on the luxury side, you can attract clients and bring increased visibility and awareness to your business. A real estate developer or agency, by bringing both digital and traditional marketing into the mix, can reach a wide array of their target audience.
Having curated and highly specialized marketing for luxury properties provides an elevated buying experience that attracts the buyers that you are looking for. Luxury real estate marketing materials are essential to selling properties because it helps to increase the buyer experience, which in turn will improve the chance for a quick sale. Brand image is important in order to keep the property from blending in with other luxury residences. To successfully market a high-end property, you need to describe the amenities and features of your residence but also sell your lifestyle. The majority of high-end buyers have specific marketing preferences.
Developers and agencies often spend a ton of money on marketing for this demographic so it's important to customize your marketing for these people. Digital marketing has increased the visibility of properties and is the preferred way for homebuyers. According to the National Association of Realtors, 76% of homebuyers used their mobile phone or tablet in their home search. Real estate marketing materials need to evoke emotions and create an experience for buyers. Luxury real estate marketing materials should invoke emotion and convince the buyer that this is something worth buying into.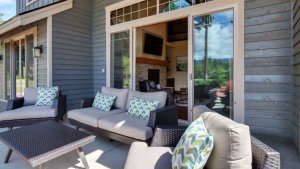 Here are 12 luxury real estate marketing materials, both digital and traditional, that you should use. With luxury real estate marketing materials, a custom website is considered the number one thing to get. This can be a specialized and designated website only highlighting one property. When you are selling mega-mansions and expensive properties, this website will be your norm because it allows for an in depth look at their home. A custom property website is an idea for boosting the marketing style. It would look professional and appealing to visitors, and allow them to know about your property. Drone images are popular due to the new technology, as they can show a different perspective of your house from above. In today's world 36% of realtors use drone professionals.
The next one is getting real estate landing pages. With a real estate landing page, you can provide an overview of properties and also promote your high-end branding. It provides potential buyers information about the property, and helps them to make a decision on whether or not to turn it into their new home. If someone clicks on an ad for your company, they will likely see your landing page. A site like this can be used to showcase individual properties you have for sale, as well as advertise that you are the best in the area (using high-end branding) and offer information about what is offered. Be sure that your real estate landing pages are neat and professional.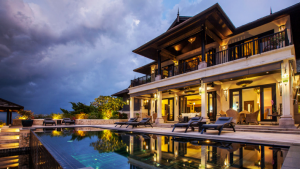 When they are too cluttered, you will lose the interest of your visitors, because there's just too much going on. The images that you use in your marketing materials have to be the best possible, because they show the property in their best light. Professional photography is highly useful, and a good design should follow suit. If need be, you can hire advertising professionals or web designers to help you out with this one. You should disregard anything that looks too cheap, gimmicky, or comical. Stick to neutral colors and nothing too bright, especially on the font colors. Keep in mind that the images that you have on the landing pages should showcase the best features of the property.
One of the best things that you can put on your landing page is opportunities where customers are able to obtain more information. This could be a simple form that requests for basic contact information like name, email, and phone number. If the customer is asking too much, they will not fill the form out. You have to make sure that it's easy enough for them to provide their information. In getting people's contact information, you can entice them with a freebie like a free market report delivered to their email so that they will have a value-added experience.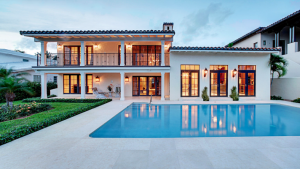 Besides your website and real estate landing pages, you can also write a blog for your luxury business. Blogs are more information-based and can discuss how the current state of the market is. You can also write about specific properties that you're selling, giving more perspective on the luxury homes being sold and making them more relatable to a wide audience. You can utilize luxury blogs to get more clicks through your website as they promote high visibility for your real estate brand. You can also use them to increase relatability and keep them light with your audience while showcasing your personality and perspectives. aSide from that you can use them to show your character. Doing so, you will surely attract more clients who can relate to you and appreciate what you are doing.
Another way to get luxury real estate clients is through whitepapers and e-books. When creating content or a lead generation method, use whitepapers and e-books. These will elevate your original content to the next level by adding different ideas and information to your company. Aside from whitepapers and e-books that can provide helpful information to your audience, they can also help generate leads. They can help buyers make informed decisions more easily. It also helps initiate buyers onto the buying process, by providing them with relevant information that they need before taking the final leap. Potential buyers can use both mediums to help them reach a decision. Both whitepapers and e-books increase your credibility because they're made by respected members of the industry.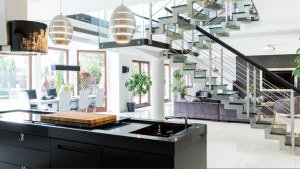 The next one is calle PPC ads or pay per click ads. It is an advertising model online that is utilized by different sectors of the  business industry. The major part of the appeal when it comes to PPC ads is that the business only pays when someone clicks on their ad. PPC ads are commonly found on top of search engine results like Google or Bing. Once the user clicks on your ad, they will be taken to a landing page which is either your website or a dedicated landing page that showcases the property that you are selling.
With so much advertising moving to digital, people might be surprised to hear that newspapers are still an effective way of promoting luxury real estate. For many people, newspapers are a morning ritual which they enjoy while drinking their coffee. If you want to advertise in a newspaper, it is best to do so with a full-page or double-page spread. This will capture the attention of readers and provide them with the highest quality advertisement. If the pictures are in black and white, make sure that they are of the highest quality.
A digital way to get luxury real estate clients is through digital storybooks. Digital storybooks are a new way to promote your luxury property listings. The video or interactive will showcase your property in the best light and frame it as the main character. Digital story papers increase engagement and let viewers have an immersive experience around the property so more people can fall in love with it. Digital storybooks create an immersive production with international audiences in mind. With the ability to buy your property from anywhere in the world, international buyers are able to experience the walkthrough of your home, when they are unable to do so physically.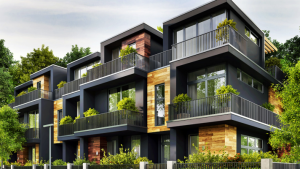 Another way is through email marketing. E-mail is a great marketing channel because most people have their email on their smartphone. It is a quick and informal form of marketing that will allow you to get high visibility for your property. An email list is important, especially in the real estate world. You can use an email blast as a quick and easy way to capture a wide range of audiences with minimal effort, and this usually takes just a few minutes per day. You can strengthen your business by using email marketing to grow your email list with a diverse range of contacts such as buyers and other agencies.
This might be new for you but you can use tiktok as your platform for getting luxury real estate clients. Now, you might think that TikTok is only for the younger generation but actually it has a wide array of viewers that can potentially see your brand. There are a lot of TikTok videos that go viral. The biggest selling point of TikTok is that videos are short and straight to the point, usually lasting 60 seconds or less. Rather than a teenage pastime, businesses are using TikTok as a way to relate to the younger crowd and you can do paid ads through this channel as well.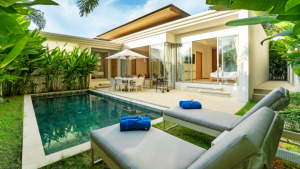 While we are in the video type of electronic medium, another way is through virtual video tours. Virtual video tours are one type of luxury real estate marketing material that has gained considerable popularity, especially with the way people start to rely on them when touring the property. COVID pandemic has changed the way people go to open houses and because of that, they have started to rely on virtual tours as an alternative means of making viewers feel like they are there without having to actually be present themselves. Virtual tours can be used as a supplement to an open house experience. Potential buyers might not have the chance to view certain features of the property because it only takes them a short time before they need to leave. Virtual tours allow potential buyers to take a closer look at what they would've missed. It can be showcased either through your website or Youtube. People who visit your website can be treated to an in-depth video tour of the features of each property you are selling. This enables them to get a feel for a property before deciding whether it is something they would want to buy.
As we all know, social media has taken the world by storm and it is by far. It is one of the easiest channels to access because the majority of social media users can have it on the tip of their fingertips. High-end marketing for luxury properties has entered the social media scene. In doing social media, make sure that you are representing your luxury brand and highlighting the prestige of working with you. You can use different social media platforms as part of your real estate marketing strategy. It is best to choose a few platforms where you believe the potential clients are likely to be. One of the social media sites that you can use is Facebook. Facebook is a prime social media outlet to advertise high-end real estate with a billion users all over the world. It has been instrumental for developers and agencies around the world to create their brand and follower base. High quality ads on Facebook can deliver more traffic to your Facebook page.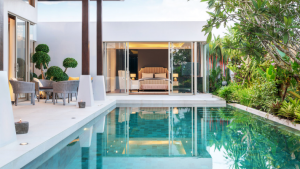 Another one is through Google. Google is the number one search engine and should be your goal, when it comes to SEO. One way to rank well in Google searches is by using keywords while adding new content on a regular basis. Ranking well on Google also translates to more clicks being made on your site which promotes high visibility. You can also use LinkedIn. LinkedIn is a site specifically for professionals, so it's much better than Facebook or Instagram. When you have your real estate page on LinkedIn, you will be able to attract high-net worth business professionals who are already on the site. Instagram is also a great way to promote. Targeting ads through social media takes time, but it is a great investment and the price will pay off. If you work with a team that monitors targeted ads, you will get to know about people who click on your posts and what they are interested in.
Lastly is through the use of event hosting brochures. In selling a luxury property, open houses usually don't work because they attract everybody off the streets. You should prefer curated events and experiences and it is usually by invitation only. This way, you can limit the number of people who are trying to see the property and make sure that they are in your target audience. As part of your invite, you can give out event hosting brochures which have information about your event and all the pertinent details.
The luxury residential market is slower than the traditional real estate market, with homes taking more than 100 days to sell. Because of this, it's important that you use luxury real estate marketing materials when selling your property in order to attract buyers. When deciding your marketing channel, you have to be mindful of your target audience and find the best way to reach them. Digital marketing is most often preferred among people because of how quick and easy it is. It can also reach a diverse range of people at once. On the other hand, print and traditional advertising are still around as well and can be utilized for buyers who don't know a lot about technology. Buyers in the high-end market have certain expectations and should receive extra attention. Buyers have certain expectations, so you need to be able to create marketing materials that are focused on them and are effective. Think of it as a way to highlight not only the property that you are selling but your company as a whole.
There you have our TTP blog for today. What do you think of the tips we've shared? When are you going to start, if not today? Let us know in the comments below. Don't forget to subscribe to our channel, click the notification bell, and like this blog. If you think that we have delivered value please share this blog with one person. Just one share is enough for us, for you to show your appreciation for the commitment and hard work we all put together in creating this blog that teaches and helps you on your mission of building your own fortune. And you don't know that one share could go a long way. And keep in mind that no matter how many times you're going to read this blog, you won't see any results unless you take action. Good bye and see you at the next one!
---