Aaron Donald Sold His CA Mansion for $6.25M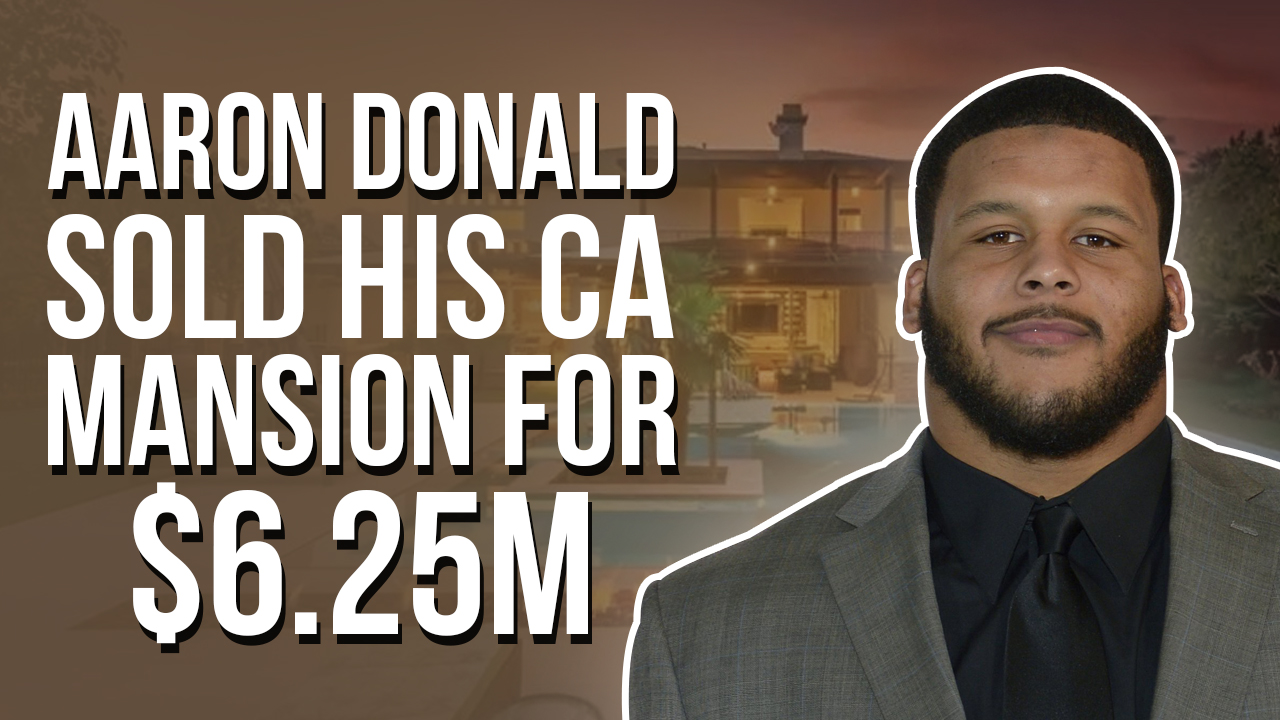 Los Angeles Rams star Aaron Donald and his wife, Erica, have listed their $6.25 million Los Angeles estate on the market. The six-bedroom, six-bathroom home is found in a luxurious gated community with plenty of amenities for those looking for an upscale living environment. The home includes a four-car garage and even has a basketball court backyard.
Luckily for you, TTP Member, we have covered everything you need to know about Aaron Donald and his California Mansion! Let's get this started!
The listing of contact information for people to reach Donald surfaced after he helped the Rams win the Super Bowl in a dominant performance, that has left some wondering, whether he would return following the season. The three-time Defensive MVP confirmed recently that he has been in talks but hadn't announced a return yet.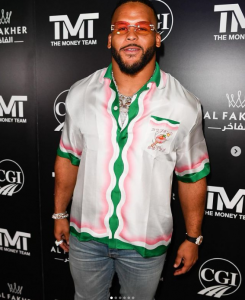 The Defensive Great purchased this property in 2018 and it was listed for $4.7 million. The location is in the Oaks of Calabasas, a nearby guard-gated enclave of celebrities and professional athletes. It is an exclusive area north of L.A. which overlooks incredible views. Residents include Clay Matthews and many a Kardashian.
The home was built in 1996 and has been rebuilt and reimagined, which is noted in the listing. The decoration features football-themed décor, with a portrait of the No. 99 hanging in the barber room.
The sprawling 7,036-square-foot mansion is found in the Oaks of Calabasas. The city's closest guard-gated community filled with other celebrity residents over the years has six bedrooms and seven bathrooms spread across the two-story floor plan, which includes a step-down lounge, open concept kitchen, and self-contained guest quarters.
The home's main living spaces open into a large foyer with a sitting area and fireplace off to the side, according to listings photos. The main floor opens into a "great room" that includes a large sitting area, a game room with custom beamed ceilings, and a kitchen/breakfast area, which has seating of its own.
Donald has a knack for decorating when away from home. Photos show he brought sleek gray shades to the living spaces and a barbershop while visiting.
T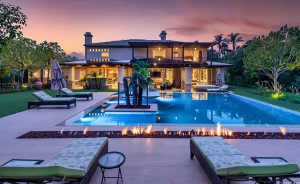 he kitchen and great room opens to the home's backyard, which includes a covered backyard deck with a sitting area, an outdoor kitchen, and fireplace, as well as the infinity-edge pool. It is currently outfitted with palm trees and a hammock. The exterior features a 1,500-square-foot glass-covered patio with a zero-edge swimming pool, comfy suite, and fireplaces. A basketball court completes the scene.
The property includes amenities such as a fireplace, sitting area, and bathroom complete with his and hers sink, ample natural light, and security cameras. Some of the other amenities on the property include a barbershop, a formal dining room, and Lutron lighting.
Now that's a luxurious mansion. 
Now let's talk about who Aaron Donald is.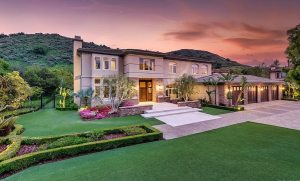 Aaron Donald is a Super Bowl winner who plays as a defensive tackle for the Los Angeles Rams. Donald is currently one of the best defensive players in the league and may be considered to be the best defensive player overall, with his ability to generate pressure.
Donald was born in Pittsburgh and grew up in the Lincoln-Lemington-Belmar neighborhood. He attended Penn Hills High School and started as a defensive tackle and also an offensive guard. He committed to the University of Pittsburgh and played 13 games in his freshman year, as a backup defensive tackle. By his sophomore year, Donald had started for the team and by his senior year, he was one of the best defensive players in college football.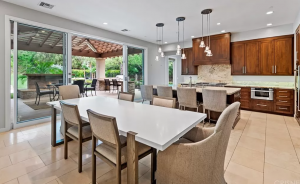 Aaron Donald was the best-rated defensive prospect in the 2014 NFL Draft. He set the prior record for the fastest 40-yard dash by a defensive tackle at 4.68 seconds during their NFL Combine. The Rams drafted Aaron Donald as the first-round pick of the 13th overall pick in the 2014 NFL Draft. Other notable players from that year's draft included quarterback Jimmy Garropolo, wide receiver Odell Beckham Jr., and edge rusher Khalil Mack.
Donald signed a four-year rookie contract with the Rams after being selected in the draft. In his rookie year, Donald won the Defensive Rookie of the Year award and was also named an NFL All-Rookie Team member.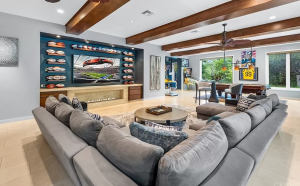 He started all of his team's games and ended the season with 69 tackles, 11 sacks, and a fumble recovery. For this accomplishment, he received some accolades like being selected to the Pro Bowl and being named First-Team All-Pro.
Donald had a strong third season with the Rams but he was fined multiple times through the regular season for unsportsmanlike conduct and unnecessary roughness.
He won the NFL Defensive Player of the Year for top performances in 2017 and was also selected to the Pro-Bowl for a fourth straight time.
In 2018, Donald signed a $135 million deal with the Rams that guaranteed him $87 million. This contract makes him the 7th highest-paid defensive player in the NFL.
He helped the Rams reach Super Bowl LIII against the New England Patriots, but they ended up losing. He was ranked number one among his peers in the NFL Top 100 Players of 2019.
Aaron Donald led the Rams to another NFL playoff victory, winning the 2020 Defensive Player of the Year as a result. In 2021, Donald led Los Angeles to a Super Bowl victory over Cincinnati Bengals.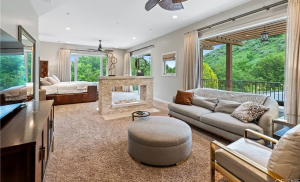 Donald made two sacks, three quarterback hits, and one pressure play to go along with the fourth-down stop that secured a 23-20 Rams victory.
 Aaron Donald has an older brother who was a football player at Toledo and then retired in 2011. Aaron is married to Erica Donald, with whom he has been dating for a long time and they also have a son. He has two children from his previous relationship.
Aaron Donald is estimated to be worth around $60 million in 2019. In 2021, he was ranked 40th in the world as an athlete by Forbes magazine. His contract with the Rams earned him a $135 million signing bonus, as well as other sponsorships and endorsements.
And before we end this blog, here are 3 facts about Aaron Donald!
One, Donald says he tries any food, but his favorite is breakfast tacos. Donald's personal chef, Aaron Sain, makes breakfast tacos for Donald because he makes him food that Donald likes. The delicious meatballs got their name because Donald was inspired to dance around the kitchen after enjoying a taste.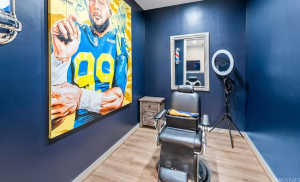 Two, Aaron Donald is the mirror of his father, Archie. Archie built a weight lifting gym in their family home in Pittsburgh. It was affectionately called "The Dungeon". Donald spent many hours with his father and brother pumping iron. Archie taught Donald discipline, patience, and confidence which developed his physical growth and mental wellness. He then trained Donald in goal setting and ensuring he would achieve those goals. Donald himself admits to becoming a couch potato before turning 12, with it being on this day that his father got him into physical conditioning. Archie was an important part of skill-building in Aaron's life as it helped him grow a work ethic and led to his incredible body-building drive.
And three, Donald is much more than a pro athlete. He can also be considered a pro at the dinner table. He has to consume a large number of calories each day to fuel his physique. On his "high-volume" workout days, he eats around 5,000 calories. According to Ram's head dietician, Joey Blake, if Donald did absolutely nothing in a day, he would still need 2,817 calories to fuel his body.
Aaron Donald's diet has been broken down in an interview by Blake. Donald eats 50% carbs, 20% protein, and 30% fats. The part that is most interesting is that 245 grams of protein, 616 grams of carbs, and 164 grams of fat would be about the amount of one meal for Aaron Donald in a day.
That's it for this blog TTP Member, remember to subscribe to our channel and if you feel like we've delivered value please share this blog with ONE person. That's right just one person as a token of your appreciation for the hard work we put into making content that educates and helps you on your mission of building your own fortune. Remember you can read blog after blog, but it isn't until you actually take action that you'll start to see results. See you soon!
---