All-Pro Von Miller Selling Stylish Custom Compound in Colorado for $4.1M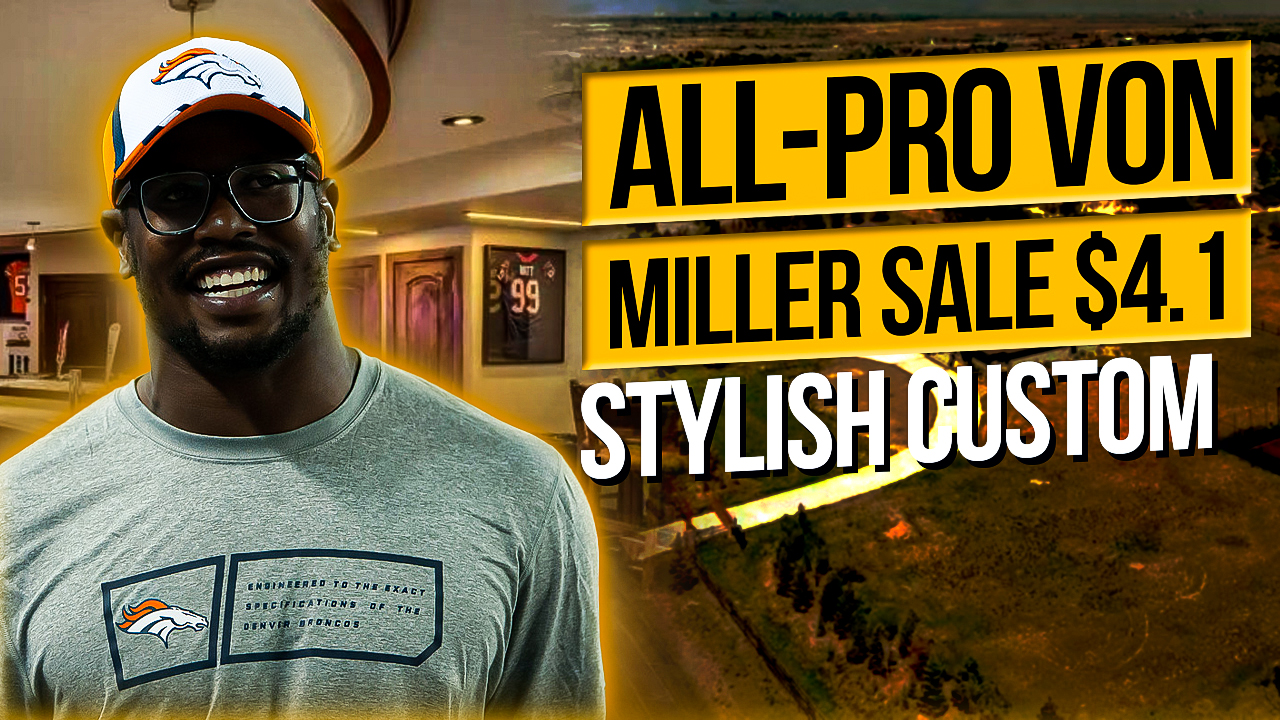 There was never a wait for a bathroom when people visited Bills linebacker Von Miller's home in Foxfield, Colorado. Miller, the former Broncos star, has put his home on the market, and it has nine bedrooms, four full bathrooms, and 11 partial bathrooms. The home for listing on Christie's International Real Estate is 17,418-square-feet and sits outside Denver. The property has 4.32 acres of land.
For today's blog, exclusive to our TTP members, we will be talking more about the all pro Von Miller and Colorado home that is now on sale in the market. Now without further adieu, let's get into the blog.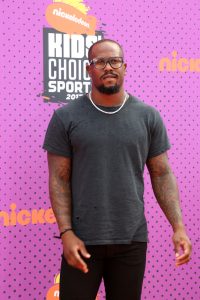 Von Miller might be new to the Buffalo Bills, but he's no stranger to the spotlight of the NFL. This past February he won his second Super Bowl as a member of the Los Angeles Rams. Back in 2016, after winning Super Bowl 50 with the Denver Broncos by scoring six tackles, two and a half sacks and two forced fumbles. Miller has not only been dominant on the championship stage, but he has been consistent throughout his career.
Miller has 115.5 sacks, 27 forced fumbles, nine fumble recoveries, 154 tackles for loss, and one defensive touchdown. In 2018, Millers was the Denver Broncos' Walter Payton Man of the Year nominee. An eight-time Pro Bowler and three-time first-team All-Pro, the 33-year-old Miller is well on his way to the Hall of Fame. With a six-year deal in place with Buffalo, he'll look to add more accolades to his resume. Miller may be an NFL player, but he is also involved in other off-field pursuits. For instance, he has a Von's Vision foundation that helps kids with vision problems.
Drafted with the second overall pick in 2011, Von Miller has become well-known for his eyeglasses. He has used his higher profile to help others with their vision needs. Ten years ago he started Von's Vision, a charity that helps in-need college students obtain vision care. Miller hosted the Gig'em Gala to raise money for Von's Vision. It was his third annual event to help support this charity. "I've had eye problems and eyeglasses problems my whole entire life, and I was just sitting at the house one day, signing autographs, I took my glasses off and I was like, 'Man, I'm going to start Von's Vision,'" Miller said, per Darryl V Bruffett of KBTX. "I'm going to give back contacts, glasses, LASIK surgery, pretty much anything to do with eyes back to children in need.".
In 2012, he teamed up with Ubisoft, makers of the video game, "The Hip Hop Dance Experience", to create his very own sack celebration dance called "The DeSoto Shuffle" that was inspired by the video game. And each time he performed the dance during a game, Ubisoft made a charitable donation to his foundation, Von's Vision, which is devoted to providing eye care and glasses to underprivileged children.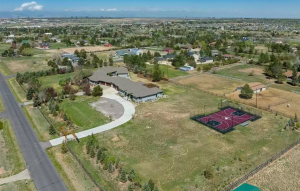 Miller believes that his work with Von's Vision is not just charity. It is a bond he shares with the children he wants to help. Miller won the 2019 Jefferson Awards for Outstanding Public Service in Sports. "To really help in that area, it's incredible," Miller said, per Jon Heath of Broncos Wire. "I haven't gotten LASIK to this point just because of that."
The Von's Vision foundation incorporates programs such as free eye screenings, vision testing and prescription eyeglasses for students without these services. Registered volunteers with expertise in eye care can travel to underserved communities to provide onsite care. Through Von's Vision, Miller will ensure that he leaves a lasting impact long after his playing days have ended.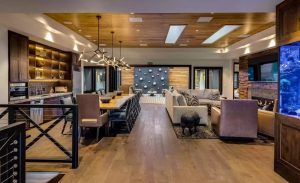 The Two time Super Bowl champ Von Miller is selling his Denver-area mansion for $4,125,000. The star linebacker, who played for the Denver Broncos, used to own a lavish estate. He bought it for $925,000 in 2012 and added custom features, such as a game room and home theater. The mansion has a 1,488 square foot walk in closet .
It's the ideal space to showcase Miller's many looks, from T-shirts to destroyed jeans, to his massive footwear collection. The said walk in closet was even featured in a GQ Sports video. So after his mid-season trade from the Denver Broncos in 2021, Miller is ready to move on from his ritzy home. The Denver suburb of Foxfield is 20 miles south of Empower Field at Mile High, where the Broncos play their home games.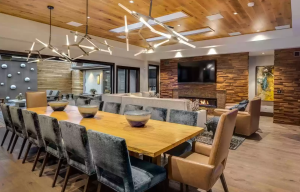 Von Miller's gated estate features two separate houses connected with a central hallway on the first floor. The huge estate spans 18,745 square feet and includes 36 rooms. The original property comes with four bedrooms and five bathrooms on the upper floor. There are also an additional bedroom and two baths on the lower level. The kitchen is large with a massive island in the middle of the room, and it joins the living room with a floor-to-ceiling stone wall.
There is also a formal dining room, home office, and den. This beautiful mansion comes with a fireplace, patio access, and a spa bath in the master suite. It also has custom closet space. The basement has been renovated and completed, with amenities such as a wraparound bar, theater, and game room that are likely to be used by family members.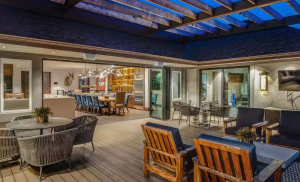 There's even more! In addition to the 2018 original home, this house also has an extension. It has three bedrooms and five bathrooms on the main floor, with floor to ceiling folding doors that open onto the patio and a water feature outdoors. The open-plan first floor features a great room, as well as a gym and a steam room.
There's a cigar lounge on the lower level and a backlit wall with LED lighting. There is an opportunity for recreational space, inside and out. It has a sports court, a fireplace and grill, and a concrete patio. The house has an eight-car garage and there is plenty of open space for any recreational vehicle.
Von Miller is a native Texan, who played college football for the Texas A&M Aggies and received All-American honors. The Denver Broncos selected Von Miller as the second pick overall in 2011. He played for Denver for a decade and helped lead them to victory in Super Bowl 50. Last year, he was traded to Los Angeles and was an integral member of their team that won Super Bowl 53. This year, he is publicizing his new six-year, $120 million contract with the Buffalo Bills. In addition to his Colorado abode, the poultry science major also owns a chicken ranch in Texas.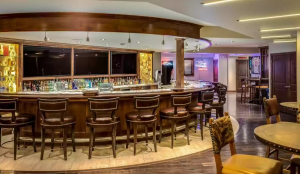 The 2015 Denver Broncos were champions in defense and the key to their success was their defensive players. With contributions from players such as Von Miller, DeMarcus Ware, Aqib Talib, and Co. were No. 1 in the NFL in total defense that season. Talib was a member of the NFL's "No Fly Zone" secondary. He would also lead the NFL in passing defense. A team with the talent to match their amazing defense needs special chemistry, bond, and culture to go along with it.
So when Miller put his Colorado house up for sale, the former star cornerback understandably had a melancholy reaction. The crown jewel of the home, from a sports fan's perspective, is the man cave. His teammates called it Club 58. "Von has this sick basement. He's probably spent a million dollars on his basement alone," former Broncos wide receiver Emmanuel Sanders told Dan Patrick in 2016. "We call it Club 58. He has a bar, he has games, we play poker and just hang out. It's pretty cool."
Previously, Miller was one of the Broncos' cornerstone players until he was traded to the Los Angeles Rams midway through the 2021 season. With his time as a Ram, Miller managed to win an additional Super Bowl ring in addition to receiving a six-year contract worth $120 million with the Bills this offseason. With Miller on the East Coast, it made sense for him not to need the Foxfield mansion. However, the memories he made in the house, and with the orange and blue team will never go away.
There you have our TTP blog for today. Now, what do you think about the mansion? Let us know in the comments below. Don't forget to subscribe to our channel, click the notification bell, and like this blog. If you think that we have delivered value please share this blog with one person. Just one share is enough for us, for you to show your appreciation for the commitment and hard work we all put together in creating this blog that teaches and helps you on your mission of building your own fortune. And you don't know that one share could go a long way. And keep in mind that no matter how many times you're going to read this blog, you won't see any results unless you take action. Good bye and see you at the next one!
---