Amanda Seyfried Lists Her $3.25 Million Manhattan Condo For Sale Celebrity Real Estate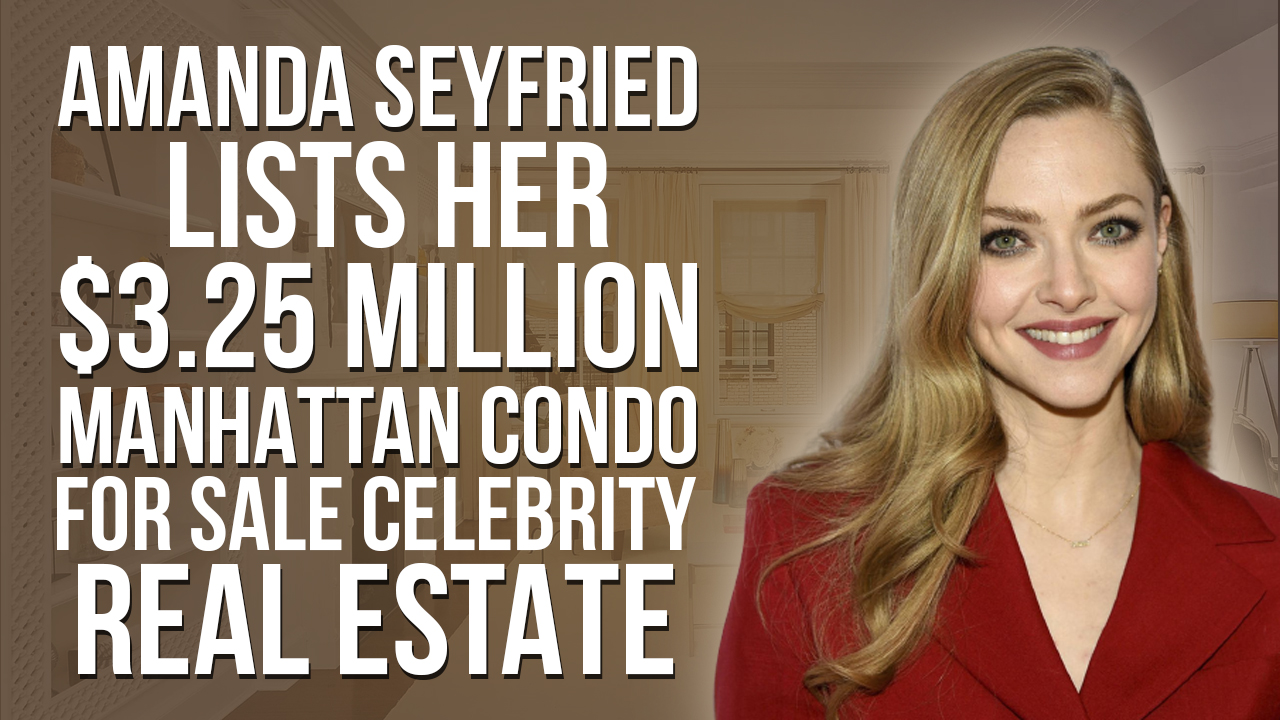 Just fresh from her role as the Silicon Valley's biotech fraudster Elizabeth Holmes in "The Dropout" a Hulu limited series, and amid filming the upcoming "The Crowded Room" an Apple TV+ drama anthology, the actress, known as Amanda Seyfried, just listed her former Manhattan home for $3.25 million just after selling a townhouse in West Hollywood for $1.9 million last year.
For today's blog, exclusive to our TTP members, we will be talking more about Amanda Seyfried and her Manhattan condo which she bought in 2010 that is now listed for $3.25 million. Pretty amazing right? Now without further adieu, let's get into the blog.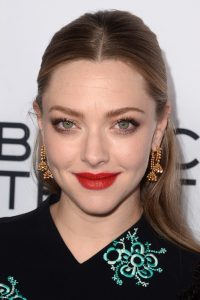 Amanda Seyfried has carved out a nice career. Aside from acting in movies, Amanda is also a noted model and singer, the latter of which she showed off prominently in the musical features Mamma Mia! and its sequel Mamma Mia! Here We Go Again. She has been in virtually every genre of film and has also spent her early career on television. Lately, though, Amanda has slowed down her output.
She started her career at the age of 11. At that time, Amanda was a model for companies like Leighton Meester and Limited Too. She also modeled for the Sweet Valley High novels when she was a young teenager. Amanda had taken voice lessons and studied opera as well which would later prove beneficial to her future career. Her first acting job was as an extra on Guiding Light. Her first true acting role was Lucy Montgomery in the soap opera As the World Turns. Her recurring role on the soap would last her two years. Seyfried then moved on to another soap, All My Children, where she played Joni Stafford for two years.
After her role in  My Children finished, Amanda Seyfried auditioned to be a Plastic in the movie Mean Girls. However, she was auditioning to be the lead Plastic, Regina George, which eventually went to Rachel McAdams. Then, the producers of the movie considered her for the lead Cady Heron. But Lindsay Lohan won this role. Eventually, they decided Amanda Seyfried would play the air-headed Plastic Karen Smith; this suited her well for this part.
Even though her role in Mean Girls turned out for Seyfried, losing those lead roles wasn't going to be the last for her. She auditioned and was heavily considered as Veronica Mars, but again, the role was given to another actress, this time it was Kristen Bell. But as with Mean Girls, the same happened for Amanda Seyfried in Veronica Mars. She grabbed herself a part in the series as Mars' murdered best friend, a role that was seen only in flashbacks but was given more screen time because Amanda did such a wonderful job. While she starred in Veronica Mars, Amanda Seyfried was also seen on some TV series such as House, Wildfire, CSI: Crime Scene Investigation, and more. In 2009 she appeared in Nine Lives and American Gun. She reprised her role as Linda Lovelace in the 2011 film Alpha Dog.
Amanda Seyfried was becoming a recognizable actress, but her role in HBO's show Big Love is what helped her gain fame. Acting as Sarah Henrickson in Big Love, Seyfried was the daughter of a Mormon family, who was struggling with her family's polygamous faith. This series was a hit for HBO and Seyfried one that she held onto for four years. However, Amanda Seyfried decided to leave the show before the fifth season premiere as she wanted to further concentrate on her feature film career. Amanda Seyfried was able to explore the film circuit with her schedule on Big Love.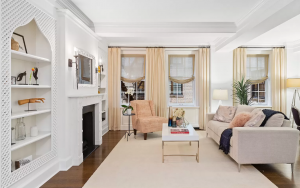 She first got a little known role in Solstice and then a lead role in Mamma Mia! next to Meryl Streep, Colin Firth, and Pierce Brosnan. The film was also a huge hit. In the movie, Seyfried shows off her singing talent, which is released on the movie's soundtrack. She recorded five songs for the album. After the success of Mamma Mia!, Seyfried was able to focus mainly on movies and it was much easier for her to get roles in other films. She got roles as a lead role in Boogie Woogie and Megan Fox's horror film Jennifer's Body. Thereafter, she starred in Chloe, Dear John, Letters to Juliet, and Red Riding Hood.
In addition to her work in both Mamma Mia's!, Amanda Seyfried also played the role of Éponine in Les Misérables. Seyfried contributed five tracks to the Les Misérables soundtrack and performed them with many of her co-stars. Speaking of showing off pipes, one of Seyfried's more notable roles came in 2013 when she played Linda Lovelace, most famous for Deep Throat, in the biopic Lovelace. The story followed Lovelace's life from her troubled childhood through when she met Chuck Traynor who was played by Peter Sarsgaard. The movie also starred Sharon Stone, Adam Brody, James Franco, Chloë Sevigny, and Juno Temple. The movie itself received mixed reviews with many feeling like it didn't take any chances though both Seyfried and Sarsgaard's performances were top-notch.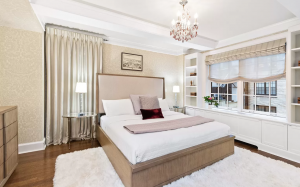 Following her role in Lovelace, Seyfried was looking for more roles with a smile. She found this in the film "A Million Ways to Die in the West" where she played the lead female protagonist. Although not well received by critics, Seyfried kept herself busy by accepting Seth MacFarlane's next project, Ted 2. A decade after her break-out role, Amanda Seyfried was performing in most features. In addition to her indie resume, she played Peter Pan's mother in the film "Pan", played in "While We're Young," and acted in "First Reformed" and "Love the Coopers." She also starred in the show Twin Peaks which is rare for actors of her status.
News in April 2019 was that Saturday Night Live star Kate McKinnon would be playing the disgraced entrepreneur Elizabeth Holmes in a Hulu miniseries. In February 2021, word emerged that McKinnon was stepping away from the project, and by March Amanda Seyfried had picked up the slack. Even the cast she is with is pretty impressive.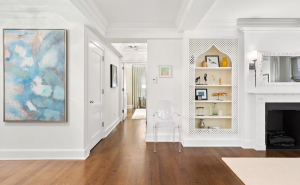 Amanda Seyfried has been working less, but it seems she's happy. She spends time working as a voice actor in movies like Scoob!. You may see less of her, but she is making a big comeback in the Mank Netflix movie set to release in 2020. She seems happy with her new family who lives on and operates their own farm. The pandemic stories of Amanda Seyfried's lockdown life turned out to be positive for the actress and her husband. She told a video series that she hasn't been in New York City since November and it has been wonderful living on an Upper New York farm with two children, one being born in September 2020.
Now, Amanda and her family live upstate, which is close to where her daughter attends school. She also mentioned that she lives on a farm and has always wanted one. The pandemic has allowed them to stay, as they do not have to commute into the city. The farm life has made her family stronger. She wakes up to take care of the animals and then starts the day with coffee for herself. Her husband spends time before returning to work taking care of their animals.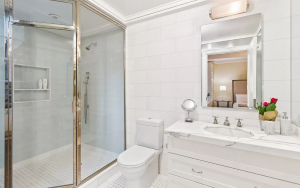 In a last year's interview, Amanda mentioned that she is still sorting out with her therapist what made her pursue acting in the first place, but she sees a lot of herself in her 3-year-old daughter. Nina is creative, expresses herself quickly, and eagerly seeks affirmation. Having been a mother has brought up a lot of things for Seyfried to look back on and think about. Well, now that she lives in the Catskills things appear differently for her. After a childhood in Allentown, Pa., Seyfried was hooked on Laurel and Hardy comedies and classics like Nosferatu. She would go to New York City for filming episodes of "As the World Turns" and "All My Children."
Some actresses take too long to get their first breakthrough credit. Seyfried got her first movie role in "Mean Girls." When Seyfried was growing up, she knew she wanted to act. She loved the attention and liked making people feel something. So when she was young, she used all of herself in every role. Maybe that's because her big eyes make you believe that she is feeling something. Ashley Seyfried's performance with the camera makes it easy for you to believe in her. However, she has not been able to piece together why this was.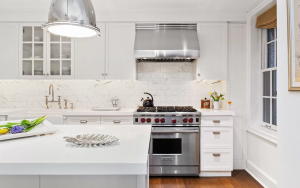 Now that we basically have the timeline of Amanda's career, it is time to move on to her Manhattan condo. In 2010, the 24 year old Amanda Seyfried purchased a condo in the newly renovated Devonshire House building. The unit had a $1.875 million asking price, and the actress paid $1.909 million to buy it. It is easy to see why she wanted to buy this apartment because according to Streeteasy, the costs of similar units in the same building range from $2 million to $5 million, depending on their layout and size.
The Devonshire House, which was designed by the pre-war architect Emery Roth and constructed in 1928, for years offered small apartments that were not inexpensive. However, in 2008 the building was sold to new owners who converted it from a rental house to a condominium complex with 24/7 doormen and concierge services, among other things such as a playroom for children and bicycle storage. The lobby was meticulously redecorated with a new builder. Victoria Hagan, a designer, and much published writer, oversaw the project and created a more traditional style that's less flashy than the original design. Residents were unhappy about this change which some call refreshing and others view as destroying the original look of the building.
In March of 2010, Amanda Seyfried told Vanity Fair magazine she took certain silly romantic comedy roles in order to be able to afford to buy an apartment in New York and the Greenwich Village apartment she suffered through Letters to Juliet to buy measures just over 1,500 square feet. Although we find the location of the laundry rooms to be of an entrance hall and not very convenient for the traffic hub, we like how the apartment is open from the front to back with large windows letting more light into the traffic hub.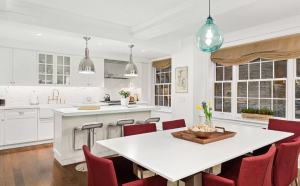 Typically, the actress is not down with having the kitchen as a room. We do not want to look at our toaster during dinner and we do not want to have dirty pots and pans on display when we're eating. Kitchen-dining room? Nevertheless, this kitchen works in this apartment because even though it is open, it feels discreetly tucked away from the living room. If anything is worse than the damn dishwasher during dessert, it's trying to relax in the living room when looking directly at dirty dishes in the sink. Anyway, the two bedrooms are sufficiently separated with corridors that share only one short wall. Even that is buffered by a couple of closets. The adequate not particularly generously sized master bedroom includes a walk in closet and a private pooper with a stand up shower that looks plenty large enough for two or more people.
In at least one interview, Amanda mentioned that she was making some renovations to her new apartment. It's unknown whether any of Victoria Hagan's handiwork still exists or has been ripped out for improvements. Whatever the case, it's a lovely first (multi-million dollar) apartment for a sophisticated young actress in a swank location on Greenwich Village Gold Coast. Even though it's a smaller apartment than the one Miss Seyfried chose and not as central of a location, we're a sucker for a small terrace with views of the Hudson.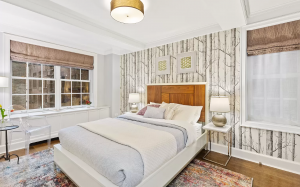 Since the "Mean Girls" and "Mamma Mia!" actress purchased the Greenwich Village condo, in 2010 for over $1.9 million, she's gotten married to stage and screen actor Thomas Sadoski and had a couple of kids. She and her family have also moved uptown, to a 1,700 square foot penthouse atop a storied Upper West Side building, which was quietly acquired almost three years ago for about $2.5 million. This could probably be why they are now selling the condo. Nonetheless, Seyfried should also make a nice profit on the place as she bought it for a little over $1.9 million, and now, she is asking for $3.25 million.
As mentioned this condo is 1,600 square feet and has 2 bedrooms and 2 bathrooms, which are of high quality. They have been cleared of personal effect and staged for the selling process to provide a professional environment for prospective buyers. The apartment features high quality finishes, custom moldings, and oak floorboards. It also includes premium appliances and quality fixtures with custom cabinetry.
The living room has an incredible fireplace that was constructed in the apartment. It is flanked by shelves with Moroccan-style design qualities that have filigree screens. The dining area is situated next to the all-white kitchen which has a homey farmhouse sink and industrial lighting over the kitchen island. The apartment sits on a lower floor of a handsome and unassuming 12 story brown brick edifice that was designed by esteemed early 20th century architect Emery Roth, built-in 1928, and converted from rental apartments to luxury condos in 2009. Other high-profile residents who enjoy 24-hour doorman services, a landscaped courtyard, a rooftop terrace, a fitness center, a children's playroom, and individual storage units include Alec Baldwin.
Nominated for an Oscar last year, Seyfried and Sadowski live primarily in the Catskills, with a farm containing lots of animals, as well as a stylish 1920s stone house. They also maintain a solid foothold in Los Angeles, receiving criticism when they purchased it in 2011 for $1.85 million from Adam Brody. And, even though Amanda Seyfried just had her second child, she continues to work. She currently has more projects lined up in the future so don't expect Amanda Seyfried to go anywhere anytime soon.
There you have our TTP blog for today. Now, who do you think is the mystery buyer? Let us know in the comments below. Don't forget to subscribe to our channel, click the notification bell, and like this blog. If you think that we have delivered value please share this blog with one person. Just one share is enough for us, for you to show your appreciation for the commitment and hard work we all put together in creating this blog that teaches and helps you on your mission of building your own fortune. And you don't know that one share could go a long way. And keep in mind that no matter how many times you're going to watch this blog, you won't see any results unless you take action. Good bye and see you at the next one!
---