Ashanti Lists Lovely Long Island Mansion for $2.2M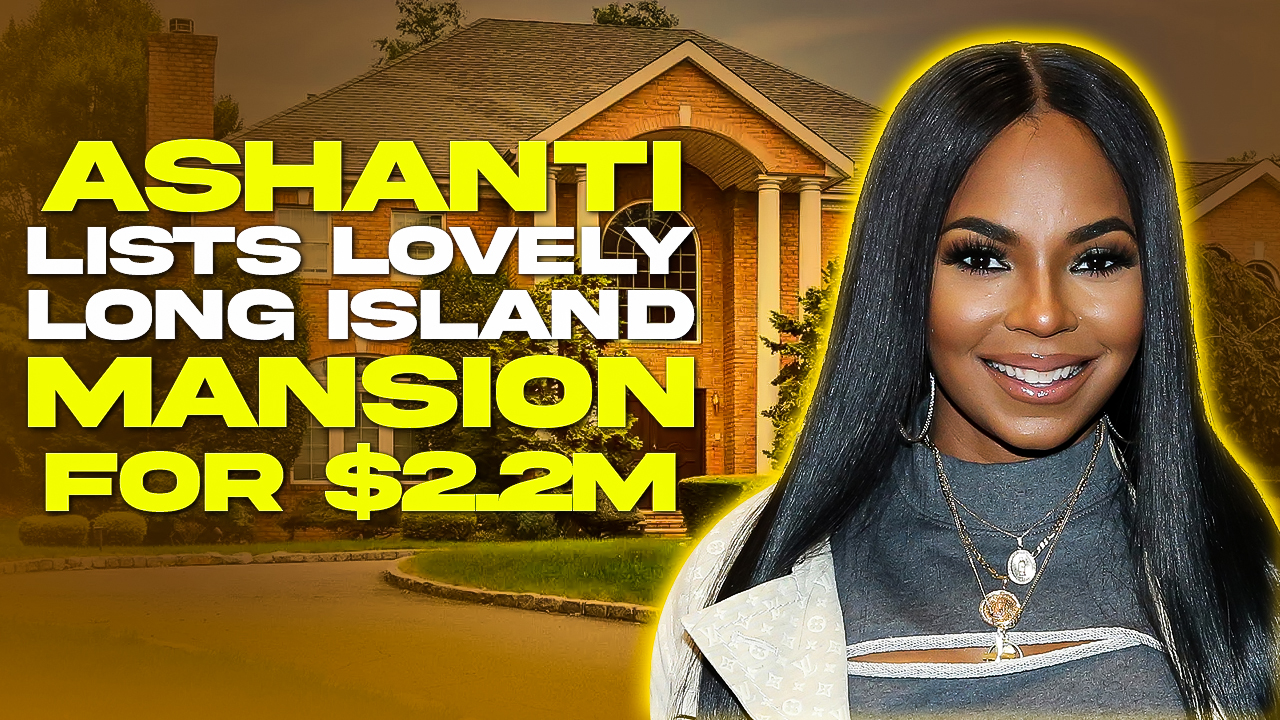 Hello, people. Welcome to the TTP Youtube channel. Music artist Ashanti is putting up her six-bedroom home in Old Westbury, New York for sale.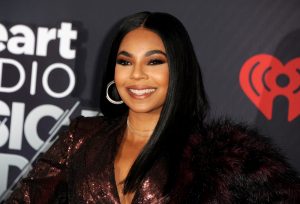 Ashanti Shequoiya Douglas, known as the "Foolish" singer, is asking to have this Colonial priced at $2,198,000.
She purchased the property at the height of her fame in 2003 for $1.95 million.
Built in 1999, this beautiful abode is on 2 acres and is accessible by a private cul-de-sac.
The 5,345-square-foot residence features a printed wallpaper, chandeliers and floor-to-ceiling columns. It also has wood and tile floors in different places.
The entry is a two-story curved staircase and the patterned tile flooring leads to a living room with a fireplace. The family room has another fireplace and French doors that open to the patio and outdoor dining space.
If you're hungry, the eat-in kitchen has a tile floor, granite counters, and a bar on the center island.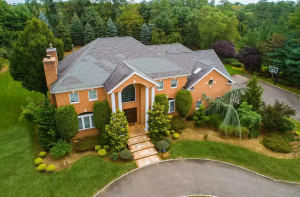 Upstairs, the floor plan includes the primary suite with conversational seating and a luxurious bathroom with a soaking tub and shower.
The mansion also houses a three-car garage, an office, a swimming pool, and a motor court.
The home is located about 25 miles east of Manhattan and is a short drive on the Long Island Expressway to get there.
This spacious colonial with 6 bedrooms, 5.5 bathrooms, 2 fireplaces and 3 car garage has a grand 16,500 SF lot and is the perfect home at an incredible price.
The triple platinum singer debuted her solo album 20 years ago. Songs of the album include "Foolish," "Baby," and "Happy."
Aside from being a singer,, Ashanti has also worked in the worlds of business and entertainment. Her children's book, My Name Is a Story, is a great read as is her movie Coach Carter and John Carter Must Die.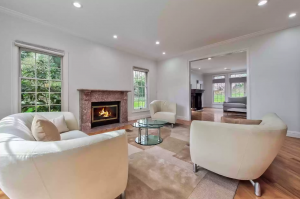 The entertainer, who has sold almost 15 million records worldwide, continues to perform.
Ashanti Shequoiya Douglas was born on October 13th in 1980, and is an American singer and actress who signed to Murder Inc Records at the age of 15. That year, she released two albums — one on September 11th, 2002, and the other on December 19th that year — which eventually became two of the top songs of 2002 with "What's Luv?" and "Always On Time."She received two number-ones simultaneously in 2007 with "Foolish"and "Dangerous (remix), while being the first female artist in history to occupy both number-one slots at the same time.
In 2002, Ashanti released hereponymo us debut album, which sold over 505,000 copies throughout the U.S. in its first week of release. The album earned her many awards and has since been certified triple platinum in the United States and sold six million copies worldwide by the end of 2003. The lead single for the album, "Foolish", was a critical and commercial success; it reached number one on the Billboard Hot 100. With "Foolish", she became the second artist (after The Beatles) to have their first three chart entries in the top ten of the Billboard Hot 100 simultaneously. Ashanti wrote and sang for Jennifer Lopez's "Ain't It Funny (Murder Remix)", which also reached number one on the Billboard Hot 100.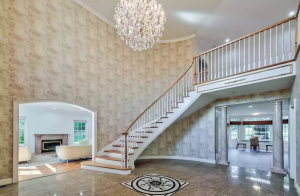 Ashanti's second album, Chapter II, became one of the best selling albums in the U.S. The album sold 326,000 copies in its first week with 1.5 million sales since its release. "Rock wit U (Awww Baby)" was nominated for a Grammy and "Rain on Me" was nominated for a Best R&B Song award. In 2003, Ashanti released a Christmas album that failed to reach much of an audience and went platinum yet again.
In 2004, Ashanti released her third studio album Concrete Rose, the title of which took on Tupac Shakur's pseudonym "The Rose That Grew from Concrete". The album debuted at number seven in the U.S., with first-week sales of 254,000 copies, and became her third platinum certified album. The first single on the album "Only U" reached number thirteen on the Billboard Hot 100 and became her biggest hit in the UK peaking at number two. A second single "Don't Let Them", garnered little chart success after Def Jam refused to fund a music video due to Irv Gotti's legal troubles during his money laundering trial. Her subsequent albums (such as The Declaration) released independently went on to praise critics who would later call her underrated.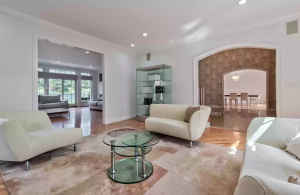 Aside from music, Ashanti has also acted in various productions. In 2005, she made her feature film debut in Coach Carter with Samuel L. Jackson and landed a role as Dorothy Gale in the made-for-television film The Muppets' Wizard of Oz, which attracted nearly 8 million viewers when it premiered. She has since appeared in films like John Tucker Must Die (2006) and Resident Evil: Extinction (2007). Throughout her career, Ashanti has sold nearly 15 million records worldwide.
Her mom Tina is African-American and a former dance teacher, and her dad Ken-Kaide Thomas Douglas is also African American and a former singer. She's the eldest of her parents' children. Ashanti grew up with her younger sister Shai "Shia" Douglas, who she named after the Ashanti Empire in Ghana. Tina wanted Ashanti to follow that model by being an empowered woman; James was an activist associated with Martin Luther King Jr. in the 1960s.
One day, 12-year-old Ashanti overheard Mary J. Blige singing "Reminisce" while visiting her mother and soon found out that she had a talent for singing songs. Attending high school, she started writing music as well as performing in talent shows; she also got a chance to appear in Spike Lee's Malcolm X and Ted Demme's Who's the Man?. Eventually, she landed some small roles in music videos such as KRS-One's "MCs Act Like They Don't Know" and 8-Off's "Ghetto Girl".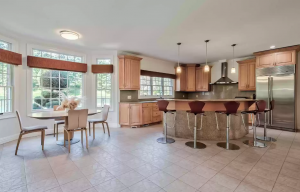 Ashanti had a difficult time achieving success as a singer after being courted by various record labels, including Bad Boy and Jive. Despite her setbacks, Ashanti continued to perform in and around New York and began hanging out at the Murder Inc. recording studio, hoping for a big break.
Ashanti started out on the song "What's Luv?" by Fat Joe, which was also Ja Rule's song. She helped Big Pun and as well as Cadillac Tah get their start. She also made appearances on The Fast and the Furious soundtrack and 2001s Justify My Love. In 2002, "Always On Time" with Ja Rule had her occupying the number one spot, while "What's Luv?" Fat Joe took the number two spot until it was released in 2002. By 2003, Ashanti was able to occupy both numbers one and two spots because of her album Braveheart.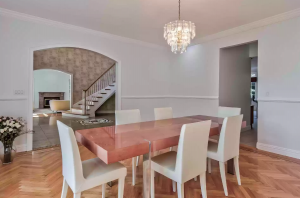 Ashanti released her debut single "Foolish", which samples a 1983 song "Stay With Me" by DeBarge. The single became her biggest success to date, spending 10 weeks at number one on the Billboard Hot 100. Her album Ashanti debuted at number one on the Billboard 200, becoming the first album by a solo artist to do so since 1962. Her second album, "Happy", peaked inside the top ten and top twenty in the U.S., respectively but never got close to matching the success of her debut album. Ashanti has earned many awards throughout her career including eight Billboard Music Awards and two American Music Awards, as well as a Grammy Award for Best Contemporary R&B Album. She received a Comet Award and two Soul Train Music Awards as well as nominations for Best New Artist
Ashanti became the subject of controversy when it was announced that she would receive the Soul Train Aretha Franklin Award for "Entertainer of the Year", with many people believing that established artists such as Mary J. Blige or critically acclaimed singers like Alicia Keys or India.Arie should have been given the award instead, but despite a petition 30,000 people signed and Don Cornelius stuck to his decision to give her the award instead. Ashanti was applauded by her peers, who came out and showed their support on stage at this event by joining in on Ashanti's singing of "What I Did For Love" with Patti LaBelle.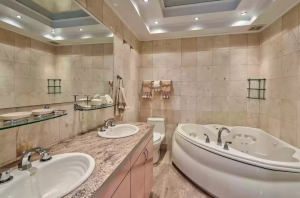 Ashanti's second album was just released before the VH1 Divas Duets concert, in which she performed a headlining set with Whitney Houston, Chaka Khan, Beyoncé and Lisa Marie Presley. Ashanti also performed with the Isley Brothers during their portion of the show and at the finale of the "Higher Ground" performance by Stevie Wonder.
In 2003, Ashanti released her second album and it debuted at number one on the Billboard 200. The album went platinum, selling over 1.5 million copies in the US. The first single "Rock wit U" became a hit and peaked at number two on the Billboard Hot 100. The music video showed Ashanti riding an elephant in a bikini and dancing to the song on a beach. It was nominated for two 2003 MTV Video Music Awards, including Best R&B Video and Best Female Video of the Year by Ashanti's peers. "Rain on Me," reached number seven on the Billboard Hot 100 and number two on the R&B Chart. Chapter II was nominated for a 2004 Grammy Award for Best Contemporary R&B Album as well as an award for Best Female R&B Vocal Performance by Ashanti for "Rock Wit U (Awww Baby)" with that same year, she began dating rapper Nelly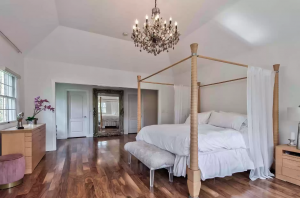 In 2004, Ashanti released a Christmas album titled Ashanti's Christmas. It contained 10 Christmas songs and peaked at No. 160 on the Billboard charts. The album was modestly successful and sold just around 100,000 units in the U.S.
In 2004, Ashanti released her third studio album, Concrete Rose. It debuted on the U.S. and UK charts at number seven and number two respectively. The first single, "Only U", gained much success in the U.K., reaching number two for a total of seventeen weeks there. In December of that same year, she premiered "Wonderful"—with Ja Rule, who also features on her albums Chapter II and Concrete Rose—at the Vibe Music Awards where it reached number five on the Billboard Hot 100 but didn't reach any other charted positions in international markets; however, it did peak at number one in the UK that same month.
After releasing her third album in 2004, Ashanti released a deluxe DVD called The Making of a Star which includes exclusive content featuring music from her three albums with bonus song performances as well as school performance footage from when she was a young girl and behind-the-scenes interviews with family members, friends and fans.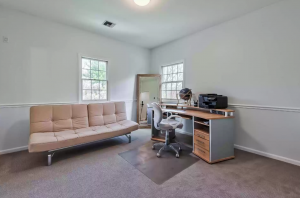 In 2005, Ashanti focused more on her acting career and made her feature film debut in Coach Carter along with Samuel L. Jackson, opening at number one at the U.S. box office grossing $67 million domestically. She was later invited to Oprah Winfrey's Legends Ball honoring influential African American women of the twentieth century in art, entertainment and civil rights. In December 2005, Ashanti released Collectables by Ashanti which was a remix album fulfilling her contract with Def Jam (and allowing her to work with another label). The record did not meet sales expectations despite its acclaim.
In 2006, she starred in the teen comedy John Tucker Must Die which opened and peaked at number three at the U.S. box office, competing with Pirates of the Caribbean: Dead Man's Chest and Miami Vice, and grossing $68,818,076 worldwide. In 2007, she played a supporting role in the action film Resident Evil: Extinction (2007).
After much controversy, she released the album, The Declaration, on June 3rd of 2008 with low first week sales at 86,000. She released her fourth studio album's first single "Switch" in July 2007. However, the song didn't appear on the U.S. edition of the album, but did appear on Nelly's Brass Knuckles LP. Released as its first single it allowed for it to go number one on Billboard's Hot Videoclip Tracks chart and peaked at 87 on the Billboard Hot R&B/Hip-Hop songs chart in January of 2008. In July 2008, she was named an ambassador of tourism for Nassau County, Long Island.
In May 2009, Irv Gotti announced that he was officially releasing Ashanti from The Inc. Records, stating that "The relationship has run its course. The chemistry of what's needed — we're in two totally different places. You're talking to somebody that took her and shaped and molded her and put her out there for the world, and it blew up. We [hold the record] for the [fastest] selling debut by a female R&B artist — 503 [thousand]. We did it! My views are completely different than hers at this point." Gotti also admitted that he and Ashanti haven't talked to each other in a long time. A representative for Ashanti did not respond. On September 24, 2009, Ashanti announced her fifth studio album would be released from her new label Written Entertainment.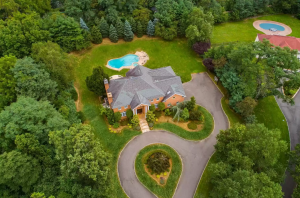 Ashanti headlined the cast of The Wiz in New York City Center Encores! Summer Stars staging from June 12 to July 5, 2009. Ashanti's performance as Dorothy has since been dissected with varied reviews from critics who defended her vocals and complained about her acting. BET and Entertainment Weekly both praised the performances by the singer by The New York Post and The New York Times also gave lukewarm reviews. Despite receiving mostly favorable reviews from those that attended, some of the other shows were unable to follow its success.
After spending four years without releasing any music, Ashanti released "Never Too Far Away" with Morgan Creek's film Dream House starring Daniel Craig, Rachel Weisz, and Naomi Watts. The single was released online on December 15, 2011. It was the first single to be released from her fifth studio album The Woman You Love which features American rapper Busta Rhymes. Ashanti teamed up with Meek Mill and French Montana for the second single "No One Greater" which has been produced by 7 Aurelius, Irv Gotti, and Chin Santana. In April 2013, she released a single called "Never Should Have". In November 2013, the song won Best Independent R&B/Soul Performance at the Soul Train Awards.[46] A music video for the track later also came out.
In November 2012 it was reported that she landed her first series regular role in the seventh season of Army Wives. Her show, which aired from September 24, 2013 until September 24, 2013 was canceled because the producers found her too 'polarizing' for the peacemaker role. In 2013, Willcox had a guest-starring role in an episode of TV show Law & Order: Special Victims Unit alongside Clay Aiken and Taylor Hicks. The film Christmas in the City aired on December 7, 2013.
That's it for this blog TTP Member, remember to subscribe to our channel and if you feel like we've delivered value please share this blog with ONE person. That's right just one person as a token of your appreciation for the hard work we put into making content that educates and helps you on your mission of building your own fortune.  Remember you can read blog after blog, but it isn't until you actually take action that you'll start to see results. See you soon!
---