Avocado Ranch in Southern California owned by Sandra Bullock is for sale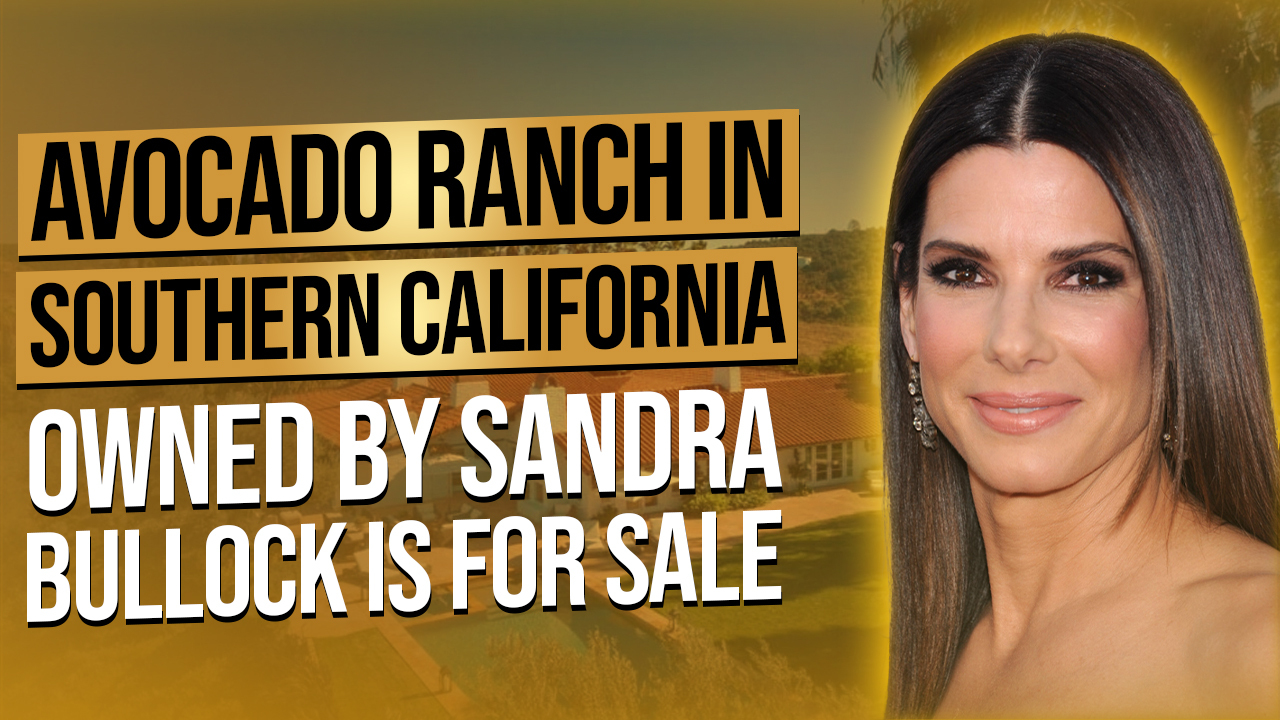 The Los Angeles Times reported that a sprawling ranch owned by Sandra Bullock in San Diego County is being put on sale. The ranch is $6 million and is located in Northern San Diego County. And that includes three contiguous parcels holding a duo of homes — one an adobe ranch-style number and the other of the manufactured variety — plus groves of avocado and citrus trees, and even your very own chicken coop!
For today's blog, exclusive to our TTP members, we will be talking more about the actress, Sandra Bullock, and her Avocado Ranch in Southern California that is now on sale in the market. Now without further adieu, let's get into the blog.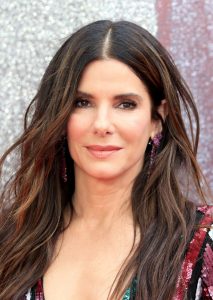 Sandra Bullock purchased the hilltop property for $2.7 million back in the summer of 2007. Resting near the foothills of Palomar Mountain, in the rural Valley Center community, the so-called "Farm" is showcased by a Mediterranean-style house featuring four bedrooms and six baths in nearly 6,000 square feet of single-level living space, all of it offering up panoramic views of the surrounding mountains and valleys. In addition to its organic avocado and citrus groves, the ranch enjoys numerous walking paths filtered throughout the garden-laced grounds. It's also one of several commercial and residential properties worth almost $100 million that the savvy property investor owns from coast-to-coast.
There are two oceanfront houses in the same guard-gated Malibu community, a $2.7 million residence in the mountains of Beverly Hills, a $20 million estate in the 90210's Benedict Canyon neighborhood, and lavish vacation getaways in New York City, New Orleans, Austin, Texas and Jackson Hole, Wyoming. The home is hidden away securely behind a lengthy gated driveway. It was built in 1990 and recently renovated. The main home has a fireside living room, wide-plank hardwood floors, vaulted wood-beam ceiling, and French doors that open to a central courtyard bolstered by a fountain. A dining area sporting built-in booth seating connects to the country-style kitchen, which is equipped with a pricey La Cornue range and butler's pantry; four ensuite bedrooms encompass a master retreat with a fireplace and seating area and a separate guest suite with a kitchenette.
Other amenities include a saltwater pool and spa, lots of spots ideal for al fresco lounging and entertaining, security cameras, and a Crestron smart-home system. There is additional property (a three-bedroom, two-bath manufactured house) and a gazebo, and a workshop. The property also has a chicken coop with eggs that are available for gathering on your own. There's ample space to create groves, plant a vineyard, or add greenhouses. Per the listing, there's also enough room for an equestrian haven and Motorcross track. The listing is jointly held by Alan Long of Avenue 8, Kay O'Hara of HomeSmart Realty West, and Melissa Russell of Willis Allen Real Estate.
So just who is this Avocado ranch owner? Sandra Bullock, a Hollywood actress, and producer, has been earning accolade after accolade. The recipient of an Academy Award, Golden Globe Award, and various other titles and distinctions, she is without a doubt one of the most bankable Hollywood stars. Her films have collectively grossed over 5.9 billion worldwide in the international market, leading to her star on the Hollywood Walk of Fame and being named one of Time's 100 most influential people in the world in 2010.
After making her acting debut with a minor role in the thriller Hangmen (1987), Bullock received early attention for her supporting role in the action film Demolition Man (1993). Her breakthrough in the action thriller Speed (1994) led to leading roles in the romantic comedies While You Were Sleeping (1995) and Forces of Nature (1999), and the dramas A Time to Kill (1996) and Hope Floats (1998). She achieved further success in the following decades with the comedies Miss Congeniality (2000), Two Weeks Notice (2002), The Proposal (2009), The Heat (2013), Ocean's 8 (2018), and The Lost City (2022); the dramas Crash (2004) and The Unforgivable (2021); and the thrillers Premonition (2007) and Bird Box (2018). For her portrayal of Leigh Anne Tuohy in the biographical drama The Blind Side (2009), Bullock won the Academy Award for Best Actress. She was nominated for the same award for playing an astronaut stranded in space in the science fiction thriller Gravity (2013), which ranks as her highest-grossing live-action film.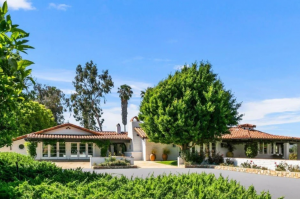 She is the Chief Executive Officer of Fortis Films. She served as an executive producer for the ABC sitcom George Lopez, as well as making starring appearances. 
Sandra Bullock was born on July 26, 1964, in the Washington, D.C. suburb of Arlington, Virginia, the daughter of Helga Mathilde, an opera singer and voice teacher from Germany, and John Wilson Bullock,  an Army employee and part-time voice coach from Birmingham, Alabama.  Her father, who was in charge of the Army's Military Postal Service in Europe, was stationed in Nuremberg when he met her mother.
Her parents married in Germany. Bullock's maternal grandfather was a scientist from Nuremberg, Germany. The family returned to Arlington, and her father worked with the Army Materiel Command before becoming a contractor for The Pentagon. Bullock has a sister Gesine Bullock-Prado, who served as president of Fortis Films. Bullock is multilingual and had a Waldorf education in Nuremberg. Other places she's lived include Vienna and Salzburg, Austria as her mother was an opera singer.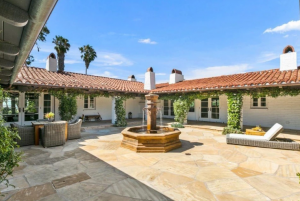 Bullock had a passion for performing arts during her childhood and often performed with her mother. In her teens, she sang in an opera children's choir. She has a scar above her left eye which was caused by a childhood injury when she fell into a creek. She is an American citizen but maintains this citizenship because it is easier to travel abroad with it. Bullock attended Washington-Lee High School, where she was a cheerleader and performed in school theater productions. After graduating in 1982, she attended East Carolina University (ECU) in Greenville, North Carolina where she majored in theater production. She auditioned for and moved to New York City to act. While she was there, she supported herself as a bartender and cocktail waitress.
This led to her being cast in a series of small roles in several independent films, as well as in the lead role of the short-lived NBC television version of the film Working Girl (1990). She went on to appear in several films, such as Love Potion No. 9 (1992), The Thing Called Love (1993), and Fire on the Amazon (1993), before rising to early prominence with her supporting role in the sci-fi action film Demolition Man (1993). Bullock made her breakthrough as Annie Porter in 1994 when she starred in Speed. Being the passenger to drive a bus that had been rigged by a terrorist, Bullock ensured they had the right chemistry with Reeves by reading lines with him.
The scenes would include rolling around on the ground and other physical stunts which required many takes. Speed received critical acclaim, with Rotten Tomatoes calling it a "terrific popcorn thriller [with] outstanding performances from Keanu Reeves, Dennis Hopper, and Sandra Bullock", which grossed $350 million worldwide, and helped establish Bullock as a Hollywood actress. For her role, she won Best Actress at the 21st Saturn Awards as well as three awards —including Best Female Performance and Most Desirable Female— at the 1995 MTV Movie Awards.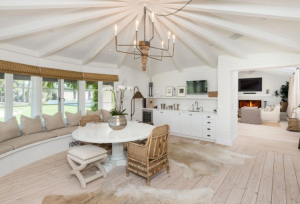 Bullock starred in the romantic comedy "While You Were Sleeping" as a lonely Chicago transit worker who saves the life of a man. The film received positive reviews. Critics say that she performed "so skillfully" and the movie was so well-constructed, that it achieved its goal of bringing new life to an oft-told story. Sandra Bullock was finally nominated for a Golden Globe Award in 1995 for her performance on The Net. Owen Gleiberman from Entertainment Weekly enjoyed her performance, saying she pulls you into the movie and that her smile is similar to Julia Roberts'.
In addition, both while You Were Sleeping (1994) and The Net (1995) made a total of $182 million and $110.6 million respectively. In A Time to Kill (1996), a legal drama based on John Grisham's 1989 novel of the same name, Bullock portrayed a member of the defense team in the trial for the murder of two men who raped a young girl, opposite Samuel L. Jackson, Matthew McConaughey and Kevin Spacey. She received an MTV Movie Award nomination for Best Female Performance. She subsequently received $11 million for Speed 2: Cruise Control (1997), which she agreed to star in for financial backing for her next project. Unlike the original film, Speed 2 was a critical and commercial flop that she later disparaged. 
Sandra Bullock then starred in the movie Hope Floats. She plays a very unsuspecting housewife whose life is disrupted when her husband tells her during a public talk show that he cheated on her. This film grossed 81.4 million dollars and was successful. Bullock starred in the 1998 film Practical Magic with Nicole Kidman as two sisters facing a curse, who might not ever find true love. The movie opened at the top of the US box office, but soon after flopped. That year, she voiced Miriam in the DreamWorks Animation film The Prince of Egypt and wrote, produced, and directed the short film Making Sandwiches.
She next played a free-spirited drifter who begins to talk to a writer (Ben Affleck) in the romantic comedy Forces of Nature (1999), on which Boxoffice Magazine remarked: "The combination of Affleck's deadpan by-the-book persona with the spontaneity of Bullock's character sparks with convincing chemistry." Forces of Nature made $93 million worldwide. Bullock took on the role of an FBI agent who must go undercover as a beauty pageant contestant in the comedy Miss Congeniality (2000), which became another financial success, with a global gross of $212 million. It earned her a second Golden Globe Award nomination for Best Actress – Motion Picture Musical or Comedy. In 28 Days (also 2000), a dramedy directed by Betty Thomas, Bullock starred as a newspaper columnist obliged to enter a rehabilitation program for alcoholism.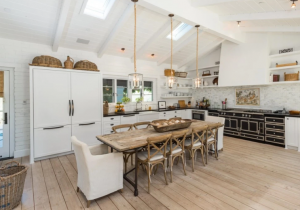 Scarlet Overkill is Bullock's highest-grossing film, with a worldwide gross of over $1.1 billion. The animated film Minions (2015) provided her voice for the villainous character. Bullock has served as a producer and starred in the drama "Our Brand is Crisis" based on a 2005 documentary from Rachel Boynton. Peter Debruge of Variety found Bullock's performance to be one of the best female performances of the past ten years. The film had one of Bullock's worst wide release opening weekends. In Ocean's 8 (2018), an all-female spin-off of the Ocean's Eleven franchise directed by Gary Ross, Bullock played Debbie Ocean, the sister of Danny Ocean, who helps plan a sophisticated heist of the annual Met Gala in New York City.
Writing for The Hollywood Reporter, Josh Spieger called the film a "welcome return to the big screen for Bullock" and observed: "She has reached a point in her career where she chooses her roles with care; before Gravity, she'd only co-starred in a handful of films over the previous five years, including her Oscar-winning turn in The Blind Side. Ocean's 8 is Bullock's first true franchise film in decades […] and it suggests that her decision to be more selective in which projects she picks can pay off in dividends". The film "Ocean's 8" has the best opening in franchise history and ultimately made $297 million over the course of its run. 
Bullock also starred in "Bird Box", where she plays a woman who must find a way to guide herself and her children to safety in a post-apocalyptic world, despite unknowable threats. Variety praised her performance, saying that it was both "wonderfully self-reliant" and fascinating. In another production for Netflix, Nora Fingscheidt's drama The Unforgivable (2021), Bullock played a woman who is released from prison after serving a sentence for a violent crime. It became the fifth most streamed film on the platform at its release.
She took on the role of a successful yet depressed best-selling romance novelist in Paramount Pictures' The Lost City (2022), a Romancing the Stone-style romantic comedy–adventure film, directed by Adam and Aaron Nee, opposite Channing Tatum and Daniel Radcliffe. Calling Bullock "the first actress to have $100 million earners in live-action star vehicles over four different decades" according to Forbes, the film received favorable reviews from critics who generally agreed with the acting chemistry between Bullock and Tatum. The action movie grossed $190.8 million globally. In January, Deadline reported that Bullock will star in and produce a movie adaptation of the Millarworld comic book series Reborn for Netflix and Vertigo Entertainment.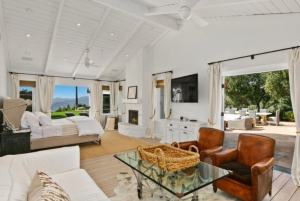 Bullock has been a public supporter of the American Red Cross and has donated $1 million to the organization at least five times. Her first public donation of that amount was to the Liberty Disaster Relief Fund. Three years later, she sent money in response to the 2004 Indian Ocean earthquake and tsunamis.  In 2010, she donated $1 million to relief efforts in Haiti following the Haiti earthquake and again donated the same amount following the 2011 Tōhoku earthquake and tsunami. She donated $1 million in 2017 to support relief efforts for Hurricane Harvey in Texas. She was honored with the Favorite Humanitarian Award at the 39th People's Choice Awards, for her contributions to New Orleans' Warren Easton High School, which was severely damaged by Hurricane Katrina.
Bullock owns properties in Los Angeles, Austin, and New Orleans. In 2000, while Bullock was a passenger in a private jet, it crashed because of pilot error and poor weather conditions. Fortunately, Bullock and the two other crew members escaped uninjured. In 2008, she was traveling with her husband Jesse James when they were hit head-on by a drunk driver. They weren't harmed. Bullock won a multimillion-dollar judgment against Benny Daneshjou, the builder of her Lake Austin, Texas, home in October 2004. The jury ruled that the house was uninhabitable. It has since been torn down and rebuilt. Daneshjou and his insurer later settled with Bullock for roughly half the awarded verdict.
Bullock was once engaged to actor Tate Donovan, but their three-year relationship ended. Bullock famously dated football player Troy Aikman for six years and actors Matthew McConaughey for three years and Ryan Gosling for one year. Bullock married Jesse James, a host of Monster Garage and motorcycle builder, in 2005. They met when Bullock arranged for her ten-year-old godson to meet James as a Christmas present. In 2009, Bullock and James entered into a custody battle with James' second ex-wife Janine Lindemulder who was an adult film actress and had one of James' children. Bullock and James won full legal custody of the 5-year-old daughter.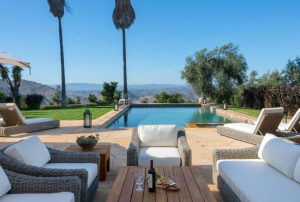 A scandal arose in March 2010 after a few women claimed to have had affairs with James during his marriage to Bullock. The actress took personal reasons, citing "unforeseen personal reasons" as their cause for the cancellation of European promotional appearances. On March 18, 2010, James responded to the rumors of infidelity by issuing a public apology to Bullock. He stated, "The vast majority of the allegations reported are untrue and unfounded […] beyond that, I will not dignify these private matters with any further public comment." James declared, "There is only one person to blame for this whole situation, and that is me."
He asked that Bullock and their children one day "find it in their hearts to forgive me" for their "pain and embarrassment". James has checked into a rehabilitation facility for personal issues. This was announced on March 30, 2010, by his publicist. On April 23, 2010, the day before James filed for divorce from Bullock in Texas, she filed for divorce in Austin. Bullock announced in 2010 that she had proceeded with plans to adopt a son born in January 2010 in New Orleans, Louisiana. Bullock and James had begun an initial adoption process four months earlier.
Bullock's son began living with them in January 2010, but they chose to keep the news private until after the Oscars ceremony that March. However, given the pair's split and subsequent divorce, Bullock continued the adoption of her son as a single parent.   Bullock announced in December 2015 that she had adopted a second child and appeared on the cover of People magazine with her three-year-old new daughter. Since mid-2015, Bullock has been in a relationship with photographer Bryan Randall.
There you have our TTP blog for today. Now, what do you think about the house? Let us know in the comments below. Don't forget to subscribe to our channel, click the notification bell, and like this blog. If you think that we have delivered value please share this blog with one person. Just one share is enough for us, for you to show your appreciation for the commitment and hard work we all put together in creating this blog that teaches and helps you on your mission of building your own fortune. And you don't know that one share could go a long way. And keep in mind that no matter how many times you're going to read this blog, you won't see any results unless you take action. Goodbye and see you at the next one!
---