Ben Affleck Sells His Pacific Palisades Estate for $30M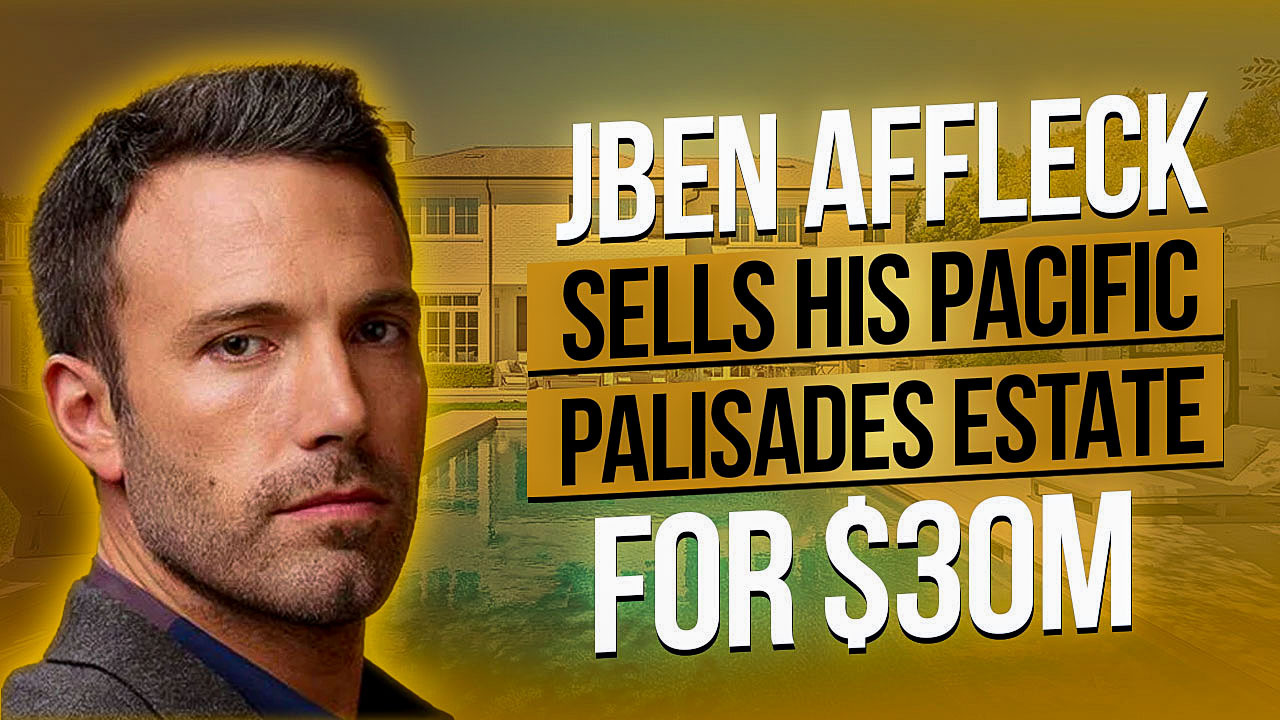 Hello, people. Welcome to the TTP Youtube channel. Now that Ben Affleck is married, he no longer needs his bachelor pad.
Oscar-winning actor Ben Affleck listed his home in LA for $29,995,000. After getting divorced from Jennifer Garner, he picked up the property for $19 million earlier this year. If you want more of this content, subscribe to the TTP Youtube channel and hit the notification bell.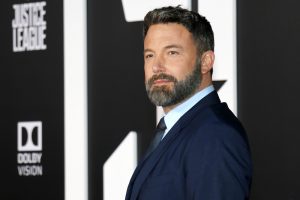 The gated "oasis" is located in Pacific Palisades and is conveniently located within the park. The seven-bedroom, nine-bathroom home is 13,453 square feet with luxe amenities and features.
Highlights include box-beamed ceilings and bay windows, a formal dining room, and a family room with a fireplace.
Santiago Arana and Amir Mostame from The Agency are listed as the property brokers. However, a spokeswoman for The Agency refused to comment.
With East Coast Traditional style, it has a columned front porch, a three-car garage, and an office with home theater.
The listing describes a family room with a wall of glass that opens to the outdoor space, while other rooms of the home have box-beamed ceilings and bay windows. The formal dining room has what the listing describes as a statement chandelier, and hosts your guests in one of two sitting rooms and a formal dining room with what the listing describes as an elegant chandelier. A recreation room has a full bar, a temperature-controlled wine cellar, and a gym.
The Palisades Riviera has long drawn Hollywood celebrities, including Matt Damon and Hilary Swank.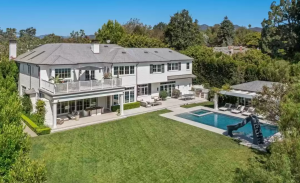 Zac Mostame, a real estate agent in LA, shares this property on social media. The description contains all the details about the different amenities, from the family room with a fireplace and formal dining room to the 12-hole golf course, swimming pool, and iris garden.
This new luxury apartment represents the epitome of his lifestyle in the heart of Soho. It is luxurious, but also practical and has a peaceful atmosphere. This suite features a fireplace, lustrous bathroom, spacious walk-in closet, a balcony and much more. Additionally, there are multiple areas for entertainment as well as other amenities such as an exercise room with a full bar, laundry facilities and a gym. The luxurious lifestyle awaits.
The home offers a patio, a kitchen outside, and lawn with an expansive porch.
The private property is located near the Riviera Country Club in prestigious Pacific Palisades, California.
1172 Napoli Drive showcases a luxurious lifestyle of beauty and comfort. The grand facade and lush front yard provide immediate impressions, while a three-car garage, columned front porch, stained glass windows, curved staircase and bay window invite guests in the foyer. Furnished with vaulted ceilings, a fireplace and Miele appliances, the grand suite features spectacular walls of built-ins and exquisite wainscoting. The master bedroom boasts walk-in closet spaces as well as an en-suite bathroom that includes amenities to pamper you. Perfect for work or play, the office adds elegance with its built-ins and offers support through its gorgeous wallpapers. The fantastic 70 acres of land include raised garden beds and sprawling lawns; spectacular views from the decks are complemented by breathtaking walks on the perimeter of the enormous property.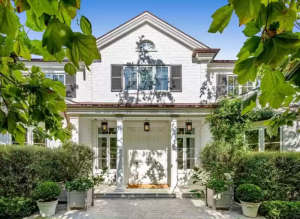 The sleek, modern kitchen has blue cabinetry and Miele appliances, with countertops made of marble and an extensive view of the garden.
The private suite upstairs has a vaulted ceiling, fireplace, spa bath, walk-in closet and private balcony.
It is clear that Mr. Affleck had an office on the second floor. Perhaps this was where he kept his prized soda fountain?
The Helmsley Park Lane apartment has five levels and some amenities, including a bar, wine cellar, rec room, MRI machine, and workout room.
On the back of the property, there is a covered dining patio and an open air kitchen that overlooks a pool with a slide. A guesthouse is included on site.
Ben Affleck married Jennifer Lopez in Las Vegas last month. He is best known for movies like "The Town" and "Good Will Hunting."
In 2018, Affleck, who married Jennifer Garner in 2005, bought a home close to their former residence. Lopez also has a 14-year-old twin from her husband Marc Anthony.
According to TMZ, the couple plans to move into Lopez's Bel-Air house in Los Angeles.
TMZ has noted that Ben Affleck and Lopez are waiting for renovations to be completed on Lopez's Bel-Air home.
Before making the move, Lopez and Affleck approve of a "massive remodel," meaning they could not live there for "possibly more than a year."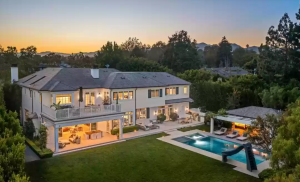 At this time, the outlet says they'll keep living in James Packer's $60 million home in Beverly Hills, which they've been renting since June.
The couple was in contract for a different mansion, but TMZ claims that deal didn't happen.
In 2018, Affleck listed a rural Georgia compound in his real estate portfolio for $8.9 million dollars. That listing is no longer available on Zillow.
Lopez and Affleck's plans come almost a month after they tied the knot during an intimate wedding in Las Vegas.
Jennifer Lopez shared the details of her wedding at The Little White Wedding Chapel, which happened right before midnight.
With the best witnesses you could ever imagine, a dress from an old movie and a jacket from Ben's closet, they read their own vows in the little chapel and gave one another wedding rings for the rest of their lives. They even had bluetooth for a short march down the aisle. But in the end it was the best possible wedding they could have imagined.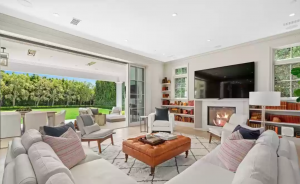 Ben Affleck is a well-known American actor and filmmaker. He began his career as a child star in the PBS educational series The Voyage of the Mimi (1984, 1988). He later starred in Dazed and Confused, for which he won an Independent Spirit Award and he went on to take home both an Academy Award and a Golden Globe award for writing the screenplay for Good Will Hunting. Ben established himself as one of Hollywood's leading men before taking on more production responsibilities with films like Armageddon, Pearl Harbor, and The Sum of All Fears.
After a career downturn, during which he appeared in the critically derided Daredevil (2003) and Gigli (2003), Affleck won the Volpi Cup for Best Actor and received a Golden Globe nomination for playing George Reeves in the noir biopic Hollywoodland (2006). His directorial debut, Gone Baby Gone (2007), which he also co-wrote, was well received. He then directed, co-wrote and starred in the crime drama The Town (2010), directed and starred in the political thriller Argo (2012), and won the Golden Globes and BAFTA Award for Best Director in 2012. Then he played the superhero Batman in Batman v Superman: Dawn of Justice (2016) and JUSTICE LEAGUE. For his role as the protagonist Ben McBride, who is struggling to keep it together amid mental illness on Papillion father Maura's marriage on HBO drama Big Little Lies season 3, Affleck was nominated for a Critics' Choice Award. After starring roles in films such as The Accountant (2016), Triple Frontier (2019) and The Way Back (2020), Affleck shifted into supporting roles with films such as The Tender bar – from Stephen King's novella – on Red Bull Media House and historical period.
Affleck co-founded Eastern Congo Initiative, which has raised tens of millions of dollars for charities in the Eastern Congo. He is also a supporter of Democratic Party. Affleck and friend Ben Damon are partners in the production company Pearl Street Films.
Benjamin Géza Affleck-Boldt was born on August 15, 1972, in Berkeley, California. His family moved to Massachusetts when he was three and lived there until settling in Cambridge. His mother, Christopher Anne "Chris" Boldt, had graduated from Harvard with a degree in education. His father, Timothy Byers Affleck, had worked sporadically as a carpenter, electrician, bartender and janitor. In the mid-1960's he had been an actor and stage manager with the Theater Company of Boston.
Affleck's father had a "self-described 'severe chronic problem with alcoholism'" during his childhood, and he would drink "all day everyday". Affleck felt "relief" when his parents divorced at age 11 and his father remarried. His dad continued to drink heavily. He lived on the streets for two years before entering a rehabilitation center at age 16. At age 24, he worked there as an addiction counselor.
Affleck was raised in a politically active, liberal household. His brother, Casey, was surrounded by people who worked in the arts and they often attended theater performances with their mother. In addition, David Wheeler, who became a family friend later on, remembered that Affleck was very bright when he was younger and also had an intense curiosity. The brothers would audition for roles because of the casting director's friendship with their mother. When Affleck turned 13, he filmed his first professional acting job while in Mexico. He learned to speak Spanish during his travels there with his mom and brother.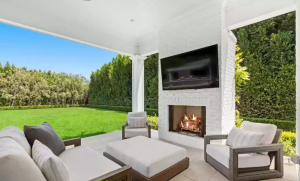 As an 18-year-old high school student, he acted in theater productions and was inspired by his drama teacher Gerry Speca. He became close friends with fellow student Matt Damon, who he had known since the age of eight, though they were two years apart in age. Although Damon was two years older than him, the pair had "similar interests" and both wanted to pursue acting careers together. They traveled to New York together for acting auditions and saved money for tickets in a joint bank account until they could afford them. While Affleck had high SAT scores when he applied to colleges, he was largely unfocused as a student during his time at the University of Vermont until it caused an injury that sidelined him for a few months. He then went to Occidental College in Los Angeles where he studied Middle Eastern affairs for one year-and-a-half before ultimately relocating back home to Massachusetts.
Affleck was an excellent child up until age four when he first acted in front of the camera for a documentary. It did not affect his life, career, or even family because it was from his mother's side and she wanted him to do it. He continued to act at this time as well as giving into school projects on occasion.
After high school, Affleck moved to New York in hopes of getting a career as an actor. Later, while studying at Occidental College, he directed student films. Affleck had a variety of "knock-around parts," including playing Patrick Duffy's son in the television film Daddy (1991), making an uncredited appearance as a basketball player in the Buffy the Vampire Slayer film (1992) and having a supporting role as a prep school student in School Ties (1992). He played a high school quarterback in Against the Grain (1993), and is well known for his role of Ticker in Richard Linklater's cult classic Dazed and Confused (1993). Linklater chose Affleck to play the villain because of his likeability.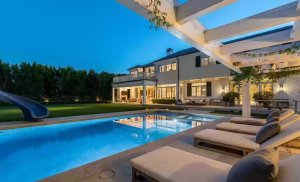 As an aimless art student in college drama Glory Daze, Affleck's first acting role consisted of expressing obnoxious and sad-sack emotions through the balance of comic timing. In Kevin Smith's comedy Mallrats, he played the role of a bully and developed a friendship with his director. He later became friends with Smith when he had a well received lead performance as a romantic character during Chasing Amy, which was one of the reasons for his breakout success. Maslin praised Affleck for "wonderful ease" as he portrayed his part -combining "suave good looks with cool comic timing." Gleiberman also found him to have been very successful as a veteran character in Going All the Way that left an impression by "the flair for comic self-doubt".
1997's Good Will Hunting marked a turning point for Affleck in his career, marking his first big break. In 1992, Damon wrote a 40-page script for a playwriting class at Harvard University, and scratched out an outline of the story on paper and later on a napkin. Eventually the two friends moved to Boston and got lost in their work before finally landing a job with director Gus Van Sant who just so happened to be one of their classmates. They took four years to make this film before finally releasing it, which was nominated for four Academy Awards including Best Original Screenplay and went on to become one of the highest-grossing films ever made then.
He had an up-and-down career in Hollywood after he was consigned to being "a geek" before Good Will Hunting and playing a supporting role in Shakespeare in Love, which later won an Oscar. He made some questionable choices like starring in Phantoms while appearing as a blue-collar sheriff.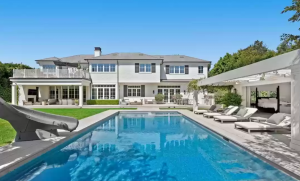 The actors reunited once again with Kevin Smith in Dogma in 1999, a religious satire film. Janet Maslin of the New York Times remarked that they were funny and well-acted. In Forces of Nature (1999), Christopher played a groom who tried to navigate a complicated love life, but Owen Gleiberman of Entertainment Weekly remarked that he was "winning" and had an "easy on-screen chemistry with the lively Sandra Bullock." Joe Leydon of Variety said that it was "easily [Christopher's] best yet". He then starred opposite Courtney Love in 200 Cigarettes, which was poorly reviewed.
Affleck shadowed John Frankenheimer (2000). Affleck is an actor that was praised for his performances in Reindeer Games, Boiler Room, and Joseph: King of Dreams.
While Affleck didn't have much success with Pearl Harbor, he was successful in other roles, such as Good Will Hunting and Jay and Silent Bob Strike Back. His performance in the third wheel movie has been praised. Affleck then parodied Good Will Hunting, with Damon and Van Sant, which also got praise for his work.
With his filmmaking experience, Affleck has worked to integrate innovative technology into any media he can make. The most famous of these was Project Greenlight, which was an experimental reality television show centered on giving a first-time filmmaker a chance to direct a feature film. The show's success led to the creation of a spin off program, Push, Nevada.
With his tabloid star status, Ben Affleck  had been in the center of media controversy when he dated Jennifer Lopez. By the end of 2003, Affleck had unfortunately become seen, by GQ, as "the world's most overexposed actor" with a string of poorly received films.
In 2003, Affleck starred in Daredevil as the first part of the film series. However, most of the reviews for Daredevil had mixed feelings about his performance. Affleck received criticism for his run of poor movie roles, which included Gigli and Paycheck that year.
That's it for this blog TTP Member, remember to subscribe to our channel and if you feel like we've delivered value please share this blog with ONE person. That's right just one person as a token of your appreciation for the hard work we put into making content that educates and helps you on your mission of building your own fortune.  Remember you can read blog after blog, but it isn't until you actually take action that you'll start to see results. See you soon!
---