Bethenny Frankel Sold SoHo Loft for $7M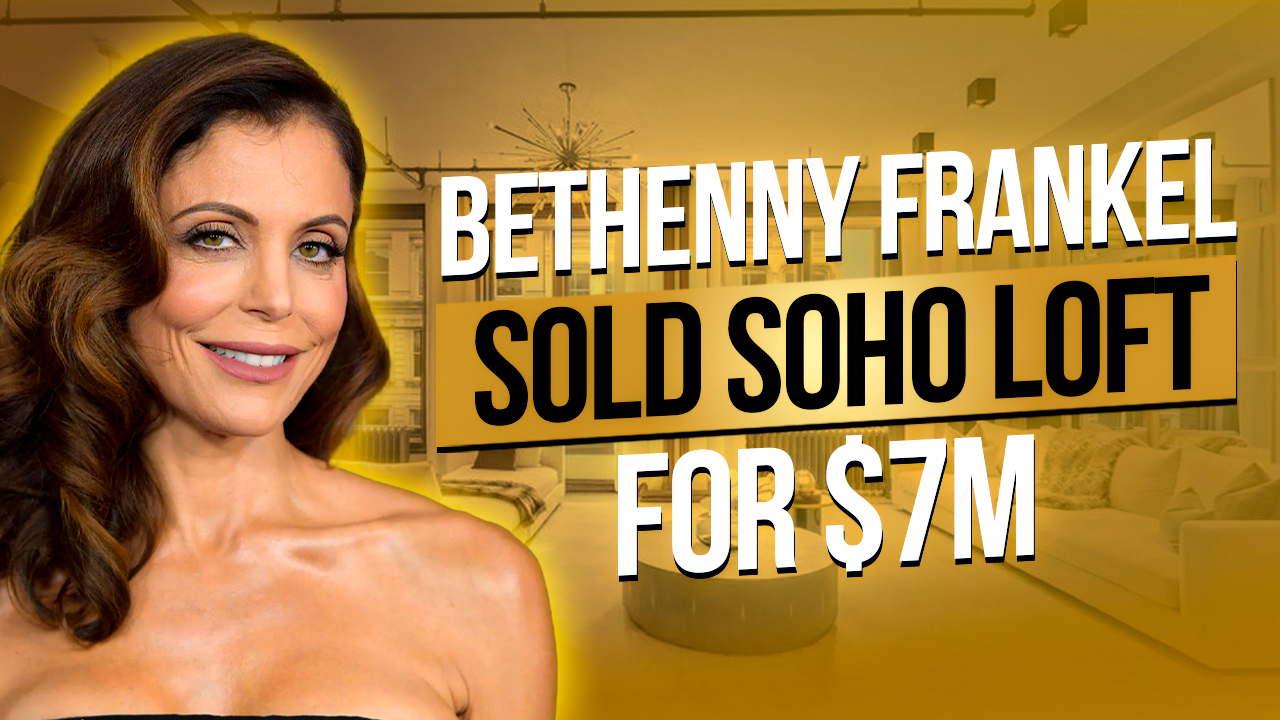 Hello, people. Welcome to the TTP Youtube channel. TV show actress Bethenny Frankel has just sold her SoHo loft for full price.
Frankel grabbed the property for $4.2 million in 2017 but walked away with a large profit after the price dropped to just under $7 million this year. If you want more celebrity real estate content, TTP Member, subscribe to the TTP Youtube channel and hit the notification bell.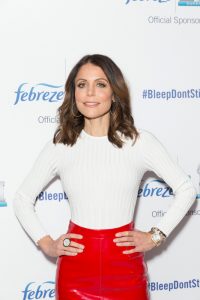 The Skinnygirl businesswoman remodeled her condo, building on the current finishes. She added a fresh coat of paint, glitzy chandeliers, and two fireplaces that were featured in Architectural Digest in 2018.
Frankel, a serial home flipper, resided in the luxury building for a couple of years prior to listing it in late 2021.
Reality TV star turned low-calorie alcohol producer and real estate investor, Bethenny Frankel, is living mostly between a townhouse in Boston and the Hamptons; where she recently finished a redo of her vintage Bridgehampton residence.
Frankel first listed the 4,000-square foot Soho loft in April 2021 and still sold it with fellow Bravolebrity Ryan Serhant. She had been advertising her house to sell quickly due to its prime location on the block.
In response to an opportunity in the real estate market, Frankel purchased the fourth-floor condo on a whim in 2017, making it an impulse buy worth $4.2 million, according to Architectural Digest. She made the purchase because she did not want to turn down a deal worth 100 million dollars.
She oversaw a total makeover on the loft that included painting the floors where they met with a pale gray color, covering all of the radiators and window frames in black paint, and transforming the kitchen into a sleek culinary haven fit for the health-conscious chef that she is. They also added two fireplaces in the loft, one in each of the bedrooms and family room, which also features a bar and rare marble accent wall.
The multifaceted star personally renovated the Soho loft she has listed for sale at $6.995 million from top to bottom with 11 foot ceilings and natural light from oversized windows. The home's sleek, modern style is enhanced by marble-and-oak features while exposed pipes and original columns maintain a classic Soho aesthetic. A thoughtfully designed open floor plan connects the entry foyer, great room, kitchen, open dining area and formal living room. The custom marble-and-stone bar enhances the living room, while another wet bar is concealed within the media room that also includes a fireplace.
The home office floor features a private en-suite and has been outfitted with a backup generator, motorized shades and a sound system. A beautiful triple-story apartment building with key-locked elevator, brand new video intercom system and stunning common rooftop terrace is also included in the mix.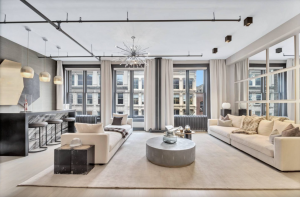 The SoHo neighborhood, a historic and beautiful area in the heart of Manhattan, is home to 250 historic cast-iron buildings and houses some of America's most expensive real estate. With convenient access to museums, restaurants, and art galleries, the apartment is perfect for people living in the area.
The listing is a piece of property held by Noble Black, David Son, and Erik Ternon of Douglas Elliman.
Frankel has decided to put her Manhattan loft up for sale again after a judge ruled she no longer had to pay child support to ex-Jason Hoppy.
On December 9, 2021, the four-bedroom, three-bathroom property was listed for almost $7 million.
As her custody battle with Hoppy ends, their daughter Bryn is entering into the final stages of living with Frankel. While Frankel has primary custody now, the two share joint responsibility for Bryn.
Frankel spends the majority of her time between a townhouse in Boston's Back Bay, where her filmmaker fiancé Paul Bernon is based, and her newly renovated Hamptons pad.
She transformed two of the bedrooms into "walk-in" dressing rooms.
The gate to the elevator opens and it leads to a foyer which leads to the great room. The kitchen is open with marble countertops and lacquer countertops. There is a formal living area next to the kitchen and dining area with a custom bar nearby. The oversized space features an 11-foot ceiling and big windows nearby.
The floor plan includes an office and bathroom, with the primary bedroom also featuring a built-in headboard.
Frankel designed a true retreat with dual vanities, a chandelier, and an open soaking tub and shower. There's also a walk-in closet and "beauty room."
The loft, located on lower Broadway, the side street in Greenwich Village, is currently configured with two bedrooms and three bathrooms. In addition, the loft could be expanded to accommodate four or five additional bedrooms. There may be an additional bedroom dedicated to serving as a home office, and one has been incorporated into the spacious sitting area. A white marble fireplace receives an over-mounted flat-screen TV while white champagne, light lilac and neutral tones dominate the rest of the room. The bathroom is large enough to contain a large soaking tub in its center and is fitted with sumptuous fittings such as shiny marble countertops, haute couture mirrors and luxurious window treatments.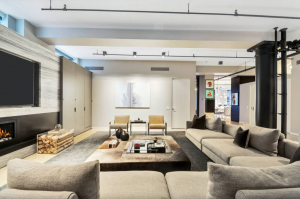 It also features a second floor elevator that opens directly into the apartment's spacious foyer, bohemian 14-foot ceilings, and original columns that preserve a hint of the building's turn-of-the-century charm. There's also a custom-crafted marble and stone bar in their living room, an integrated sound system, custom lighting, motorized window shades, and nearly $10,000 in monthly maintenance charges which include property taxes.
She briefly listed her recently remodeled home for sale at the beginning of April 2021. After six months, she took it off the market without receiving any offers.
The property is claimed to have been redesigned, with over 4,000 square feet of usable space.
Features include a key-locked elevator that leads to an open, wide foyer and kitchen. The kitchen boasts 11-feet-high ceilings, stainless steel appliances and a central island with book-matched waterfall marble countertop that seats six.
There is a formal living room included in this property. It has a stone-clad bar, features like a home office and laundry room, and the main suite includes a sitting area, beauty room, and walk-in closet.
The funky old SoHo building underwent restoration and brought back some of its original elements like exposed pipes, columns, and a central air conditioning system. Other thoughtful updates are a sound system, custom lighting, and motorized shades.
The 51-year-old reportedly closed the sale of her New York real estate, according to the New York Post. Still, Frankel still has homes in the Hamptons and Connecticut.
Frankel sold a different SoHo loft in 2020 for $3.65 million.
The building's facilities include a newly installed video intercom system, full-time supervisors, and a roof terrace.
After leaving the "Real Housewives of New York," Frankel went on to host "The Big Shot with Bethenny," an HBO Max show, in 2021. And she's rumored to be returning to TV, likely as co-host of CNBC's "Money Court."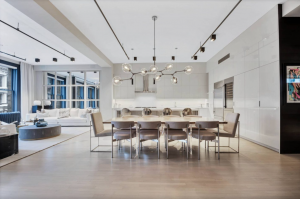 Reality Star and entrepreneur Bethenny Frankel appeared on The Apprentice: Martha Stewart, starred on eight seasons of Bravo's Real Housewives of New York and released four self-help books. She also founded Skinny Girl Cocktails, sold that to Beam Global for $120 million in 2011, founded BStrong charity in 2007 and served as the moderator of Fox series The Big Shot. Bethenny is the daughter of Hall of Fame racehorse trainer Bobby Frankel.
Bethenny Frankel has become a well-known celebrity with her philanthropy—her BStrong organization has raised and donated millions in disaster relief across the country and around the world—and likes to make money whenever possible. Most recently, she's taken on a new challenge: hosting her eponymous podcast. In it, she goes on about drinking and other antics of her former castmates.
Frankel also sells Skinnygirl-branded lines of cookware, apparel, snacks, and supplements as well as having she and/or her company have been involved with the purchase, fixing up and/or selling multimillion-dollar homes in the Hamptons and more recently Greenwich in Connecticut. When it comes to being savvy when it comes to keeping her name in the press, selling her products and managing the economics that surround her name, it seems that Beyoncé has no peers when it comes to business acumen.
In 2019, reality TV celebrity turned entrepreneur and philanthropist Frankel got engaged to her long-term partner, billionaire Bernon. Meanwhile, reports emerged that she "finalized her divorce" from Hoppy while they had already split nearly 10 years ago.
"We have put in a schedule that Bryn can be comfortable with that the court can order so we don't have these constant fights going on," according to Frankel's attorney Allan Mayefsky in the court hearing last Wednesday. "We need to recognize that Ms. Frankel is the primary parent… she should not be paying child support at this point."
Bryn has had anxiety, hyperventilation and hives and has been unwilling to see dad in part because of the continuing conflict between her parents.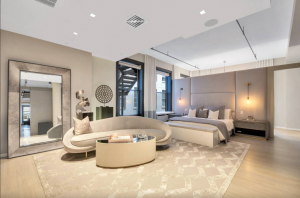 Jason Hoppy and Bethenny Frankel are in the process of finalizing custody details for their 11-year-old daughter, Bryn.
According to Frankel, "I want her to see her father. I know how important it is for a child to have a good relationship with both parents."
Hoppy, being unrepresented and already having decided against fighting her request, read a statement explaining to the court how you won't fight them.
Hoppy told the judge that this is not an issue between Bryn and him or an issue in which Bryn and he disagree. He also said that for his personal health, emotional well being, and mental health he will end the fight. It will now be joint physical custody of both Hoppy and Bryn from now on. Hoppy knows how much they love one another, that they want each other and they are there for each other whenever the need arises.
A judge from the Manhattan Supreme Court ruled that if Hoppy did not object to Frankel's motion, then he would grant her request for relief.
Bethenny Frankel, born November 4th 1970, is an American businesswoman, celebrity, and author. She starred in the TV show The Real Housewives of New York City and competed on The Apprentice: Martha Stewart in 2005. She has since done spin offs like Bethenny Ever After and Bethenny & Fredrik as well as a daytime talk show called Bethenny. Her HBO Max reality program "The Big Shot With Bethenny" is set to air in 2021.
Frankel has made a long-standing mark in reality television and is also the founder of Skinnygirl, a lifestyle brand, and BStrong, a disaster relief initiative. She's also written four self-help books.
Frankel is the only daughter of a "horse trainer and interior designer." She was raised by her father, Robert J. Frankel (who is where she gets her name), and her mother, Bernadette Birk. Her father was German-Jewish, while her mother was of Welsh descent. Her father left when Frankel was 4, and they waited until her 5th birthday to marry again.
Frankel said she moved many times and attended multiple schools before going to boarding school. Frankel attended Catholic schools as a girl, graduated in 1988 from the Pine Crest School in Fort Lauderdale, Florida, and lived on campus. She attended the Natural Gourmet Institute in New York City, Boston University for two years, and graduated with an undergraduate degree in psychology and communications from New York University.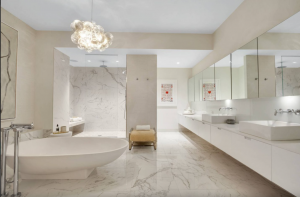 In 1992, Frankel moved to Los Angeles with hopes of being an actress. While she landed some small acting roles, she worked as a nanny to Paris Hilton and a personal assistant to Jerry Bruckheimer, Linda Brukheimer, and her husband. During this time, Frankel also worked as a production assistant on the set of Saved by the Bell. Frankel used her connections to start her first company called "In Any Event", a party planning company that was short-lived; She next re-sold pashmina scarves she bought wholesale from an Indian manufacturer.
In 2003, Bethenny founded her bakery business, BethennyBakes, making high-quality and great tasting cookies. The company later closed in 2006, but she continued to be the spokesperson for a low-calorie line of Pepperidge Farm products in 2007.
Frankel began starring on the reality television show The Real Housewives of New York City in 2008. In June 2010, she starred in the Bravo reality series Bethenny Getting Married? (later retitled Bethenny Ever After), which documented her engagement and marriage to Jason Hoppy as well as the birth of their daughter. The first season premiered on Bravo, with 2.1 million viewers tuning in. In September 2010, Frankel announced she would leave The Real Housewives of New York City after its third season following its second season finale. In November 2013, she competed on the American version of Dancing with the Stars and finished in second place.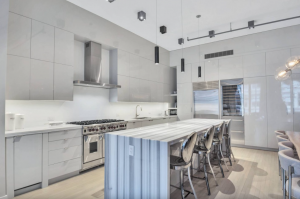 Bethenny Frankel's first book was published in March 2009, and she also published Skinnygirl Dish in December of that same year. She also published Body By Bethenny – a weight loss DVD, and The Skinnygirl Rules – a summary of her first two books. In 2011, Frankel published A Place of Yes: 10 Rules for Getting Everything You Want Out of Life, and in December 2012, she released the novel Skinny Dipping.
Frankel created a prepackaged margarita line named "Skinnygirl Margarita" in 2009, which led to the company "Skinnygirl," where she started the cocktail line "Skinnygirl Cocktails." The company has since created products such as candy, deli meat, sweeteners, popcorn, salad dressings, shapewear and most recently jeans and apparel." She sold the cocktail line to Beam Global for 120 million dollars in 2011.
Frankel is the founder of disaster relief group, BStrong. In 2017, they raised $300,000 in donations and supplies for the victims of Hurricane Harvey. In 2019, posts from Frankel's trip to Houston went viral on social media after she promoted awareness during an interview on CNN. The next year Frankel traveled to Mexico City to assist local relief efforts following the Puebla earthquake. They also responded to Hurricane Maria in Puerto Rico that year by collecting and distributing emergency medical supplies. In February 2022, BStrong began a fundraising campaign for Ukraine relief efforts in response to the Russian invasion of their country. By March 5th, BStrong had raised $25 million dollars with the intention of donating part of those funds to help relocate refugees. As of January 2019, BStrong has helped raise over $100 million dollars towards emergency Ukraine aid fund support.
That's it for this blog TTP Member, remember to subscribe to our channel and if you feel like we've delivered value please share this blog with ONE person. That's right just one person as a token of your appreciation for the hard work we put into making content that educates and helps you on your mission of building your own fortune. Remember you can read blog  after blog, but it isn't until you actually take action that you'll start to see results. See you soon!
---