Christian Bale's 'Ford v Ferrari' House Sells for $1.25M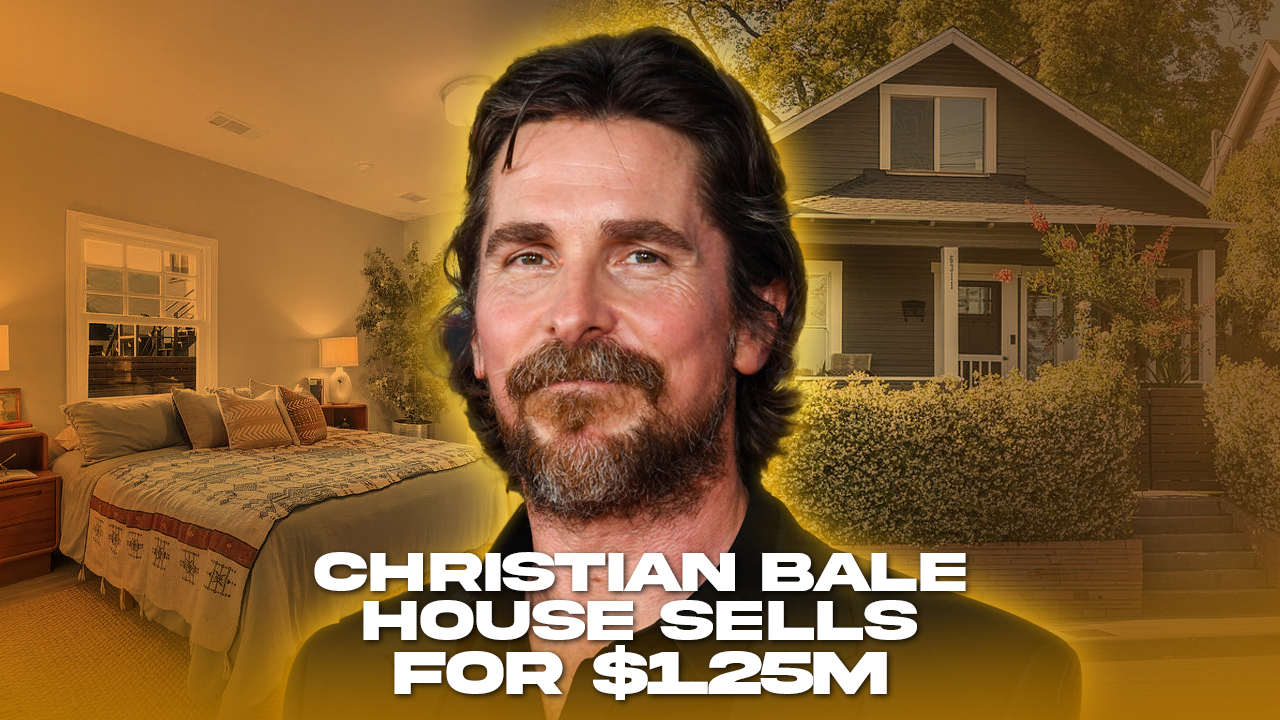 Ryan Sypek and Tristan Fong of Compass can proudly proclaim this fact about their listing – a charming bungalow in Los Angeles' Highland Park neighborhood that served as the home of Christian Bale's expert race car driver/mechanic character Ken Miles in the 2019 film "Ford v Ferrari."
Directed by James Mangold, the movie centers around Miles and other racer/automotive designer Carroll Shelby who, in a quest to beat Ferrari at their annual 24 Hours of Le Mans in 1966, work together to come up with an elite GT sports car for Ford Motor Company.
Based on a true story, the production design had to be painstakingly done and include such famous spots as Dearborn, Michigan's Ford World Headquarters, the original Ferrari factory in Maranello, Italy, Daytona International Speedway and Le Mans racing site. (A couple of sites near Georgia were also utilized in the film.)
Curious about Christian Bale's "Ford v Ferrari" house's listing?
"Luckily for you, TTP Member, we've covered this story just for you. Remember, that while the first step is completing any of these amazing blogs, the second and possibly more important step is taking action even if it's imperfect action.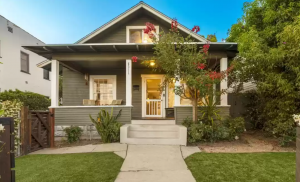 Los Angeles Times reported that "the most complicated physical location was the neighborhood garage where racer Miles tries to make a living between races, fixing other people's cars. Mangold insisted that the garage be physically right across the street from the little bungalow where Miles lives with his wife and son — so that Miles can see his house from the shop, and his wife can see him working from her front porch." Director found precisely what he was looking for on a sleepy triangular block of Highland Park when he found an iconic Craftsman home alongside an auto repair shop, a grocery store, and a small park.
This 1909 bungalow on Meridian St. with 21 foot ceilings and an overhanging second story was put up for sale in mid-May for $1.25 million, and is currently under contract, having been entered into escrow just 28 days later! The charming three bedroom, two bathroom single family home of 1,574 square feet already came with new hardwood floors and drywall after being transformed by the "Ford v Ferrari" production team.
While the home was originally built to cater to the 1960s era audience, its exterior looks left much to be desired. This fact is evident in the Google Street View images from 2017. The house was designed for Oscar-winning production designer Audouy, who had a tough time transforming the old place into a set for his blockbuster film. He noted to Architectural Digest that "This was a nice, big, old-time Hollywood production, the way they used to make them back in the day."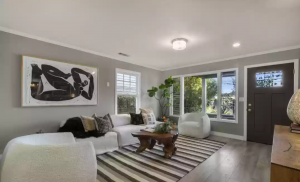 The contractor and his team thoroughly remodeled the property by swapping out the muted brown exterior paint color for a handsome gray, adding a screen to the front door, and new framing to the second-story window. The grass was also laid across the front yard, and they removed the chain link fencing surrounding the property perimeter.
Today, the home looks much like it did onscreen, with taller hedges. The owners made the changes to the house during filming and so it is no surprise they continue to leave them untouched once filming has wrapped.
The house was a key focus for "Ford v Ferrari," most notably in a scene that involved a punch-up across the street while Ken's amused wife, Mollie (Caitríona Balfe), pulled up the living room chair to watch her husband fight over it.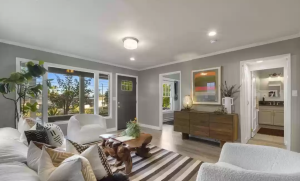 Upon Audouy and his team's arrival, they transformed the home's interior, painting the walls neutral colors, swapping out sconces and adding retro furnishings and fixtures. They even fully gutted the kitchen (shown in a pre-after photo via an MLS image taken of it during a 2016 shoot that was uploaded this month) so that they could supply one that was more period-appropriate for the shoot.
Miles was born in Warwickshire in England, and as such, Audouy made sure to dress up his home with authentic British transport hints. He told Architectural Digest, "I put objects from my time living in England as a child, like a jar of Marmite. The Brits can't go anywhere without it. There's also a team scarf from his English soccer club, and a jazz-record collection that I thought he would be into."
None of the interior alterations remain intact, though.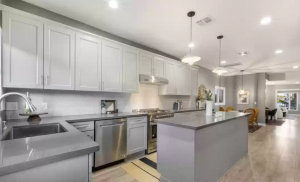 The model's current owner, composer Jason Wool, tastefully remodeled and expanded the house after the "Ford v Ferrari" shoot in 2019. The kitchen was open to the rest of the lower floor, giving the home a modern, high-end look. The new design is unrecognizable from its onscreen form. Unlike the Miles condo, with its retro and quaint style, the revamped pad is bright, sleek and stylish.
The bedrooms and bathrooms on the lower level were also updated during the remodel, but some original elements, including a variety of handsome built-ins, were incorporated into the redesign.
The house's finished attic offers an additional two rooms that measure 275 square feet and are used as office or studio space.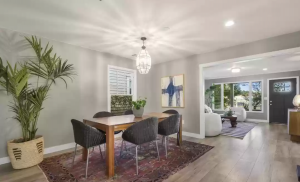 The opening lot seems bigger than its 0.15 acres, with plenty of spots to accommodate a lot of people, including the front porch that runs across the entire width of the house, a sizable rear patio, an expansive grassy area, and even a sitting area on a patch of gravel strung with Edison lights. There is also an attached one-car garage that has potential to be used as in-law accommodations.
Christian Charles Philip Bale was born in Pembrokeshire, Wales on January 30th 1974. He was born to English parents, Jennifer "Jenny" (James) and David Bale. His father was a commercial pilot from South Africa, while his mother was a circus performer and had moved with him around the world throughout his childhood- including England and Portugal. Bale later said that constant change influenced his career choices for directing and acting.
In 1983, he had a small role in a cereal commercial and his first West End performance in 1984. In 1986, Anastasia: The Mystery of Anna (1986) caught Steven Spielberg's eye, leading to Bale's career-boosting role as a war-orphan in Empire of the Sun (1987). He even received recognition from the National Board of Review for Best Performance by a Juvenile Actor for his work on Empire of the Sun (1987).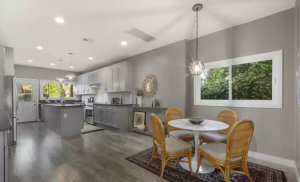 While some mainstream success in Hollywood kept Bale grounded, he still experienced personal difficulties with fame. He acted in Kenneth Branagh's adaptation of Shakespeare's Henry V (1989) and later starred in a TV version of Treasure Island (1990). He continued to work consistently through the 1990s and entered into various projects including Newsies (1992), Swing Kids (1993), Little Women (1994), The Portrait of a Lady (1996), The Secret Agent (1996), Metroland (1997), Velvet Goldmine (1998), All the Little Animals (1998) and A Midsummer Night's Dream (1999).
Towards the end of the decade, arguably due to changes associated with technology, resources and opportunity that were being widely presented by the Internet, Bale became one of the most popular online celebrities around working more privately as an alternative to tabloid journalism.
Bale began his career in 2000 with a lead role in Mary Harron's adaptation of "American Psycho". Bale played the protagonist, an inherently sadistic and narcissistic man who works as a Wall Street executive. In the magazine issue that named him one of "The Top 8 Most Powerful Cult Figures" over the past decade, he was described as not only weird but also cultish on the Internet. "Entertainment Weekly" crowned Bale one of the "Top 8 Most Powerful Cult Figures", citing society's fascination with his strange personality and charm. He was honored by "Premiere" for being one of their "Hottest Leading Men Under 30".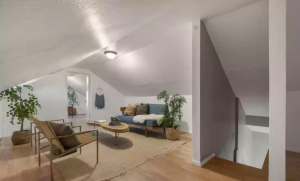 Bale's performance in the 2000 movie "Shaft" made him a star. He also appeared in the 2001 film "Captain Corelli's Mandolin," and another success, the film "Laurel Canyon," which was released in 2002. Despite mixed reviews, the movie has some fans. The critically panned "Reign of Fire" is one supported by his name on the poster.
In addition, two more cult films came soon after: Equilibrium (2002) and The Machinist (2004), which were released around the same time. Although both films were popular, they gained attention mainly because of Bale's body transformation – he reportedly dropped 60 pounds or more for the role of a lathe operator with a secret that caused him to suffer from insomnia for over a year.
Bale's ability to transform his body and disappear into a character influenced the decision to cast him in Batman Begins, influencing Christopher Nolan's definitive trilogy. Bale's performance of the Dark Knight in Batman Begins in 2005 revived a character that had been shelved for 10 years by Warner Bros., after being critically and commercially unsuccessful in 1997. His performance of John Bruhl was seen as a quiet victory because it wasn't until he questioned whether he could continue performing following his father's death, which happened late 2003.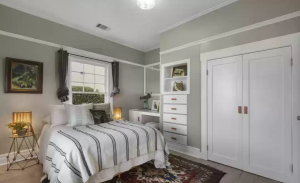 Bale then shifted gears and starred in two low-budget independent films after the success of Batman: The New World (2005) and Harsh Times (2005). His next film was 2006's Rescue Dawn, a true story about a man trying to escape from a military camp in Myanmar. Leading up to the second film, he starred in The Prestige (2006), 3:10 to Yuma (2007), and also starred in Bob Dylan's biography I'm Not There (2007).
The anticipation for The Dark Knight (2008) was unexpectedly high as the tragic passing of Heath Ledger became the highlight of the second installment. Bale's graceful statements to the press reminds us of a time when Hollywood stars were trendy and refined. The sequel outgrossed its predecessor, even surpassing box-office expectations.
Bale's next role was eyebrow raising, taking over the role of John Connor in Terminator Salvation (2009), followed by a turn as federal agent Melvin Purvis in Michael Mann's Public Enemies (2009). Both films were hit but not the blockbusters they were expected to be.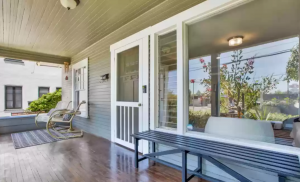 For his acting success, he won his first Oscar in 2011 after the critical and commercial success of The Fighter. Bale blasted off with a performance as Dicky Eklund, trainer to self-trained boxer Micky Ward portrayed by Mark Wahlberg. In another physically transformative role, he again showed the courage to be gaunt and skeletal.
Bale then turned his attention to another filmmaker, Yimou Zhang, for the epic The Flowers of War. In this film Bale portrayed a priest trapped in the midst of the Rape of Nanking. He was widely praised for his attempt to visit with Chinese civil rights activist Chen Guangcheng which was blocked by the Chinese government.
Bale plays Bruce Wayne/Batman in The Dark Knight Rises (2012); after the Aurora, Colorado tragedy that left theatergoers dead and injured, Bale made a quiet visit to Colorado to visit survivors of the attack. He also stars with Crazy Heart (2009) writer/director Scott Cooper in Out of the Furnace (2013), and American Hustle (2013), reuniting with director David O. Russell.
Bale will work with director Terrence Malick on two upcoming films: "Knight of Cups" (2015) and an as-yet-untitled drama. In his personal life, Bale devotes time to charities including Greenpeace and the World Wildlife Foundation. He and his wife, Sibi Blazic, have two children.
Although Bale did not win the Oscar for Best Performance by an Actor in a Motion Picture, Comedy or Musical, he generated more Oscar buzz for his performance as race car driver Ken Miles in Ford v Ferrari. Bale's performance has reaffirmed his accolades and is expected to garner some final Oscar nods in 2019.
That's it for this blogTTP Member, remember to subscribe to our channel and if you feel like we've delivered value please share this blog with ONE person. That's right just one person as a token of your appreciation for the hard work we put into making content that educates and helps you on your mission of building your own fortune. Remember you can red blog after blog, but it isn't until you actually take action that you'll start to see results. See you soon!
---