Dennis DeYoung of Styx Is Selling His Waterfront Florida Home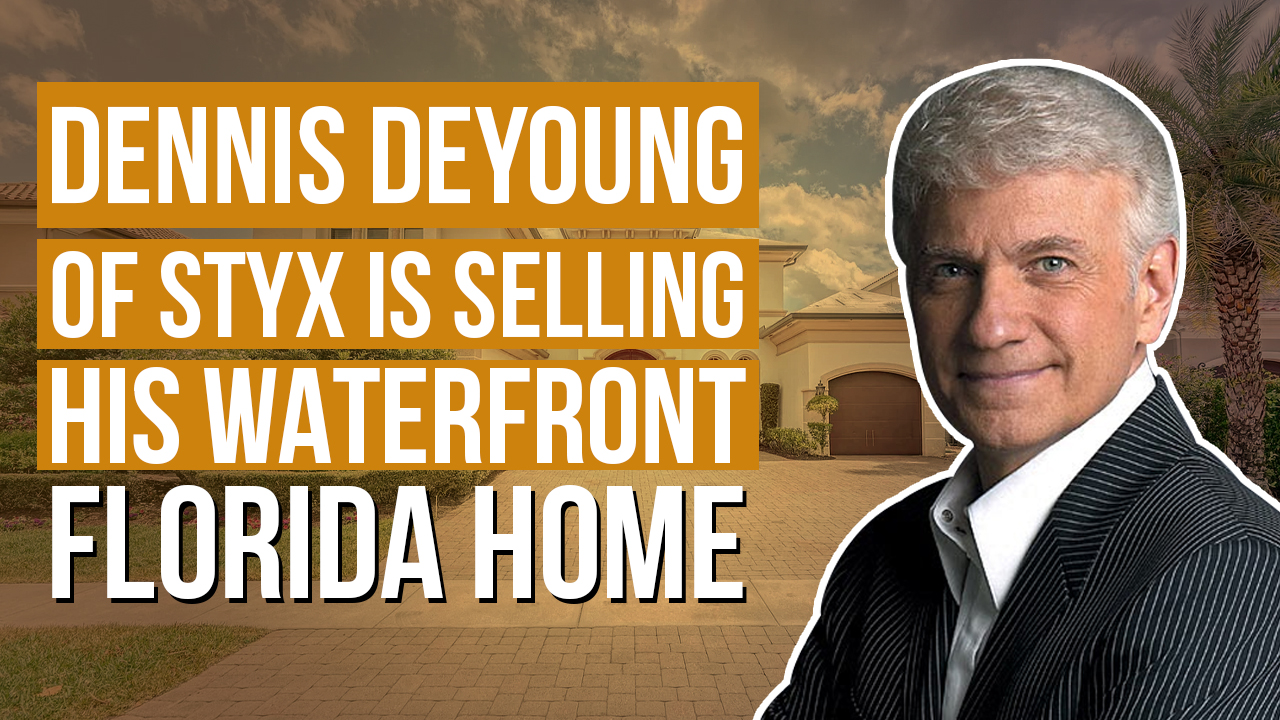 "Do you want to buy a house?" What do you think? Is it a question worth asking? How about "Should I buy a house?" or "Can I afford to buy a house?" These are all questions that our friend is likely wondering. Buying a house can be a very exciting and daunting process. We want to make sure that you have all the information you need to make an informed decision. We can help you find the perfect house for your needs and budget. We also have years of experience in the real estate industry, so we can provide you with sound advice. 
Luckily for you, TTP Member, We've created a video that will show you some of the features of the homes we've found for sale. In addition, we'll provide you with an answer to any questions you may have. So if you're looking to buy a home, please watch our video and let us know if there's anything we can do to help.Our team of experts know the ins and outs of the housing market and can guide you to the best option for your needs. We can provide you with a variety of information and resources so that you can make an informed decision. We have years of experience in the real estate industry and can provide you with a comprehensive list of potential homes. We can also help you find the best deal on a home, and negotiate the best terms for you. 
But before diving in, let's first know who Dennis DeYoung is.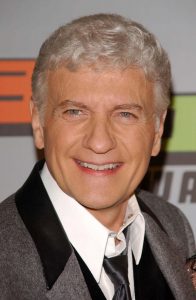 Dennis DeYoung is a singer, songwriter, musician, actor, and producer who rose to fame as the keyboardist and principal lead vocalist for Styx in the 1970s and 1980s. DeYoung wrote and sang on seven of the band's biggest singles, including the classic rock radio staples "Lady," "Babe," and "Come Sail Away." He released a pair of solo albums during the group's sabbatical in the mid-'80s, including the Billboard-charting Desert Moon in 1984, before reconnecting with his former comrades in 1990. DeYoung had formally left Styx in 1999 due to a terrible viral illness that made him light sensitive. DeYoung continued to record and perform as a solo artist in the following decades, releasing the albums One Hundred Years from Now (2007) and the two-volume 26 East in 2020 and 2021. 
DeYoung was born and reared in Chicago, and while still in his teens, he formed a band with future Styx members James Young, John Curulewski, and Chuck and John Panozzo. The band first went by the name Tradewinds, then TW4, until renaming themselves Styx in 1972. Before launching into the mainstream with the DeYoung-penned track "Lady," which became a hit in 1974, the trio released three somewhat successful albums. The following year, Curulewski left the band and was replaced by guitarist/vocalist Tommy Shaw, who would go on to play an important role in the band's future success. Styx had a succession of big successes starting with 1977's Grand Illusion, ranging from stadium-rock grandeur to sweeping power ballads.
After releasing the concept album Kilroy Was Here in 1983, which featured the Top Ten hit song "Mr. Roboto" written by DeYoung, the band went on a five-year hiatus. The following year, Desert Moon, his gold-selling debut solo album, was released; it featured the hits "Don't Wait for Heroes" and the chart-topping title track. Back to the World, his well-received sophomore long-player, was published in 1986, and Boomchild, a more moderately successful album, followed two years later.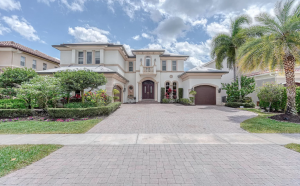 The Music of Styx – Live with Symphony Orchestra, which was released in 2004 and was followed by the studio album One Hundred Years from Now in 2007, marked DeYoung's return to the solo music scene. In 2014, he released Dennis DeYoung…And the Music of Styx Live in Los Angeles, a live LP, and in 2020, he released 26 East, Vol. 1, his first studio album in more than ten years. 1. 26 East, Vol. 1 is named after the Chicago address where DeYoung grew up. The next year saw the publication of 2.
Now, let's move on..
COME SAIL AWAY WITH ME… to this glorious waterfront 5-bedroom home with sweeping serene lake views from the family room, living room, kitchen and master bedroom.  Located in one of the most sought-after gated communities in South Florida, The Oaks at Boca Raton, this estate home has an immaculate master suite including separate his and hers bathrooms, den and second bedroom on the first floor, an open floor plan offering 4,702 square feet of AC living space and 5,932 total square feet features many luxurious upgrades such as coffered ceilings, crown moulding, fireplace, wet bar, custom built-ins, impact glass windows on the second floor and brand new luxury flat tile roof and gutters.
A sparkling pool with waterfall spa is surrounded by an expansive southern-exposure pool deck and summer kitchen, all overlooking the lake.  Ideally located in the community, this rarely available home with long lake views and sunny southern rear exposure is perfectly centered on the street offering with no speed bumps, and is close to the clubhouse with all of its first-class amenities.  A custom driveway lot can fit seven cars.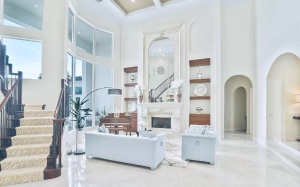 A fully remodeled 25,000 square foot clubhouse with a state-of-the-art gym, resort pool, opulent spa, professional tennis courts, The Oak Room restaurant, playground, and basketball court are just a few of the first-rate amenities available at The Oaks at Boca Raton. Ten Har-Tru courts, one red clay court, and one Deco-Turf hard court make up the award-winning tennis facility.
It also features a full-service pro shop and a staff of tennis experts that are USPTA-certified. With a full line of cutting-edge facilities and equipment, a fully staffed fitness department offers classes and one-on-one training. With a 24-hour staffed gate, mobile security patrols, and neighborhood perimeter monitoring, security is a top focus at The Oaks of Boca Raton.
Dennis DeYoung, a founding member and former lead vocalist of Styx, has decided to sell his waterfront Florida property in the opulent Boca Raton neighborhood of The Oaks. DeYoung paid 1.1 million dollars for this 4,702 square foot property in 2016 and is now asking 2.8 million dollars for it. It features five bedrooms and 6.5 bathrooms.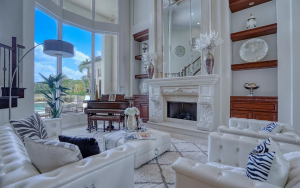 As soon as you go inside, you'll see that the interior selections highlight the rockstar's style and lend the place a hint of Dennis DeYoung. A vibrant photograph of John Lennon hangs in the foyer and leads into the living room, which has a fireplace, a grand piano, and sofas with zebra patterns. The house's interior has crown molding and vaulted ceilings.
High ceilings and glass windows in the main living area provide views of the lake and pool. The master bedroom includes two separate bathrooms with marble floors and gold accents. Additionally, the house features three attached garage spaces with room for seven cars.
A 25,000 square foot clubhouse with first-rate amenities, such as a gym, resort pool, opulent spa, professional tennis courts, a basketball court, and The Oak Room Restaurant, is available to residents of The Oaks.
The building combines the ideal blend of contemporary and opulent elements with rustic accents to create the ideal atmosphere. Living in one of South Florida's most sought-after gated communities will also be advantageous to the buyer.
The listing for this property is held by David Teboul of Charles Rutenberg Realty Fort and Katia Reisler of Douglas Elliman.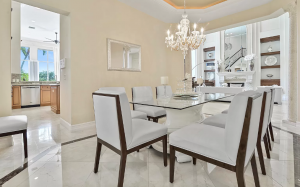 Working with Douglas Elliman, Katia concentrates her broad knowledge on a privileged portfolio of opulent waterfront houses. Her thorough marketing methods, active networking affiliations, and well curated Rolodex of high-net-worth clients reach not only from South Florida to New York, but to many other locations across the world.
Utilizing these marketing initiatives, Katia increases the awareness of the properties owned by her clients. She adds a great deal of value to what she can do for her customers through her skill in creating lasting client connections, her amazing portfolio of properties, her exceptional market knowledge, and her concierge service.
Katia is now much more well-known as a professional with experience dealing with athletes and entertainers thanks to her inclusion in Douglas Elliman's Sports & Entertainment Division.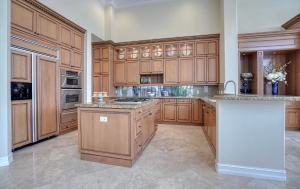 Katia has won the Million Dollar Guild Award and the President's Circle Top 11% business Wide Award for Douglas Elliman. Katia is a Global Affiliate of The Canadian Real Estate Association and has attained and holds a number of renowned qualifications (CREA). At Boca West, Katia represents AKOYA in Canada at the moment. Katia's involvement in the community is demonstrated by her humanitarian work with Elliman Shares as an Ambassador for Boca Raton Promise.
Let me review again the details of the house for you to keep in mind.
The home, which is located in the gated community of The Oaks at Boca Raton, has five bedrooms and 6.5 bathrooms and is spread out over 4,702 square feet.
The traditional interiors feature vaulted ceilings, crown molding, a fireplace, wet bar, and bespoke built-ins, as well as an open floor layout. Large glass walls provide for plenty of natural light.
A columned entrance leads to the foyer and two-story living room, which includes a grand piano—ideal for when the musician felt the need to tickle the keys.
A formal dining room, kitchen with granite counters, and open family area complete the main floor. The patio and pool are accessed through glass doors.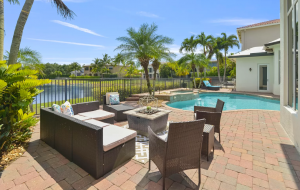 The main suite also includes two en suite bathrooms and glass doors that extend to the pool. The homeowner's affiliation is hinted at by a large walk-in wardrobe with a prominently displayed Styx jacket.
The lake is visible from the pool, waterfall spa, and summer kitchen. A three-car garage and a bespoke driveway with enough for seven more vehicles are included with the property.
Residents have access to a 25,000-square-foot clubhouse that includes a gym, pool, spa, professional tennis courts, and a restaurant.
Dennis DeYoung of Styx Is Leaving His Waterfront Florida Home appeared originally on Realtor.com® Real Estate News & Insights.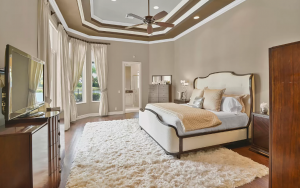 If you want to invest in the house, now is the time to do it. The market is still strong, and there are many houses available for sale. You can find your dream home by looking online or calling a real estate agent. If you're interested in purchasing a property, make sure to get pre-approved by your lender.
This will help you determine how much money you need to invest and avoid any delays in the process.The market is still stable and prices are still low. You can also invest in a property that's in a good location. If you're not sure what you want, you can hire a real estate agent to help you find the perfect home.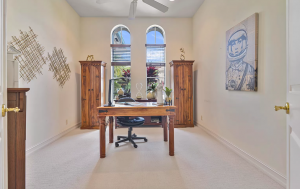 Buying a home is an important decision that you will never regret. We understand that and want to help you make the best decision for your needs. That is why we offer our services as a home buying advisor. We can provide you with information on different types of homes and help you find the right one for you. We can also help you negotiate prices and terms, and connect you with local professionals who can help with the entire process. So if you are interested in buying a home, we are here to help.
We hope that our video has helped you find a home. We want to make sure that you have the best experience possible when looking for a new place to live, and we'll continue to offer quality videos in the future. 
That's it for this video TTP Member, remember to subscribe to our channel and if you feel like we've delivered value please share this video with ONE person. That's right just one person as a token of your appreciation for the hard work we put into making content that educates and helps you on your mission of building your own fortune. Remember you can watch video after video, but it isn't until you actually take action that you'll start to see results. See you soon!
---