Former Fox News Host Eric Bolling Sells His Boca Raton Mansion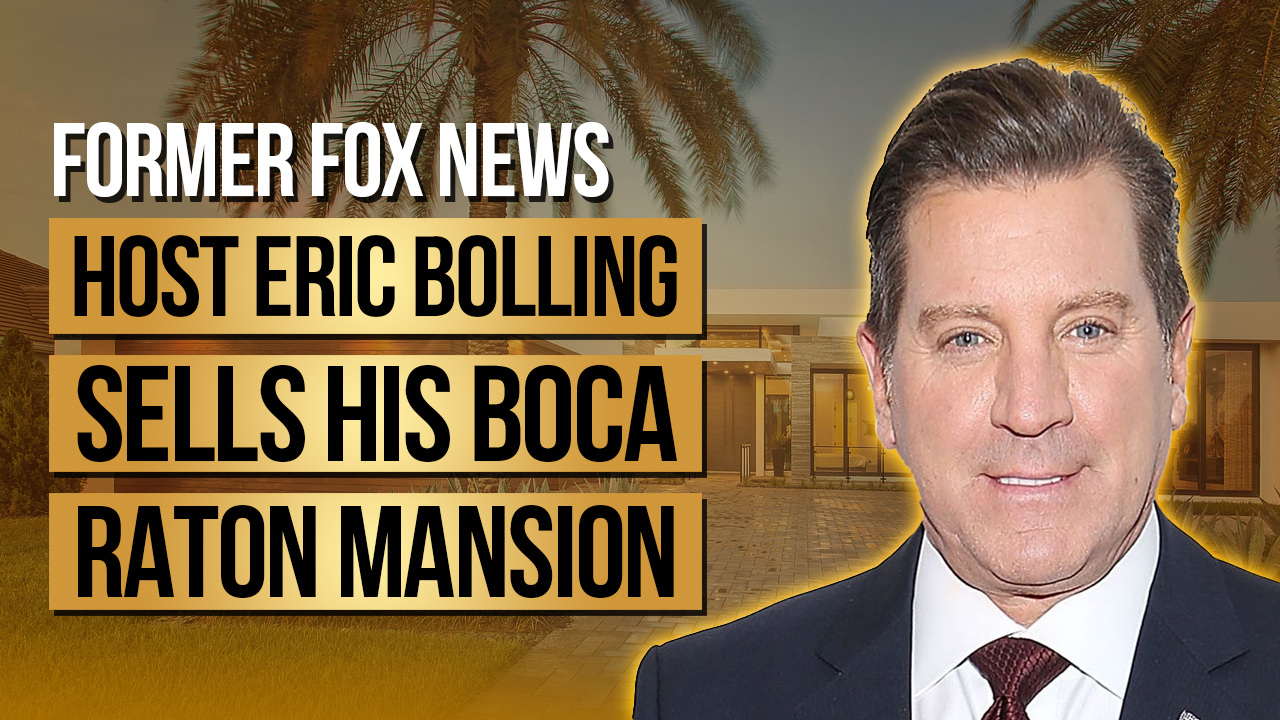 Who would have forgotten about Former Fox News Host Eric Bolling? After the controversial lewd photos he allegedly sent to female colleagues which he vigorously denied, his program 'Fox News Specialists' still ended up airing its last episode. Just recently, we found out that he is selling his Boca Raton Mansion. To know more about this, keep reading this blog.
Luckily for you, TTP Member, we have prepared everything you need to know about the Former Fox news host Eric Bolling. Let us find out what happened and where he is right now. Remember, that while the first step is completing any of these amazing courses, the second and possibly more important step is taking action even if it's imperfect action.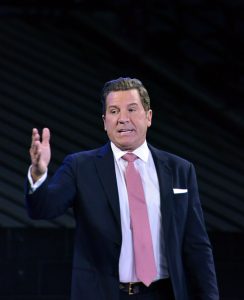 After his program Fox News Specialists had its final air last 2017, Eric Bolling is selling his mansion in Boca Raton, FL.
Bolling purchased the waterfront home for $4,620,000 in December 2021 and put it on the market at $6,795,000. It's now back on the market at a higher price.
A Warhol inspired estate that offers 6,163 square feet of luxurious contemporary living in a gated enclave in Boca Bridges. This modern single-family home has five bedrooms, three garages and seven bathrooms.
This mansion, uniquely designed by GL Homes and expertly decorated by Decorators Unlimited Interiors, is situated in the heart of Boca Raton with easy access to luxury dining and shopping. Its central location is near the A-rated schools, beaches, and playground that give parents a minimal commute for their children.
For $1,443 per square foot, this Boca Raton ZIP code (33496) has a fully furnished and turn-key mansion that is quite expensive. In contrast, the home's price at $1643 per square foot reflects a well furnished and fully assembled lot of users.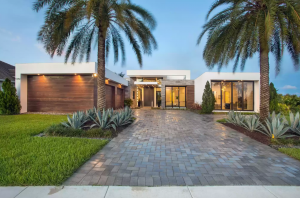 With a contemporary design and seamless space, the open-concept residence features a foyer with a bar and built-in wine rack.
The living spaces, dining spaces and backyard offer views overlooking the spacious backyard. These spaces can be traversed via a wall of sliding glass doors.
The house had wood accents, including garage doors, giving way to a natural stone driveway and walkway that lead to the estate's outdoor water feature.
The kitchen has a casual, yet elegant feel with white cabinetry, hardwood floors, and black marble countertops. It's also equipped with high-end appliances that are hidden and an open pantry that is large enough to create a movable island.
Having a beautiful bathroom with vanities, dual closets, and a tub and shower on the entire first floor is perfect for your guests.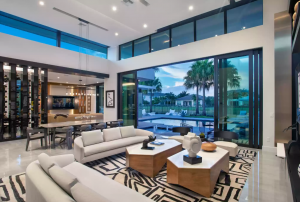 This estate has a large, heated pool and recreational space with the summer kitchen outside it. The property also benefits from three garages.
Providing serene and scenic views of the home's pool and stunning lakefront backyard, the master bedroom features large floor to ceiling sliding glass doors. The glittering pool and glistening lake is apparent through the windows of this master suite which includes a sprawling walk-in tub surrounded by luxurious tile work.
Aspects of the central locale of Boca Raton are close to shops, restaurants and beaches. The Boca Bridges enclave offers residents access to a clubhouse with a yoga room, gym and sport courts. The neighborhood community offers proximity to those amenities that wealthy sectors may need assistance with, such as accessibility to resources like teaching institutions or community centers.
Now, let us know more about Eric Bolling. 
Eric Thomas Bolling is an American television personality who specializes in financial news and political commentary.
He, along with Katherine Timpf and Eboni Williams, co-hosts The Fox News Specialists, a show on Fox News. Bolling was a co-host of fellow primetime show, The Five at its inception. He has occupied numerous roles as a commentator on financial issues for television. Notably, most famously, he hosts alongside Greg Gutfeld and Eric Bolling on the show "The Five."
Bolling took over as host of the Fox Business Channel news program Cashin' In, replacing fellow FBC anchor Cheryl Casone, who hosted the program from September 2009 until January 2013. In 2016, Bolling published his first literary work Wake Up America, which became a New York Times best seller.
In 2017 he followed this up with The Swamp: Washington's Murky Pool of Corruption and Cronyism and How Trump Can Drain It.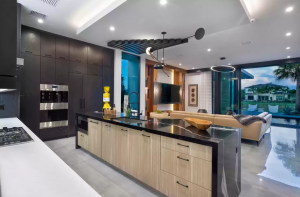 In his early life, Bolling was born  on March 2, 1963 in Chicago, Bolling graduated from grade school from Queen of All Saints Basilica and high school from Loyola Academy. In 1984, he graduated from Rollins College with an economics degree before becoming a fellow at Duke University's School of Public Policy.
He was drafted in the 22nd round by the Pittsburgh Pirates, and was assigned to their rookie-level Gulf Coast League. His baseball career was cut short by a torn rotator cuff injury.
When it comes to career, Eric Bolling specialized in trading natural gas, crude oil, gold, and other commodities on the New York Mercantile Exchange.
Bolling was the recipient of the Maybach Man of the Year Award at the Trader Monthly Awards, 17 January 2007. In 5 years as a board member and strategic adviser to NYMEX, Bolling has been featured by Trader Monthly in Top 100 and placed number 8 in 2006.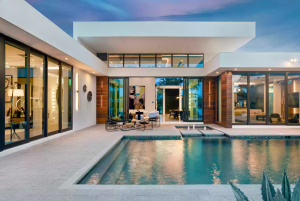 Bolling developed the idea of CNBC's Fast Money. Bolling left the show in August 2007 and moved to the new Fox Business Network, where he hosted the business show, Happy Hour.
Bolling was criticized by the media in June 2011 after he made a comment on-air about President Obama welcoming Gabon's President Ali Bongo Ondimba to the White House. Bolling said "guess who's coming to dinner?" That night, Bolling also dismissed Obama for hosting rapper Common in the White House, saying "it's not the first time the president has had a hoodlum in the hizzouse." Progressive group Media Matters criticized Bolling for being racist, sharing a Media Matters analysis of his comment that said "Calling the president of Gabon and Common 'hoods in the hizzy' is not colorful commentary, it is overt racism."
Bolling serves as co-host of The Five on the Fox News Channel and is known for taking his beliefs, whether they are political or moral, to the extreme. Most notably, Bolling saved Bob Beckel's life in 2011 when he performed the Heimlich maneuver on him at a local restaurant. He also tends to be a guest host on many of the most popular Fox News opinion shows such as Hannity and Fox & Friends.
On April 19th, Fox News announced that Bill O'Reilly had departed from the network and The Five became the 9pm show. Host Eric Bolling created his own show, The Fox New Specialists which debuted on May 1st.
Bolling, who is married to Adrienne, reportedly sold their beach house for $2.6 million on the Jersey Shore in 2019.
The year after they listed their North Jersey home for $2.7 million, the couple allegedly purchased a luxury condo in Alpine Country Club.
That's it for this blog TTP Member, remember to subscribe to our channel and if you feel like we've delivered value please share this blog with ONE person. That's right just one person as a token of your appreciation for the hard work we put into making content that educates and helps you on your mission of building your own fortune. Remember you can read blog after blog, but it isn't until you actually take action that you'll start to see results. See you soon!
#TalkToPaul #celebrityrealestate #celebrityhomes #EricBolling
---