French Stewart is Selling L.A. Bungalow for $1.985M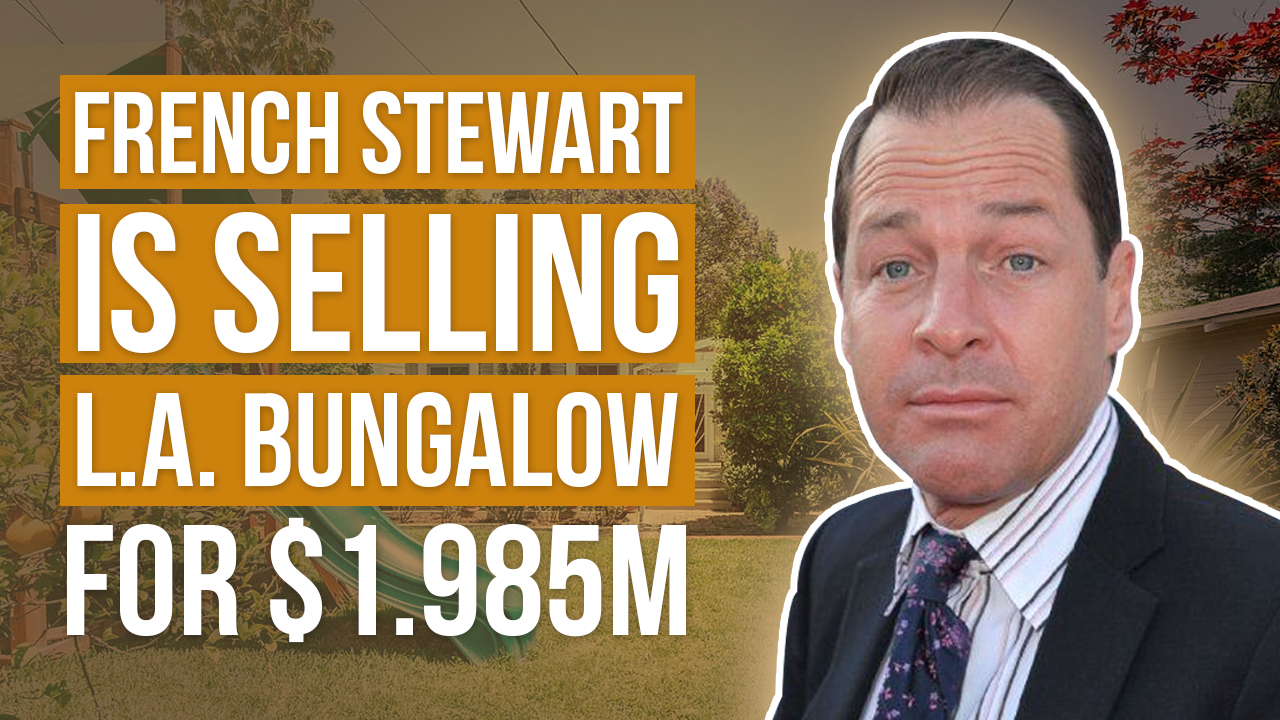 Hello, people. Welcome to the TTP Youtube channel. The actor who stars in "3rd Rock From the Sun," French Stewart, is selling his house for $1,985,000. He originally purchased it for $1.06 million in 2010.
If the house sells at full price, he will gain a modest profit. However, any potential earnings do not take into account the money he spent on renovating the house. If you want more celebrity real estate content, subscribe to the TTP Youtube channel and hit the notification bell.
The house was built in the 1920s, and has three bedrooms and two bathrooms. It is modernized with charming original elements in a stylish white palette.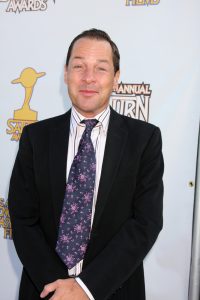 The rooms have built-in storage. There is a washer and a dryer are in one of the bathrooms, and one of the bedrooms is currently being used as an office.
The dining room features original hardwood flooring, as well as French doors that lead to the back patio. The finished garage could be used as a gym, art studio, or guest room.
You walk into a two story foyer where you see arched doorways, built-ins and moldings. The living room has built in shelves and a fireplace, and the dining room has a built-in sideboard with a pendant lamp.
The kitchen is outfitted with counters, cabinetry, and a breakfast bar.
The main bedroom offers a fireplace and access to the outdoors.
There is outside space for eating, mature gardens for exploration, as well as enough room for a pool. The listing notes provide specific data about this property.
The bungalow was built in 1916-1926. It was originally developed for actors and directors who were working on nearby Hollywood studios.
The neighborhood has been designated a Historic Preservation Overlay Zone, which strives to preserve the architecture of the area. It is also close to West Hollywood restaurants and shops, making it popular for movies like "Halloween" and "Nightmare on Elm Street."
Stewart is the lead in the sitcom "3rd Rock From the Sun," and he also starred in "Mom" from 2013 to 2021.
Justin Alexander with Compass is holding the listing.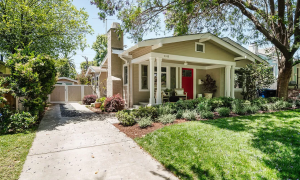 French Stewart is an actor and comedian. He played Harry Solomon in 3rd Rock from the Sun, Inspector Gadget in Inspecto Gadget 2, and Chef Rudy on Mom.
Stewart was born in New Mexico and attended both high school and the American Academy of Dramatic Arts.
Stewart was first recognized for his work as a regional theatre actor for seven years before making it to TV. He earned his Screen Actors Guild card with Hanna-Barbera's Shakey Quakey tour. Though Stewart made it to TV with 3rd Rock, he got fired after removing the head of his costume in front of children. In 1996, Stewart is cast on 3rd Rock and then continues onto various commercials and Clamato spokesperson.
Stewart is a well-known actor with many credits including Stargate and Leaving Las Vegas. He has also been in voice over work for animation and major films. Stewart voiced Bob on the animated show God, the Devil and Bob as well as played Icarus in Disney's animated series Hercules.
Stewart has acted in many roles on screen and television, including spots on 3rd Rock and Phineas and Ferb.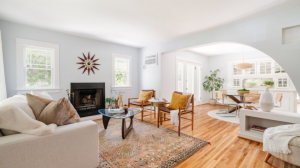 Stewart has starred on MADtv and guest-starred in the Seinfeld episode "The Opposite". In addition, he can be seen in I Love The… series on VH1. Stewart was an executive producer for Has Anyone Seen My Baby?, a drama that portrayed the life of a woman who lost her daughter on an African safari in the early 1970s. In addition, he played a quirky office temp on NewsRadio.[citation needed]
Stewart played Queen Victoria and Sigmund Freud in Watson: The Last Great Tale of the Legendary Sherlock Holmes at Sacred Fools. That same year, he co-artistic directed their 2012-2013 season and acted in Stoneface: The Rise and Fall and Rise of Buster Keaton, a play written by his wife Vanessa Claire Smith. In 2011, he voiced Richard De Longpre on Allen Gregory.
The TV actor has made guest appearances on The Middle and Marvin Marvin.
Stewart married actress Katherine LaNasa in 1998. They divorced in 2009, but remarried in 2011 with their daughter, Helene Claire Stewart, born in 2013.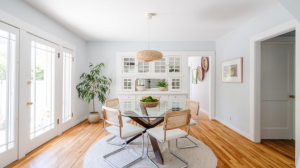 He is a graduate of the American Academy of Dramatic Arts, where he studied for his B.F.A. and received a degree in theatre arts at the same time. After graduating, he spent seven years touring in different regional theatres across America before finally returning to pursue his lifelong dream: to become an actor in Hollywood.
French Stewart has had many roles over the years, some of which are those in '3rd Rock From the Sun', 'Just Shoot Me!', 'That '70s Show', and 'Bones'. With major film roles in films such as Glory Daze, Love Stinks, and Home Alone 4, he was nominated for an Emmy award. His play Watson: The Last Great Tale of Legendary Sherlock Holmes at Sacred Fools Theater Company garnered him a nomination for an Ovation Award.
After appearing in an episode of Seinfeld, Stewart's popularity continued to grow with his starring role on 3rd Rock From the Sun. He gained international recognition for portraying Harry Solomon while cracking jokes and being a foreign little guy.
Before his TV and film career, he voiced Icarus in Disney's animated series Hercules (1998) and was the main character Bob Alman on the short-lived show God, the Devil and Bob (2000). Appearances on sitcoms like Just Shoot Me!, That 70s Show, Becker, Less Than Perfect, and The Drew Carey Show brought French Stewart to the masses. He also had a role as a genie in WB's Charmed in 2000.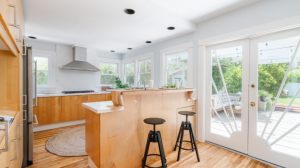 After some small roles, he became known for playing the lead in black comedy "Love Stinks" and major roles in sci-fi film "Clockstoppers" and crime drama "Give 'em Hell, Malone." He also had noteworthy comedic guest-appearances on shows such as CBS' "CSI: Crime Scene Investigation".
He completed his secondary education and went on to study acting. After graduating from American Academy of Dramatic Arts with a Bachelor in Fine Arts degree, he relocated to New York City and secured a number of film and television roles.
French Stewart met Katherine LaNasa when she appeared on an episode of 3rd Rock from the Sun in 1996, and they soon got married. They divorced in 2009, and he later married Vanessa Claire. They have one daughter together.
He appeared in many shows over the years, including just shoot me!, that '70s show, becker, less than perfect, csi: crime scene investigation, pepper dennis, bones, castle, true jackson vp, days of our lives. He has had some major movie roles too.
Early in his career, French Stewart played a Yogi Bear-costumed character on the "Shakey Quakey" tour. However, he was terminated from that job after removing his head bear suit in front of children. Two years after that, he landed a role as Lieutenant Ferretti the Sci-Fi film Stargate. After this, he became more well known and gained popularity after playing Tommy Solomon, a squint alien on 3rd Rock From the Sun.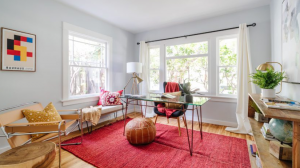 He played Icarus in the Disney series 'Hercules' and Bob Alman in the animated series 'God, the Devil and Bob'. He appeared in sitcoms like 'Just Shoot Me!' as well as other TV shows.
Early in his career, he appeared in films such as "Glory Daze" and "McHale's Navy." His first major film role was the title character of a black film called "Love Stinks." He played major roles in sci-fi films such as "Clockstoppers," "Home Alone: Taking Back The House," and the direct-to-video movies "Inspector Gadget 2." In between smaller appearances in many films, Love played prominent roles in comedy films like "Dog Gone" and "Beverly Hills Chihuahua 2." For television, he had bit parts on the series "CSI: Crime Scene Investigation," "Pepper Dennis," and an unsold pilot for Fox Television Studios entitled "Pandemic." With small roles on successful series like "Bones,""The Closer,""Cavemen,""Castle,""The Middle." and many others, Love became a household name with his portrayal of Rudy Sarrano on CBS' 'Mom'.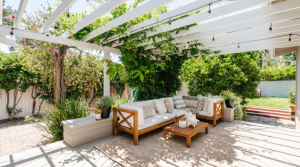 He is an actor who has an interest in acting that started when he was a child. At age five he made his first appearance in local show, "Captain Billy's Clubhouse". He went to Del Norte High School and West Texas State University before attending American Academy of Dramatic Arts for acting and graduating with a Bachelor of Fine Arts degree in Theatre Arts in 1986. He also has a sister named Kelly McEwen.
Stewart's first marriage to LaNasa lasted eleven years, and they divorced in 2009. Stewart then married actress Vanessa Claire, with whom he has a daughter.
That's it for this blog TTP Member, remember to subscribe to our channel and if you feel like we've delivered value please share this blog with ONE person. That's right just one person as a token of your appreciation for the hard work we put into making content that educates and helps you on your mission of building your own fortune. Remember you can read blog after blog, but it isn't until you actually take action that you'll start to see results. See you soon!
---