Homes Fit for the King of Rock 'n' Roll: Peek at Elvis Presley's Bountiful Mansions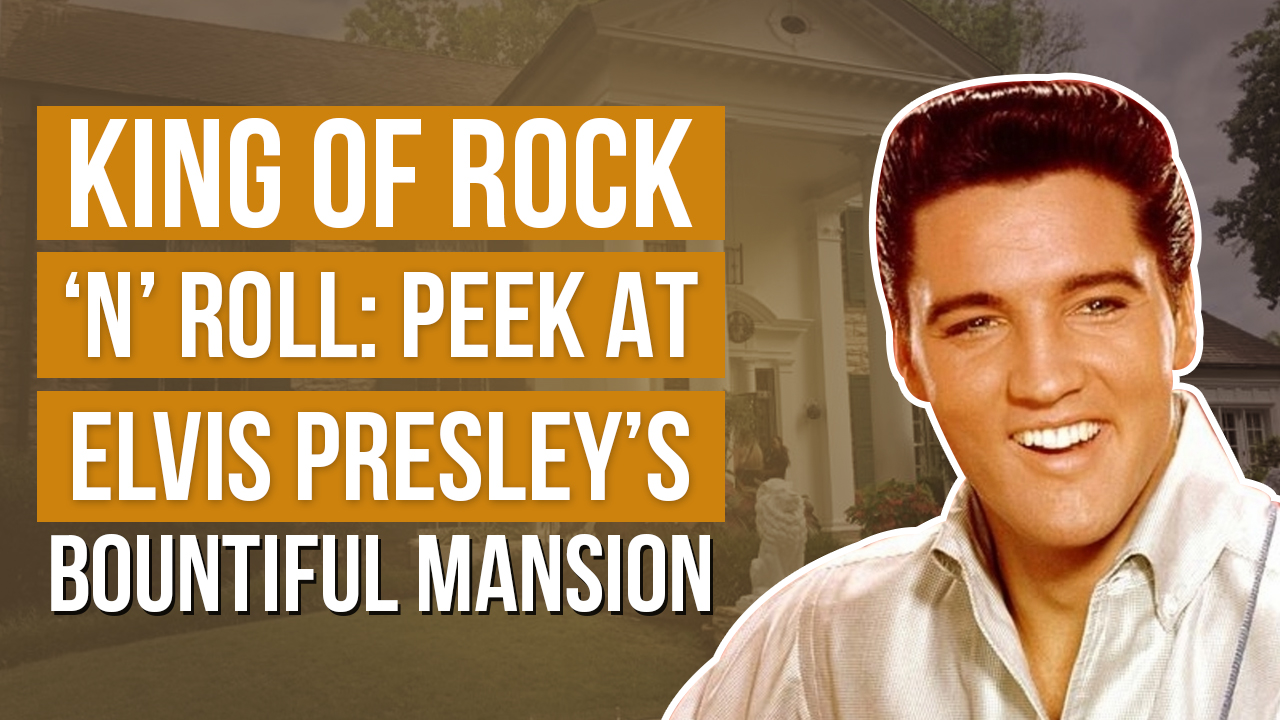 With Elvis' story hitting theaters this month, we decided to take a peek at the many harmonious homes of music legend Elvis Presley. Elvis Presley once lived in Graceland, which is his most well-known building. However, he also had other places he stayed or called home. Over the decades, many of the places where Presley once lived have drastically changed and now either no longer exist or have gone up astronomically in price as a result of the hot housing market. So if you want to know about these mansions, then this blog is for you.
For today's blog, exclusive to our TTP members, we will be talking more about the King of Rock n Roll, no other than Elvis Presley, and of course his beautiful mansions. Now without further adieu, let's get into the blog.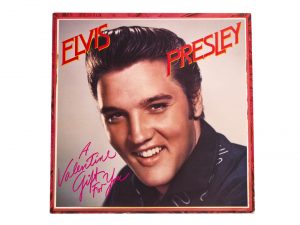 Most people know Elvis as the king. Many people call him the Memphis Flash. A lot of people will most likely recognize him by his sideburns and lip curl. Yes, today's Wonder of the Day is one of the most famous and influential people in history, Elvis Presley. Elvis was one of the most successful musicians of all time. He was born in 1935 and spent a normal life living in Tupelo, Mississippi up until he moved to Memphis as a teenager. From there, his music career took off and he became one of the most successful singers of all time. After graduating from high school in 1953, Elvis began recording music with the label Sun Records.
He released his first single the following year and signed with a new label the following year. In 1956 he released his first number-one single called "Heartbreak Hotel." So, what kind of music did he make? Elvis combined many different genres of music, including blues, gospel, country, and rock'n'roll. He referred to his own music as "rockabilly". Some of his most popular songs were: "Love Me Tender," "All Shook Up," and "Hound Dog." Elvis' musical influences came from a variety of sources. He listened to pop, country, and gospel music, was a frequent attendee at all night gospel sings, and also absorbed black R&B while living in Memphis.
Elvis Presley became a huge sensation in the 50s. People saw him everywhere. His music played on the radio. His movies were shown on the big screen. He even made appearances on TV shows like The Ed Sullivan Show, as a guest performer. Elvis was drafted into the military in 1957, joining the U.S. Army and serving in Germany from 1958 to 1960. There, he met Priscilla Beaulieu, who he would marry in 1967. When he returned from military service, he picked up right where he left off. Elvis starred in a total of 33 movies, the most popular of which was "Blue Hawaii."
He recorded more albums as well. Elvis went on to receive 14 Grammy nominations, three of which he won. As Elvis' success continued to grow, his habits took a turn for the worse. He started abusing drugs and eating mostly greasy food, which damaged his relationships with family, friends, and wife Priscilla. They divorced in 1973.
Elvis succumbed to a fatal heart attack on August 16, 1977. Doctors determined that he had a heart attack, likely brought on by his diet and drug use. He passed away at 42 years old. Today, Elvis Presley, who died in 1977, will live on in his legacy. He has been called the greatest cultural force of the 20th century and his music is still being celebrated today by countless celebrities including Michael Jackson, Prince, and the Beatles.
His daughter Lisa Marie Presley has followed in her father's footsteps to become an entertainer as well. Elvis is respected by many people, because not only are there his talents that people adore, but he has also been seen as a hero for interacting with his fans in a humble and kind fashion. People know him worldwide by his first name and Elvis is often ranked as an important figure in twentieth century popular culture.
Elvis Presley went through many unexpected events in his life that we might not know about just by looking at him. Not only is Elvis Presley a well-known musician, but he's also shrouded in mystery. Here are ten things only super fans would know. 
Elvis had a twin who sadly died at birth. His mother Gladys suffered complications during childbirth and unfortunately, Elvis' twin, Jesse Garon Presley, died shortly after being born. Due to the trauma of this loss, Elvis' mother suffocated her son with affection and the pair were extremely close until her death in 1958. Apparently, Elvis was so distraught after his mother died that it upset other people at the funeral. Many people who knew him said he never recovered from his mother's death.
Elvis' breakout song "That's All Right" was played in Memphis between 14 times and 25 times a day. Elvis would sing often at The Hi-Hat club across the street from the New Daisy Theatre where his music was being played. Many people thought that Elvis was not white, but black because of his dark hair despite the fact that he dyed it with shoe polish.
Elvis' song, "Heartbreak Hotel," from 1956 made him the first artist to sell over one million records in one year. But he didn't write it, with the writers being  Mae Boren Axton and Thomas Durden. Elvis wrote nothing himself but instead got his fame from his stage presence, his singing voice, and of course, the movement on stage which earned him the nickname 'Elvis the Pelvis.'
The Memphis property that was famously known as Graceland was actually bought in 1957 – a year after Elvis experienced success and fame. He bought the property for 100 thousand dollars. The estate has been an important place of pilgrimage for any hardcore fans out there.
Elvis's relationship with Priscilla was often muddied by confusion. First, there was the 10 year difference in age – Priscilla was 14 when she first started dating the then 24 year old most famous man in the world. And once they got married, Elvis insisted on her reflective appearance, making sure she watched her weight and always dressed nicely for him. Priscilla revealed that Elvis liked to keep a mystery around certain things, so she was never allowed to go off and get herself ready without him. All the time she spent around him, she always had plenty of make-up on.
Elvis' musical career was temporarily put on hold due to the Cold War. Initially, it seemed like a minor inconvenience for The King of Rock and Roll until he was drafted in 1958. At the time he put on his soldier's uniform, Elvis had 400 thousand dollars cash, and expensive cars, and was adored by millions of women around the world. Despite being a wealthy entertainer with adoring fans at home, Elvis left his luxury lifestyle behind for two years to serve as a soldier.
Elvis' manager, Colonel Parker, exerted a lot of control over him. It's rumored that he forced Elvis to marry Priscilla by threatening to report his illegal status. You might not know that Colonel Parker himself was an illegal immigrant from the Netherlands. Elvis never toured in Europe because his manager would risk being deported if he did. This is the reason why Elvis only did a handful of Canadian dates.
Priscilla revealed after their marriage that Elvis was an extreme germaphobe. They sipped glasses from the part above the handle because they thought too many people would have touched the handle, which he considered to be "dirty."
Elvis Presley is another famous star who got a pet monkey. His friend was known as Scatter and he would get up to mischief, like wearing a Hawaiian shirt and terrorizing guests of Graceland. He was once punched by a woman who took offense after Scatter put his hands somewhere inappropriate.
From a young age, Elvis Presley was fascinated with guns. When he became an adult, his interest in guns only increased. Girlfriends recounted that he had guns in his dressing room and would occasionally fire them. Once, he shot at a TV set to wake up one girlfriend from sleep; on another occasion, he fired a bullet into the headboard while she was sleeping.
Since Elvis Presley's passing in 1977, the cost of living and real estate prices have increased to the point that many places he once lived are inaccessible to most. And when he died in 1977, he left behind a fascinating real estate legacy. Let's take a look.
The king of rock and roll, and actor, known as The King, was born in Tupelo, Mississippi. There is a street, Elvis Presley Road, named after him and you can buy a 19-acre plot of land on that street for 309 thousand dollars. When he was a teenager, he and his parents, Gladys and Vernon, moved to Memphis. They kept moving around the outer areas of Memphis, according to the Graceland website. First is the 370 Washington. The family reportedly paid $11 a week in rent at a boarding house in 1948. Sadly, the building is no longer there. The Presleys lived there for less than a year before deciding to move to 572 Poplar where they only stayed for a few months. Upon inspection, the current building appears to be a pharmacy and a parking lot.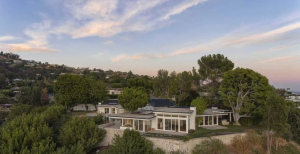 The Presley family moved to their home on 185 Winchester St. in September 1949. It is a public housing complex known as Lauderdale Courts. Their apartment not only still exists, but is available for overnight stays or tours. A commemorative plaque out front recognizes their history as a housing project in Memphis, TN. The family moved to 698 Saffarans and then to 462 Alabama in 1953. Neither of these structures still stands. At this point, Elvis Presley graduates from the local high school. Presley and his parents purchased a $29,500 four-bedroom home on 1034 Audubon Dr. in March 1956 that he lived in for just over a year before it became difficult to live there due to the number of fans and photographers who were constantly watching the area.
This two thousand eight hundred forty four square foot brick abode on a half acre has changed hands multiple times. In 2006, the property was listed on the National Register of Historic Places and was last purchased by music industry executive Mike Curb for one million dollars. Curb gifted the home to Rhodes College in order to create a space for celebrations and experiences of creativity and young energy. The home was undergoing repairs following a water pipe burst when it was damaged extensively in an electrical fire in 2017.
Elvis Presley released "Heartbreak Hotel" in 1956, which climbed to the top of the charts and sold 10 million singles within a year. Just one year later, Elvis splurged on the Memphis mansion that would become Graceland. Set on 13.8 acres, the property became his home for the rest of his life. Graceland, which opened in 1982 and is now a museum, has been recognized by the National Register of Historic Places and as a National Historic Landmark, the highest level of historical designation for an American building. This is one of the most visited and viewed homes in America.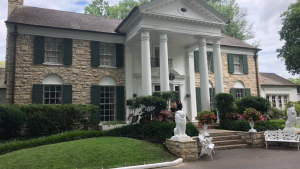 The street name is now Elvis Presley Boulevard. Fans can tour the building where Presley slept and view a room decorated with "green shag carpet" and Tiki decor, a trophy room, and other memorabilia of his time on stage. In the 1960s, Presley bought some property in Coldwater, MS. When it was put on the market for $485,000, it was found that Presley had 30 acres there for his family members. The property has been lowered in price and does not seem to have been sold yet.
When Presley was 21 years old, he made his first performance on the Las Vegas circuit at the New Frontier hotel. He would continue to perform in the gambling mecca for decades, with 600 shows in total. His last concert in that desert came a year before his death. Elvis married Priscilla in 1967. In 1969, he signed a deal to perform at the International Hotel, which eventually became the Las Vegas Hilton. He also made his home in a grand hotel suite while in residence. During his tour, the Hilton was also his home base. In fact, the hotel's 30th-floor Imperial Suite, where the entertainer would stay, eventually became known as "The Elvis Suite." Many of the tribute shows in Vegas are dedicated to Elvis. There is a bronze statue of him and it was formerly located in a hotel. In 2016, Westgate successfully petitioned to have the street in front of the resort renamed Elvis Presley Boulevard.
Presley came to Los Angeles in the 1960s and made nearly 30 movies while living on the West Coast through the process of making films. Elvis and Priscilla lived in a big house in Beverly Hills from 1967 to 1973, where their daughter Lisa Marie was born in 1968. Elvis purchased this luxurious three-bedroom French Regency house back in 1958. Located on a promontory in the exclusive enclave Trousdale Estates, this home offers floor-to-ceiling windows that show views of the city to the ocean. It has a pool and a spa and is worth $400,000. The gated compound has since been extensively renovated and was sold for $25.5 million in 2019.
Elvis purchased his 11-room mansion in Holmby Hills, California in the early 1970s. He shared this house with Priscilla before their 1973 divorce. The Tudor-style home has seven bedrooms, a pool, a tennis court, and a guesthouse. In 1975, Presley reportedly replaced the living room windows with French doors and updated the kitchen before selling it. The home last changed hands for $20 million in 2020. Before purchasing their house in Bel-Air, Presley was renting a luxurious apartment at 525 Perugia Way which has since been demolished. The place is famous for hosting The Beatles in '65.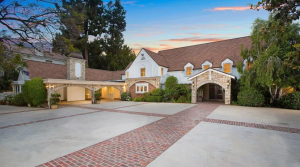 The star also stayed in another Bel-Air house from 1931. This Wallace Neff–designed home originally belonged to a studio mogul and later to Howard Hughes and Prince Rainer. The  13,361 square feet Spanish Colonial residence is set on 1.5 acres. It offers gardens, terraces, and a pool with a tennis court. Recently sold for $31 million in 2019.
When the singer wanted a break from Hollywood, he would head to Palm Springs. The House of Tomorrow is where Presley rented with his wife as well. They were both a part of the generation that was eager for advances in technology that would provide safe and comfortable homes. The mid century modern home is 5,000 square feet and sits on an acre lot with a pool. The home took years to sell at the listed price of $9.5 million. In late 2020, it sold for $2.6 million. In the 1970s, Elvis purchased a home in Palm Springs for $105,000 and called it Graceland West.
The singer would spend his time there on a regular basis. After his divorce, Presley added 1500 sq feet to his home. That addition included a party room, sauna, and more bedrooms and bathrooms which were all needed after the divorce. The 5,000 square foot estate with four bedrooms has last sold in 2014 for $1.5 million
Priscilla Presley recently let go of her long standing Beverly Hills home. It features ornate old-world interiors and has a pool, tennis court, and outdoor fireplace. The 8,550 square foot main house has seven bedrooms and one bathroom. The property was listed in 2020 and was sold for $13 million by the end of the year. It was the first time the home had changed hands in over 40 years. After a number of years, the "Naked Gun" actress sold her Brentwood-area home where her mother and stepfather lived. The listing asked for $3.65 million, but the sale went through at over the asking price of $3.8 million. She had bought the property in 1976 for $170,000.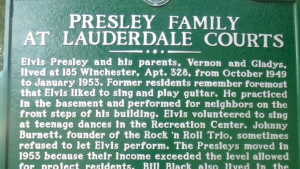 Elvis created a cultural revolution in America. America had been shot with the spirit of music and rhythm. As a result, record and film sales skyrocketed as did requests for "the ducktail haircut." The moment he graced the stage, inhibitions sailed away. Elvis was a true cultural icon, who managed to be outrageous, yet lovable and popular with many audiences. He is mostly remembered for his musical abilities and iconic performances. His legacy has left other performers emulating him in the following decade. Elvis Presley initiated a flow by which America fell in love with him.
With this, he made an everlasting impact. He provided the foundation for future musicians and generations to come. Ever since Elvis, anything is acceptable- just as it's been ever since the king has had his reign. John Lennon said that before Elvis, there was nothing. So, whatever you do today, be sure to listen to any of the hits by Elvis. From 'Hound Dog' to 'Jailhouse Rock' to 'A Little Less Conversation', just feel it. As a result of his legacy, take a moment and appreciate what he did and let your body move, just like he did with his music. Congratulations on being the king of rock and roll!
There you have our TTP blog for today. Now, what do you think about the mansion? Let us know in the comments below. Don't forget to subscribe to our channel, click the notification bell, and like this blog. If you think that we have delivered value please share this blog with one person. Just one share is enough for us, for you to show your appreciation for the commitment and hard work we all put together in creating this blog that teaches and helps you on your mission of building your own fortune. And you don't know that one share could go a long way. And keep in mind that no matter how many times you're going to read this blog, you won't see any results unless you take action. Good bye and see you at the next one!
---