Kate Mara And Jamie Bell Are Selling Their Exclusive Los Feliz Home For $3.2M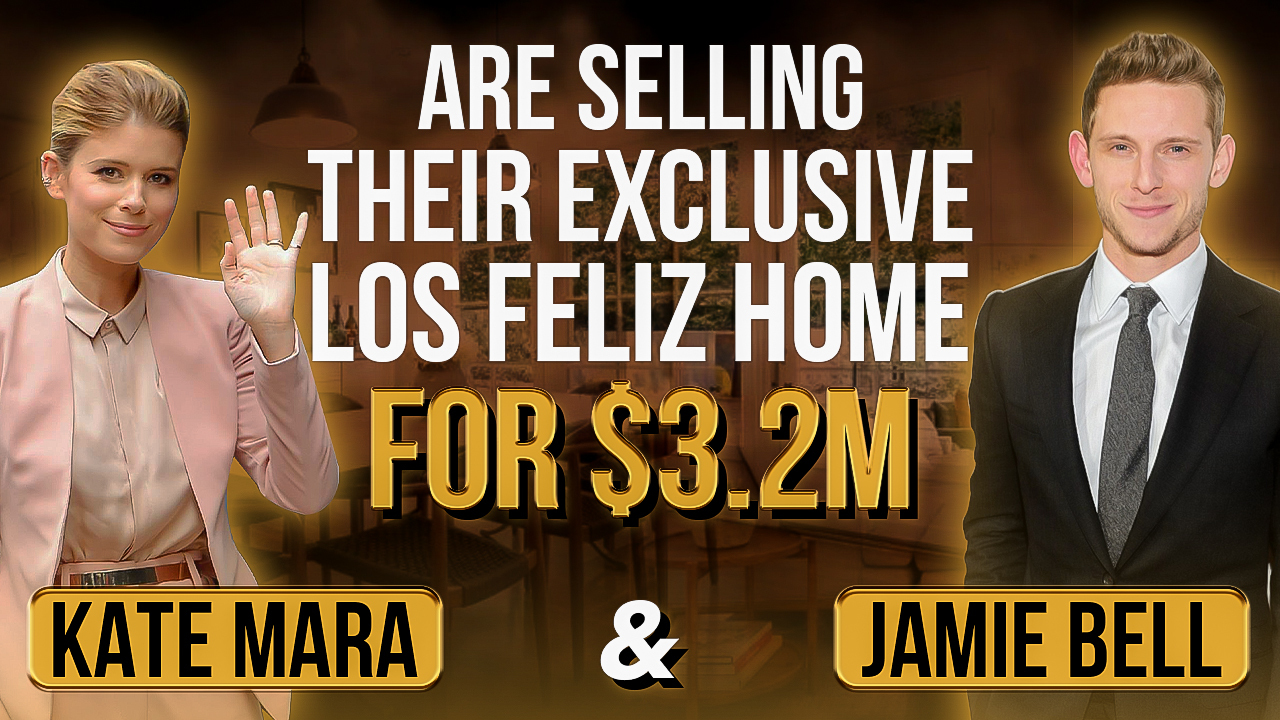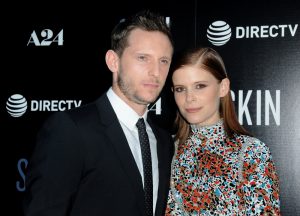 After a whirlwind romance, Kate Mara and Jamie Bell list their traditional-style Los Feliz home for 3.2 million dollars. So if you want to check this mansion out, then this blog is for you. 
For today's blog, exclusive to our TTP members, we will be talking more about Kate Mara and Jamie Bell, and of course, their lovely home that is on the market right now. Now without further adieu, let's get into the blog. 
The House of Cards actor Kate Mara and her husband, Jamie Bell, have listed their private retreat in the Los Feliz neighborhood of Los Angeles for 3.2 million dollars. They purchased the house in 2018 for 2.6 million dollars and made some slight cosmetic changes to it before putting it back on the market. This traditional style house was originally designed by architect Garrett Van Pelt that was built in the year 1936.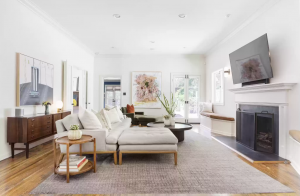 This gated home provides privacy because it is set back from the street with a hedge row. It is uncommon in Los Feliz Oaks, which is an exclusive neighborhood among celebrities, including Rooney Mara, who is Mara's sister and the star of "The Girl With the Dragon Tattoo." Mara also sold her nearby mid century modern home in 2018.
Opening to brick flooring and a window seat with bookshelves, the entry flows right into an open floor plan. It has four bedrooms and three bathrooms, totaling just under 3,000 square feet of space. This beautiful property is surrounded by a thick hedge wall so the outside cannot be seen from the public area. 
One side of the home features a detached garage with 2 parking spaces on one side, while the other facade has a metal gate for the entrance. The actors made some modern updates to this house. They had painted the cabinets in the kitchen graphite gray and added built in window seats to the living room which matched the hardwood floors, vaulted ceilings, and sunroom with red brick flooring.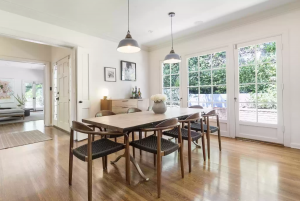 The light and bright living room features a fireplace and window seats. The adjoining dining room has glass doors that offer access to the patio and backyard. There is a vaulted ceiling, stainless steel appliances, and deep-gray cabinets in the updated kitchen. Seating comes with the center island. The walk-in closet is an exciting addition to the house, with mirrored walls. The bathrooms contain a built in bath tub and glassed shower. 
Other delightful details include a laundry room and a brick-floored sunroom. Football memorabilia spotted in the home hints at Mara's ties to family members who have owned the New York Giants and Pittsburgh Steelers. 
The home's long and narrow lot explains why there is a long hallway that connects to various bedrooms. The exterior of the property has multiple doors which open to various parts of the gardens. A swimming pool 
is flanked by a brick patio and raised spa and there are also tall lush lawns. There's also a covered dining pavilion with an outdoor fireplace that transports you to a secret garden. Mara has been in many popular movies and is known for her role in the Netflix drama, House of Cards.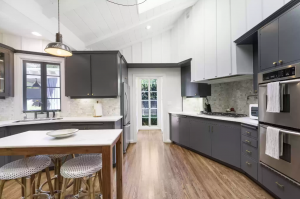 She has also starred in Chappaquiddick, The Martian, and Fantastic Four, where she met her future husband. British actor and dancer, Bell, is known for his first role in the movie "Billy Elliot" which he starred in alongside other critically acclaimed roles such as "King Kong" and "Snowpiercer." His most recent role was playing Bernie Taupin in the movie "Rocketman.
With that let u get to know more about Kate Mara and Jamie Bell. 
Kate Rooney Mara was born on February 27, 1983, in Bedford New York. Kate's parents are Timothy Christopher Mara, an NFL scout and vice president of the New York Giants for player evaluation, and Kathleen McNulty Mara (née Rooney). She is the second of four siblings, the older brother is Daniel; one younger sister, Patricia "Rooney"; and one younger brother, Conor. She has an ancestry of Irish background comprised of a quarter Italian and smaller amounts of German, French-Canadian, and English bloodlines.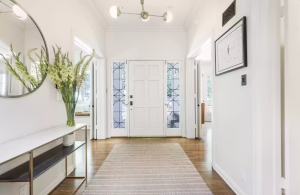 She had 40 cousins through her father's 11 siblings specifically 20 aunts and uncles. Kate Mara is a great-granddaughter of both New York Giants founder Tim Mara and Pittsburgh Steelers founder Art Rooney, Sr. Kate's mother's side of the family has held ownership of the NFL's Pittsburgh Steelers football team since its formation in 1933, and her father's side of the family has held ownership in the NFL's New York Giants since its formation in 1925. Her paternal grandparents were Wellington Mara and Ann Mara. 
Wellington Mara was the president, CEO, and co-owner of the Giants football team. Wellington co-owned the Giants football team until his death in 2005. John Mara is now President and Chairman of the Board for the New York Giants. Kate Mara's family has operated Yonkers Raceway in New York since 1972. Her granduncle, Dan Rooney, the chairman of the Steelers and a businessman, was United States Ambassador to Ireland and helped launch the company The Ireland Funds.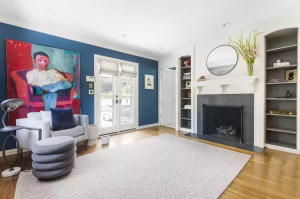 Her cousin, Art Rooney II is the current president of the Steelers. Mara began acting at the age of nine in a school musical. She had experience with youth theater-arts classes, along with appearing in community theater and school plays. Mara said she was "painfully shy" growing up, adding she only had one friend. 
Mara's first audition was for the TV drama "Homicide: Life on the Street". She did not get the role, but she knew at that point that she wanted to be an actor. She graduated from high school a year in advance and got accepted into NYU Tisch School of the Arts to study musical theater. But she deferred her slot so that she could act before enrolling.
Mara's first TV role was in a 1997 episode of the NBC legal drama "Law and Order." She has guest starred on many other shows, including "Madigan Men," "Ed" and "Law & Order: Special Victims Unit." Mara landed two recurring roles in 2003 as Kate on Everwood, an 18 year old who after being impregnated by her piano teacher and then gets an abortion. In addition, Mara played Vanessa on Nip/Tuck, a bisexual cheerleader who exists in a love triangle with her boyfriend Matt McNamara (John Hensley) and another cheerleader (Sophia Bush). Mara also appeared on Cold Case, Boston Public, CSI: Miami, and CSI: Crime Scene Investigation that same year.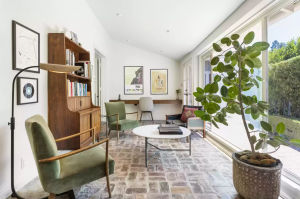 Mara has had lead roles in a number of successful films and TV series. She is best known for her recurring role on the WB's Jack & Bobby as well as her five-episode arc on the Fox TV series 24 as computer analyst Shari Rothenberg. Mara joined the cast of HBO's Entourage for its sixth season in 2009. She played Brittany, Eric "E" Murphy's assistant at his talent-management company and a potential love interest. Mara filmed 4 episodes for the series in 2009. 
In 2011, she guest-starred on the FX horror series American Horror Story as a student who becomes Dr. Ben Harmon's dead mistress, a spirit trapped in the Harmon house. Ryan Murphy, her former producer on Nip/Tuck, offered Mara the role. 
Mara joined the House of Cards cast in 2012. Playing the role of Zoe Barnes, an intrepid reporter from DC, who became a major ally to President Frank Underwood by leaking stories that undermine his competitors. She filmed a second season of the series, which was released on February 14, 2014. On July 10, 2014, she was nominated for the Primetime Emmy Award for Outstanding Guest Actress in a Drama Series.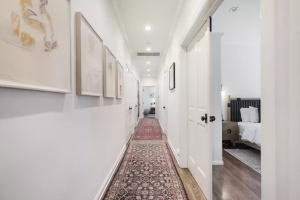 Mara had her stage debut in 2003 at the Williamstown Theatre Festival in John Guare's Landscape of the Body, in which she co-starred with Lili Taylor. Mara starred in The Alice Complex, a play by Peter Barr Nickowitz, at Dixon Place in New York City in 2005 and at the Blank Theatre in Los Angeles in 2006. The production co-starred Tony Award-winner Harriet Harris. From a young age, Kate Mara's dream was to act on Broadway. She says that she liked movies and TV but that her dream was still to make it big on the stage.
Mara began dating her Fantastic Four co-star Jamie Bell in 2015. On January 17, 2017, the couple was engaged. On July 17th, 2017, the couple married and Mara became Jamie's stepmother to Bell's son from his marriage to Evan Rachel Wood. In May 2019, their daughter was born. Mara lives in LA and Manhattan. Mara credits her vegan diet and regular workouts for keeping her slim. 
She is quoted as saying "I'm a massive animal lover, too. Being vegan has been so good for me. I never felt better." Mara was featured in one of the Humane Society Organization's videos highlighting their campaign titled Meatless Monday. As a descendant of the owners of the New York Giants and Pittsburgh Steelers, Mara is a fan of both teams.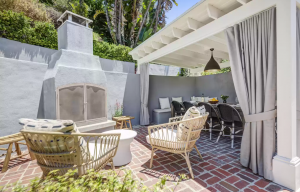 She joked that if she's mad at her mom, she roots for the Giants, and if she's pissed at her dad, she roots for the Steelers. Her relationship with both teams is what drew her to We Are Marshall in the first place. Mara has sung at both teams' games, and after missing the Steelers' 2006 victory at Super Bowl XL 40 due to work, her contracts state she can attend if either team goes to the Super Bowl. She was in attendance for the Giants' victory in Super Bowl XLII 42, the Steelers' victory the next year in Super Bowl XLIII 43, and the Giants' victory in Super Bowl XLVI 46.
Now let us go over to Jamie Bell. Andrew James Matfin Bell, an English actor and dancer, was born on 14 March 1986. He rose to prominence for his debut role in Billy Elliot (2000), for which he won the BAFTA Award for Best Actor in a Leading Role, becoming one of the youngest winners of the award. 
He is also known for his leading roles as Tintin in The Adventures of Tintin (2011) and as Ben Grimm / Thing in Fantastic Four (2015). Bell has starred in other notable films, including King Kong (2005), Jumper (2008), Snowpiercer (2013), and Rocketman (2019). He earned a second BAFTA Award nomination for his leading performance in Film Stars Don't Die in Liverpool (2017). On television, Bell starred as Abraham Woodhull in the AMC historical drama series Turn: Washington's Spies.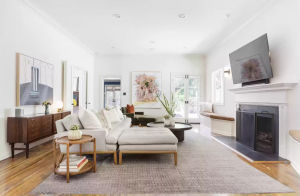 Jamie Bell was born in Billingham, Teesside, England. He grew up with his mother, Eileen Matfin, and his sister Kathryn. His father John left before Jamie was born. Jamie began to dance after he accompanied his sister to her ballet lessons. Jamie Bell was chosen from 2,000 other eligible boys for the part in 1999's Billy Elliot, a film about an 11-year-old boy disheartening his working-class widowed father and elder brother by taking up ballet. 
Bell received wide acclaim. As a 14-year-old, Bell won the London Film Critics' Circle Award, British Independent Film Award for Best Newcomer, Evening Standard British Film Award for Most Promising Newcomer, and BAFTA Award for Best Actor in a Leading Role, making him one of the youngest winners. He also appeared in Close and True, an ITV legal drama shown in 2000, which starred Robson Green, James Bolam, and Susan Jameson. Bell served as honorary jury president of the 2001 Giffoni Film Festival. 
In 2002, he appeared in Nicholas Nickleby and Deathwatch. In the following years, he portrayed a teenager on the run in Undertow, a gun-toting pacifist in Dear Wendy, a disaffected Southern California teenager in The Chumscrubber, and the young Jimmy in the 2005 film version of King Kong. In 2005, he's starred with Evan Rachel Wood in the Green Day video "Wake Me Up When September Ends", and played the lead, Hallam Foe, in the film Hallam Foe, nominated for the best actor award at the British Independent Film Awards. 
He has done two movies with 2008 releases, Jumper and Defiance. In the second movie, he played Asael Bielski, the third of the Bielski Brothers, leaders of a partisan group that saved 1,200 Jews during the Holocaust.
Bell starred in many renowned films, such as The Adventures of Tintin, alongside Andy Serkis and Daniel Craig. He also starred in other films, such as The Eagle starring as Esca and Jane Eyre starring as St John Rivers. In 2013, Bell starred with James McAvoy in the film Filth and appeared as Edgar in Snowpiercer.
Bell had a supporting role in the film as Abraham Woodhull. He also played the Thing in Fantastic Four, which was considered one of the worst comic book films ever made by critics. Bell said about this movie, "I don't think [it deserves a second look.] Save your money, save your time." In 2017, Bell had two major roles in two different movies. In 2019, he had a supporting role as the Elton John biographer Bernie Taupin in a biographical musical film about the singer's life.
Bell dated actor, Evan Rachel Wood in 2005. They met at the Sundance Film Festival and Wood was aware of false claims that they first met while co-starring in the music video for Green Day's song, "Wake Me Up When September Ends." 
Nonetheless, they were already dating and in love by that point. Five years later, it was reported that Bell and Wood had rekindled their relationship; they tied the knot in a small ceremony on October 30th. They have one son, born in July 2013. The couple announced they had separated on May 28th. 
In late 2015, Bell began dating his Fantastic Four co-star Kate Mara. In January 2017, the couple became engaged and in July of the same year, they announced their marriage to the public. They have one daughter together.
There you have our TTP blog for today. Now, what do you think about the mansion? Let us know in the comments below. Don't forget to subscribe to our channel, click the notification bell, and like this blog. If you think that we have delivered value please share this blog with one person. 
Just one share is enough for us, for you to show your appreciation for the commitment and hard work we all put together in creating this blog that teaches and helps you on your mission of building your own fortune. And you don't know that one share could go a long way. And keep in mind that no matter how many times you're going to watch this blog, you won't see any results unless you take action. Good bye and see you at the next one!
---