Leonardo DiCaprio Charges $32,500 per Month to Rent Out His Beverly Hills Residence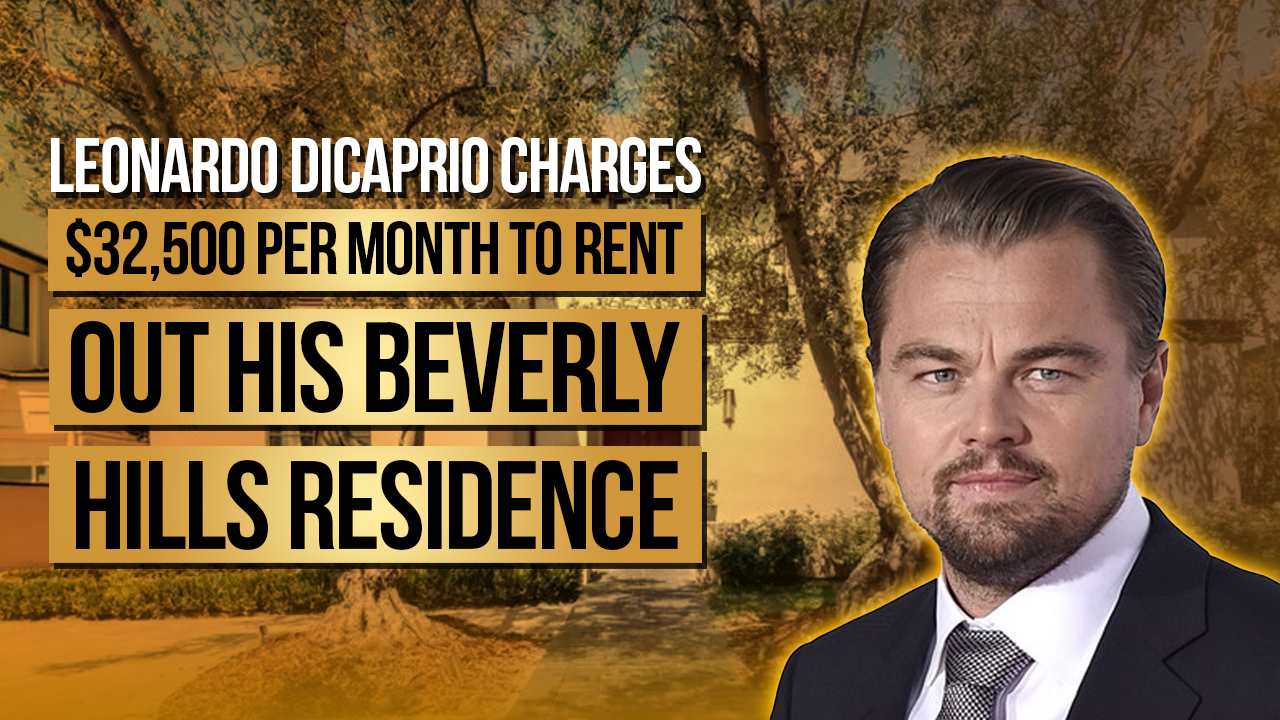 Hello, people. Welcome to the TTP Youtube channel. Leonardo DiCaprio, much more than a movie star, is now also a landlord. 
"Revenant" star DiCaprio listed his Beverly Hills, CA, mansion for rent at $32,500 a month. If you want more celebrity real estate content, subscribe to the TTP Youtube channel and hit the notification bell.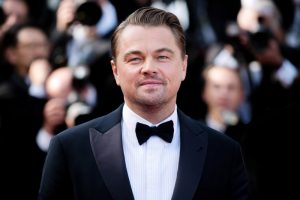 The actor, who owns properties all over the world, bought this prime property in December of 2021 for $9.9 million. It's now available on the luxury rental market as "fully furnished and available immediately."
The 4,671-square-foot, Beverly Hills-based residence features stunning visuals, with a grand wall entry that takes in attention.
Details include a white oak flooring throughout the home, an open living room and dining room, a golden bar, and French doors opening to the pool and gardens.
The eat-in chef's kitchen is designed with a center island as well as doors that open to a grill area and the swimming pool beyond.
A sunny breakfast nook is adjacent to it.
The home has a library or office with a gray-toned color scheme. The house offers four en suite bedrooms on the upper floor. There is also a separate guesthouse to stay in, which comes with its own bedroom suite.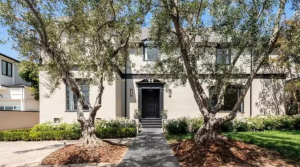 The first floor's sitting room, walk-in closet, and marble bath with a soaking tub are located in the primary suite.
The grounds are bordered by tall privacy hedges. The backyard boasts a pool, fire pit, seating, and a large lawn.
The neighborhood is close to Beverly Hills and West Hollywood's restaurants and stores.
Despite a packed schedule, the A-list actor managed to still catch up with his real estate holdings.
In November, the star closed a few deals. First, he closed his current beach retreat for $10.3 million and it originally sold for $10 million.
He purchased the place for only $1,600,010.
The A-list actor snagged a different off-market deal in the form of an oceanfront property.
In Los Angeles, the star of "Don't Look Up" purchased a home built in Spain last year for $7.1 million from actor Jesse Tyler Ferguson.
In the summer of 2019, DiCaprio flipped another home on the market for $5.75 million. He had purchased that Los Feliz estate from Moby in 2018, for just under $5 million.
After Red Oak Manor was restored, it cost $4.9 million to sell it. This means DiCaprio made as little profit on it as he was able to commit to at the time of purchase.
In addition to these homes, he has been able to acquire multiple properties and compounds from Los Angeles to New York City. These include an 11-acre Hollywood Hills bungalow, two apartments in a Battery Park high-rise, and a small isle in Belize.
Leonardo DiCaprio is an American actor widely regarded for being a talented and top-paid actor. He has made eight appearances on the 50-most-expensive actors list (including as of 2019) with total earnings exceeding $7. 2 billion worldwide.
In 1993, DiCaprio first achieved success when he played Tobias Wolff in the film "This Boy's Life." He also was nominated for an Academy Award and a Golden Globe Award for his role as a developmentally disabled boy in "What's Eating Gilbert Grape" later that year. Throughout the 1990s, he starred in movies like "Heroes," "Titanic," "Romeo + Juliet," and "Catch Me If You Can."
One of the most prolific actors of our time, DiCaprio starred in various critically and commercially hit films. Trailers for Aviator, Blood Diamond, The Departed, Revolutionary Road, Inception, Django Unchained, Gatsby, Wolf of Wall Street and Once Upon A Time In Hollywood have all accumulated a combined net worth of 610 million US$.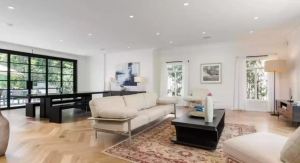 DiCaprio is the founder of Appian Way Productions, a production company that has produced some of his films and the documentary series Greensburg (2008–2010), and the Leonardo DiCaprio Foundation, a nonprofit organization devoted to promoting environmental awareness. He regularly supports charitable causes and has produced several documentaries on the environment. In 2005, he was named a Commander of the Ordre des Arts et des Lettres for his contributions to the arts, and in 2016, he appeared in Time magazine's 100 most influential people in the world.
Leonardo DiCaprio was born on November 11, 1974 in Los Angeles. He is the only son of Irmelin Indenbirken, a legal secretary and George DiCaprio, an underground comix writer, publisher and distributor who met while attending college. His father is of Italian and German descent. His maternal grandfather, Wilhelm Indenbirken was German and his maternal grandmother, Wilhelm Indenbirken was a Russian immigrant who lived in Germany. He was raised as a Catholic.
Leonardo DiCaprio was named after Leonardo da Vinci because his pregnant mother first felt him kick when she was looking at a Leonardo da Vinci painting in the Uffizi museum. When he was one year old, his father left their house after falling in love with another woman and since his parents wanted to raise him together, they moved into twin cottages and shared a garden in Echo Park, an L.A. neighborhood he grew up in. DiCaprio's mother later moved to other neighborhoods for work including Los Feliz, where he went to school for four years. He attended the Los Angeles Center for Enriched Studies until he was a sophomore before switching over to Seeds Elementary School – and eventually John Marshall High School. DiCaprio dropped out of school at the age of 16 but eventually earned his GED certificate a few years later.
Leonardo DiCaprio was originally interested in becoming either a marine biologist or an actor. However, he eventually developed a passion for the latter and showed this interest by imitating people and using characters that were "persona" or "imitation" oriented. He was first motivated to act by his step-brother who earned $50,000 for a single commercial role.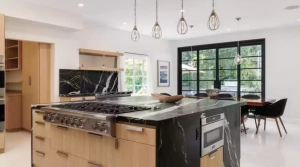 At the beginning of his career, DiCaprio was initially denied representation and had difficulty finding work in front of audiences. When he finally found an agent, he suggested DiCaprio change his name to Lenny Williams (a decision they both declined), DiCaprio was unable to find work following 100 auditions. After this lack of success, DiCaprio decided to give up on acting and pursue other paths in life; his father persuaded him to continue with it nonetheless. Driven by the desire to support his mother, as well as motivation from new events that unfolded during this time, he gave it another go and began landing roles in about 20 commercials.
He got some breaks for commercial prospects when casting agents recommended him for roles in TV shows like The Outsiders and Santa Barbara. Around this time, he also started getting more consistent on-screen work with appearances on Roseanne among others before landing a role in Parenthood (1990) as a troubled teen. To prepare for the role, he studied Joaquin Phoenix's performance from the original film. He won two nominations at the 12th Youth in Film Awards for Best Young Actor in Daytime Series for Santa Barbara and Best Young Actor Starring in New Television Series for Parenthood.
DiCaprio made his film debut that year in an uncredited role as a stepson in the low-budget horror film, "Critter's 3" and has stated that he dislikes remembering the movie. He describes it as possibly one of the worst films of all time. DiCaprio previously appeared on Growing Pains and said of the experience, "I was reasonably intelligent and disarming for my age." He was eventually asked to leave before it ended, because of bad writing.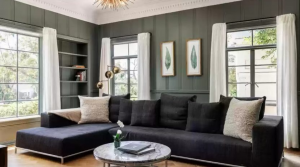 In 1992, DiCaprio played a brief role in the first installment of the Poison Ivy film series, and later in the year Robert De Niro handpicked DiCaprio from a shortlist of 400 young actors to co-star with him in This Boy's Life. Maggie Lee of Variety found that the powerful bond between Barkin and diCaprio elevated the film. She said that diCaprio portrayed Toby's complex growth from a rebellious teenager to an independent young man.
In 1993, while working on What's Eating Gilbert Grape, Leonardo DiCaprio first got nominated for an Academy Award.
DiCaprio played an intellectually disabled brother in The Boy Who Lived, a comic-tragic odyssey of a dysfunctional Iowa family; he was 19 years old at the time. According to director Lasse Hallström, Caton-Jones recommended that DiCaprio audition for the role; he had been skeptical because he felt that he was too good-looking for the part. When Hallström cast him, however, DiCaprio turned out to be "the most observant" among all of the actors who auditioned, and so ended up getting the role. Sheryl Lee spoke positively of his performance in What's Eating Gilbert Grape and This Boy's Life: "He made the raw, emotional neediness of those boys completely natural and powerful."
In 1995, DiCaprio made his first film appearance in the western Sam Raimi's "The Quick and the Dead". Sony Pictures was dubious over casting and proceeded to pay DiCaprio's salary themselves. The movie did poorly and the feedback from critics wasn't great. In 1995, he starred in "Basketball Diaries" as a teenage Jim Carroll and David Thewlis played Arthur Rimbaud in Holland's fictionalization of their relationship, as well as in Roger Avary's erotic drama "Total Eclipse". Although that film flopped, it has been included in Warner Archive collection, a division of Warner Bros. dedicated to releasing cult classics.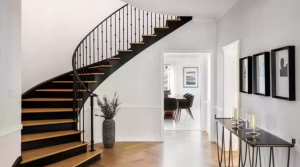 With Romeo + Juliet, DiCaprio, who had recently received acclaim for his leading role in Marvin's Room, made his debut as a dramatic actor. The project was a critical and financial success, grossing more than $147 million worldwide.
He rejected a role in Boogie Nights to star opposite Kate Winslet in Titanic as two people of different social classes who fall in love aboard the ill-fated maiden voyage of the RMS Titanic. The budget for this movie was more than $200 million and it was shot on location at our sister company, Rosarito Mexico — where a replica of the ship was created. Interestingly enough, Leo's role in Titanic transformed him into a bona fide superstar. From that moment on, teenage girls and young women idolized DiCaprio with "Leo-mania", just like Beatlemania from our past. With 11 Academy Awards under its belt, some say Titanic is one of the best movies ever made yet Leonardo Dicaprio wasn't even nominated for an Oscar. While Leo has countless other significant awards, he didn't get nominated for that too, which led to a protest by 200 fans.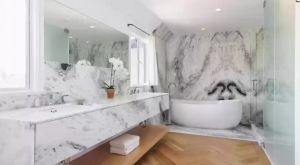 In the 2000s, Leonardo DiCaprio stated that he had no connection with the fame and popularity that his role in Titanic brought to him. In 2015, Ebiri wrote that maybe one of the reasons why the film was so successful, is because of the way that DiCaprio and Winslet infused their acting by acting out their genuine emotions in the role. A journalist for Vanity Fair labeled them as "Hollywood's most iconic screen couple" together due to their roles in such films as Titanic. Reviewing their performance in 2017 from a review article by Alissa Wilkinson, she called attention to his "boyish charm" as well as found him "natural and unaffected," just like everyone else loved about him after working on this movie.
In 1998, he starred in and co-produced Woody Allen's satire of the fame industry, Celebrity. In that year, he also starred in dual roles as King Louis XIV and his secret twin brother Philippe in The Man in the Iron Mask. His performance was positively reviewed, but the film was not favorably received by critics and it earned a measly $180 million worldwide but spent only $35 million on its production budget. "The best thing in the film"–Ebiri previously considered DiCaprio to be "the next big thing"–is actually not very good and is painfully gimmicky, but DiCaprio finds his way into embodying both King Louis XIV's cruel charisma and his kinder side as his twin brother Philippe convincingly.
At the 2002 Cannes Film Festival, Leonardo DiCaprio met up with legendary filmmaker, Martin Scorsese and model, Cameron Diaz to promote their upcoming film, Gangs of New York.
He starred as Amsterdam Vallon in Martin Scorsese's The Gangs of New York. Although the movie was filmed on an eight-month timescale, Scorsese and producer Harvey Weinstein did not argue over budgets and managed to reach a milestone price of $101 million dollars. Gangs of New York made $202 million worldwide and received generally favorable critical responses.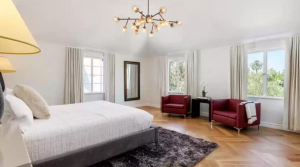 In 2004, DiCaprio co-founded the production company Appian Way Productions. He was interested in finding "out of the box" material from an actor's perspective and developing it in a way that it stayed true to its original source. He said, "A lot of times, I've gone through the process of getting a great book or finding a great story, and then too many people get their hands on it and it turns into something entirely different." DiCaprio's first producing task was for The Assassination of Richard Nixon (2004), which was screened in the Un Certain Regard section at the 2004 Cannes Film Festival. DiCaprio's next producing project was the biopic of aviator Howard Hughes, American film director and aviation pioneer suffering from obsessive-compulsive disorder. The film received its first Golden Globe Award for Best Actor — Motion Picture Drama and nominations for an Academy Award as well as a BAFTA Award, a Screen Actors Guild Award for Best Actor, and so forth.
DiCaprio played his character as an undercover cop in "constant, 24-hour panic attack", which let him work with actors from The Basketball Diaries and Catch Me If You Can. He prepared for the role by visiting Boston, gained 15 pounds of muscle, and earned critical acclaim for his performance.
DiCaprio is famous for having starred in the film, Blood Diamond. He also helped 24 children of SOS Village Southern Africa during production. His performance was a success, with others describing his growth as an actor.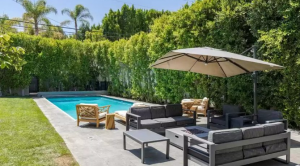 In 2007, DiCaprio produced the comedy film Gardener of Eden, which according to The Hollywood Reporter's Frank Scheck "lacked the necessary dramatic urgency or black humor to connect with audiences".[120] Later that year, he produced, co-wrote and narrated The 11th Hour, a documentary on the state of the natural environment. He was an executive producer for Planet Green's series Greensburg (2008–2010), which ran for three seasons. Set in Greensburg, Kansas, it is about rebuilding the town in a sustainable way after being hit by the May 2007 EF5 tornado.
Later in 2008, DiCaprio worked with Kate Winslet on Revolutionary Road, directed by her then-husband Sam Mendes. As both actors were unwilling to make romantic films similar to Titanic, it was Winslet who suggested that they both work on the film adaptation of the 1961 novel of the same name by Richard Yates. Since she had read the script by Justin Haythe, she found that the plot had little in common with the 1997 blockbuster. Playing a couple struggling in marriage in 1950s America, DiCaprio and Winslet spent some time together before production started and DiCaprio felt claustrophobic with their small set.
He saw his character as "unheroic," "slightly cowardly" and someone "willing to be just a product of his environment." Peter Travers was impressed by what he called a multi-layered performance from DiCaprio and also praised his pairing with Winslet for her best performance yet; Marshall Sella of GQ wrote that it is the most mature and memorable performance of his career. Other reports say he won his seventh Golden Globe Award nomination for this trilogy after achieving great success taking on different roles than physical attractiveness alone.
That's it for this blog TTP Member, remember to subscribe to our channel and if you feel like we've delivered value please share this blog with ONE person. That's right just one person as a token of your appreciation for the hard work we put into making content that educates and helps you on your mission of building your own fortune.  Remember you can read blog after blog, but it isn't until you actually take action that you'll start to see results. See you soon!
#TalkToPaul #celebrityrealestate #celebrityhomes #LeonardoDicaprio
---