Magic Johnson's Lists Former Bel-Air Estate With Indoor Basketball Court for $14.5M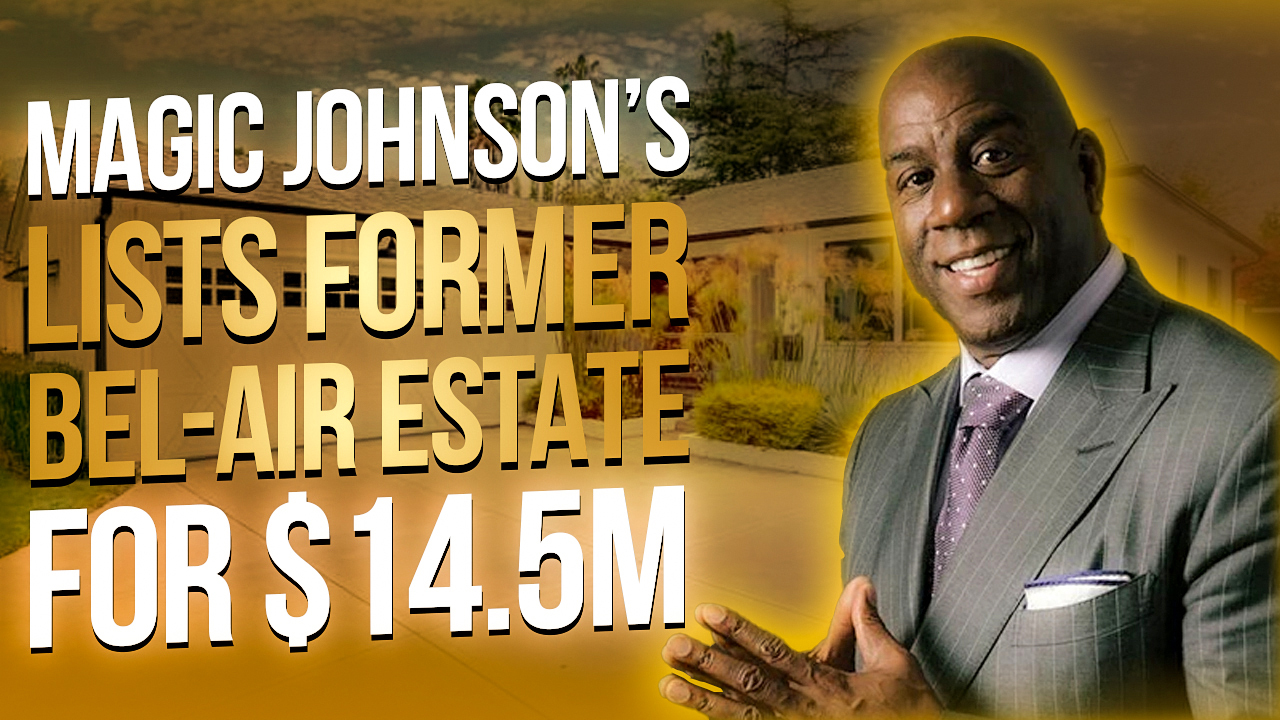 The Bel-Air home of the legend, Magic Johnson, is being sold for $14.5 million and features plenty of privacy as well as many custom touches that remain. It is located in the guard-gated Moraga Estates neighborhood.
Luckily for you, TTP Member, we've prepared all the things you need to know about the Basketball legend Magic Johnson's Former Bel-Air Estate with Indoor Basketball Court! Keep reading this blog to know more about this $14.5M listing and Magic Johnson himself!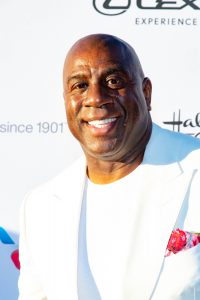 The Hall of Famer lived during the 1980s here, but his custom touches remain.
'It is the home of Magic Johnson so naturally there is an indoor basketball court,' says Compass' Nancy Ellin, who is representing the property along with Coldwell Banker's Jade Mills.
After she moved in, Ellin renovated the space and has all-new systems, recessed lighting, and security cameras. New technology has been implemented to increase security and make the property feel more like home. Security cameras, recessed lighting, and smart thermostats have all been installed.
It's great for hosting guests, she says. "It's a true entertainer's haven and an incredibly special home."
Located in the exclusive Moraga Estates and tucked into the side of the canyon, this gorgeous home offers complete privacy, luxury, and a beautiful location for entertaining. The waterfront design with contemporary living lets you live like royalty on this peaceful and safe street.
The beautifully redesigned transitional estate features a large interior space and six bedrooms, each with its own bathroom. This house features a grand entrance, wood floors that span the length of the home, a formal living room with a fireplace, and a family room with a bar.
This grand, luxurious property features a modern custom-made staircase. There are new systems throughout the home; including electrical, recessed LED lighting and security/ cameras. This property has a central vacuum cleaner, in-ground pool and outdoor spa and hydro water filtration system.
The kitchen includes customized cabinets, a marble island and high-end appliances. With views of the backyard, both the kitchen and family room can be seen from outside.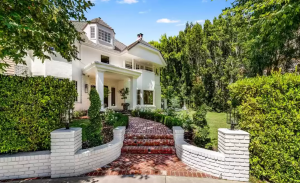 The foyer leads to a formal dining room with custom built-ins and a silver leaf ceiling.
You can step down into the formal living room light flooded with a fireplace and into the expansive entertainers dream family room, or you can enter through the large rotunda modeled after Moroccan designs.
French doors open to a young family-friendly backyard with a gorgeous backdrop of the Santa Monica mountains. Large kitchen includes luxury amenities such as custom cabinets and fully stocked double oven with griddle/grill plus a steam oven, Sub-Zero appliance, butler's pantry and wine fridge.
On the first floor are the maid's quarters, laundry room with double washers/dryers, powder/pool bath and 3-car garage. The second story with the tremendous primary bedroom suite and sitting area, fireplace, balcony, custom walk-in closets and spectacular bath with steam shower and jacuzzi tub all lead to a third story mega gym with skylights and mirrored walls that is a massive space for exercise equipment or even an office or playroom.
There are three beautifully designed children's bedrooms and a guest bedroom, plus a bathroom. The media/game room is spacious with a wet bar and access to the backyard. Originally Magic Johnson's home, it was designed for total privacy and entertainment.
A gym is available on the third floor up some stairs.
The grounds of The Estate at Bannister Ranch offer a serene and picturesque setting with lush canyon views that both celebrities and regular guests can enjoy. There is a media room, pool with built-in seating, fire pit, vegetable garden, private tennis courts and basketball court outfitted with glass windows for the Hall of Fame to watch basketball. You don't need to worry about other guests interfering in any way or taking up your expensive space in the brand new spa.
But for sports fanatics, this has to be the highlight of the Johnson home: an indoor basketball court that can accommodate upwards of six people. Through more glass windows in the media room, you can watch your friends and family playing next to you.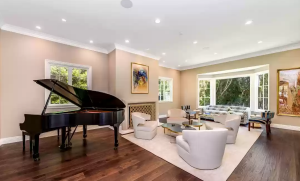 With its large living space, this neighborhood features a split level 4-level victorian estate, with 5 bedrooms and 4 bathrooms. The house offers 10,666 square feet of life-sized estate living.
The entire court is covered with high-quality memorabilia, and perhaps the ultimate one of these things is that it includes autographs from current and former NBA players.
"Good luck, work hard," he wrote next to his name. "P.S. Have fun
Johnson was drafted in 1979 by the Los Angeles Lakers, for whom he played for a total of 13 seasons and led them to five NBA championships. This season, Johnson's career as a player was told in the HBO dramatized documentary film "Winning Time."
Of all of his successes, the most recent is how long time-honored athlete Magic Johnson became an owner in the Los Angeles Dodgers, as well as being a minority owner in the Lakers. He also served as President of the Lakers from 2017 to 2019.
Now, let's have an in depth knowledge about the basketball legend, Magic Johnson.
Earvin Johnson Jr. was born on August 14, 1959 in Lansing, Michigan. From a large family, Johnson grew up with nine brothers and sisters.
Both of his parents worked- his father for the General Motors plant in town and was mother as a school custodian. He had a passion for basketball and would start to practice as early as 7:30 am.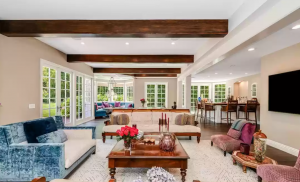 Johnson earned his name "Magic" after a sports writer witnessed him score 36 points, 16 rebounds and 16 assists while playing competitive basketball.
Johnson continued to play basketball while in college. He stood at six feet nine inches tall and was an impressive point guard–helping his team clinch a Big Ten title by helping them win the conference.
In the following year, he led Michigan State to the NCAA Finals. They faced off against Indiana State University. In one of the most famous matchups in college basketball history, Johnson played head-to-head with Indiana's star forward, Larry Bird.
The Spartans proved victorious, and the rivalry between Johnson and Bird would continue in their days with the NBA.
After two years of college, Johnson was drafted and excelled with the Lakers in his first season. He averaged 18 points and 7.7 rebounds a game.
Johnson, of the LA Lakers, led his team to victory with four championship games in six and won the NBA Finals MVP. The LA Lakers included some strong players such as Kareem Abdul-Jabbar, Jamaal Wilkes and Norm Nixon.
During Johnson's third season with the Lakers, the Lakers made the finals and took home the championship. For the second time in his pro career, Johnson led the Lakers to victory and accomplished another NBA title.
Additionally, Johnson scored 13 points and grabbed 13 rebounds, dishing out 13 assists in Game 6 of the 1982 Finals. The following season (1982-1983) saw the third Finals matchup between the Lakers and the 76ers in four years; Johnson once again took home series MVP honors.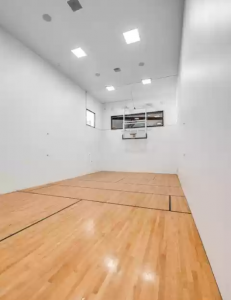 At this time, the Lakers only won one game against the Philadelphia 76ers, losing four straight and remaining without a win in the series.
In the 1984 NBA Finals, Magic Johnson again encountered rival Larry Bird, who had signed with the Boston Celtics. This was the first of several games between the two teams.
The 1984 NBA yet again showcased the bitter championship rivalry between the Los Angeles Lakers and Boston Celtics. Despite a Finals victory from the Lakers, the Celtics came back with four consecutive hard fought championships in 1986, 1987, 1988, and 1991.
With his best season in the late 1980s, and wins in the 1987 NBA Finals and thereafter, Johnson won his third and final MVP.
As a result of his 23.9 points per game average, Johnson was soon earning him the regular-season NBA MVP award. He would win the award again in 1989 and 1990.
In November 1991, Magic Johnson retired after revealing he had HIV, the virus that causes AIDS. He believed he transmitted the virus through unprotected sexual activity.
Johnson's diagnosis was especially hard. He learned he had the disease while his wife Cookie was pregnant with their first child, but thankfully both his wife and son tested negative for HIV.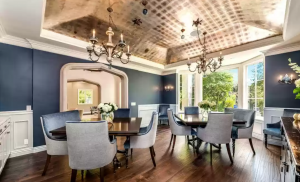 There was a lot of fear and confusion as to how the virus could be transmitted. Additionally, while many people assumed that HIV primarily applied to homosexuals or IV drug users, this wasn't typically the case.
It is thanks to Johnson's decision to go public with his personal medical condition that awareness of HIV/AIDS reached new heights. Johnson established the Magic Johnson Foundation in 1992 to support research initiatives and awareness programs related to HIV/AIDS.
Heroically facing discrimination and criticism, Johnnson played in the 1992 Summer Olympic Games despite already having announced his retirement. Joined by Michael Jordan, who was still an "untouchable", and Bird, Johnson helped bring home gold for the American Dream Team.
For the upcoming NBA season, he wanted to return to professional basketball, but fear from other players forced him to drop that plan.
With other options, Johnson wrote his last book called: My Life in 1992. In this text, he had written about basketball previously with titles: 'Magic (1983)' and 'Magic's Touch' in 1989.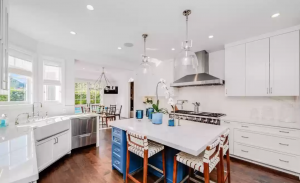 Johnson has made regular appearances as a sports commentator on various TV networks such as ESPN and ABC Sports. In 1993-1994, Johnson became the basketball coach of the Los Angeles Lakers. He later bought a small share of the team.
In 1996, Johnson returned to the Lakers for a few months as a player. He retired for good from the team in April of that same year, leaving behind an impressive legacy.
In his professional career, Johnson became the NBA's all-time leader in points and assists, as well in steals. In addition, he holds the record for highest assists per game at 11.2, a title he is still holding today.
In 1996 Johnson was named one of the 50 greatest players in NBA history, and then inducted into the Basketball Hall of Fame in 2002.
Magic Johnson became a powerful force in business. He founded Magic Johnson Enterprises, which has total holdings worth over $1 billion.
Much of his philosophy on business has focused on developing urban areas and bringing Starbucks coffee franchises and movie theaters into underserved communities. In 2008, he shared his secrets for business with the book 32 Ways to be a Champion in Business.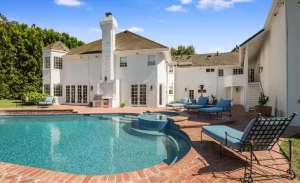 In 2009 Johnson teamed up with his old rival Bird to write the book, When the Game Was Ours. The work explores their rivalry, basketball experiences and their love for the sport. The same year, he was inducted into the Basketball Hall of Fame.
In 2010, Johnson sold his stake in the Lakers. He became part-owner of Dayton Dragons and the Los Angeles Sparks in 2012. In 2013, he also became an owner of their baseball team, the Los Angeles Dodgers.
Johnson returned to the Lakers as president of basketball operations in early 2017. In July 2018, Johnson signed mega-star free agent LeBron James. However, he resigned his post at the end of the NBA season.
Earvin III, son of Magic Johnson and his wife, Cookie, was born in 1992. Johnson also has a daughter Elisa whom he adopted in 1995 as well as a son Andre John who is the result of his previous relationship.
That's it for this blog TTP Member, remember to subscribe to our channel and if you feel like we've delivered value please share this blog with ONE person. That's right just one person as a token of your appreciation for the hard work we put into making content that educates and helps you on your mission of building your own fortune. Remember you can read blog after blog, but it isn't until you actually take action that you'll start to see results. See you soon!
#TalkToPaul #MagicJohnson #celebrityrealestate
---