Mark Wahlberg Lists His Beverly Hills European Mansion for $87.5Million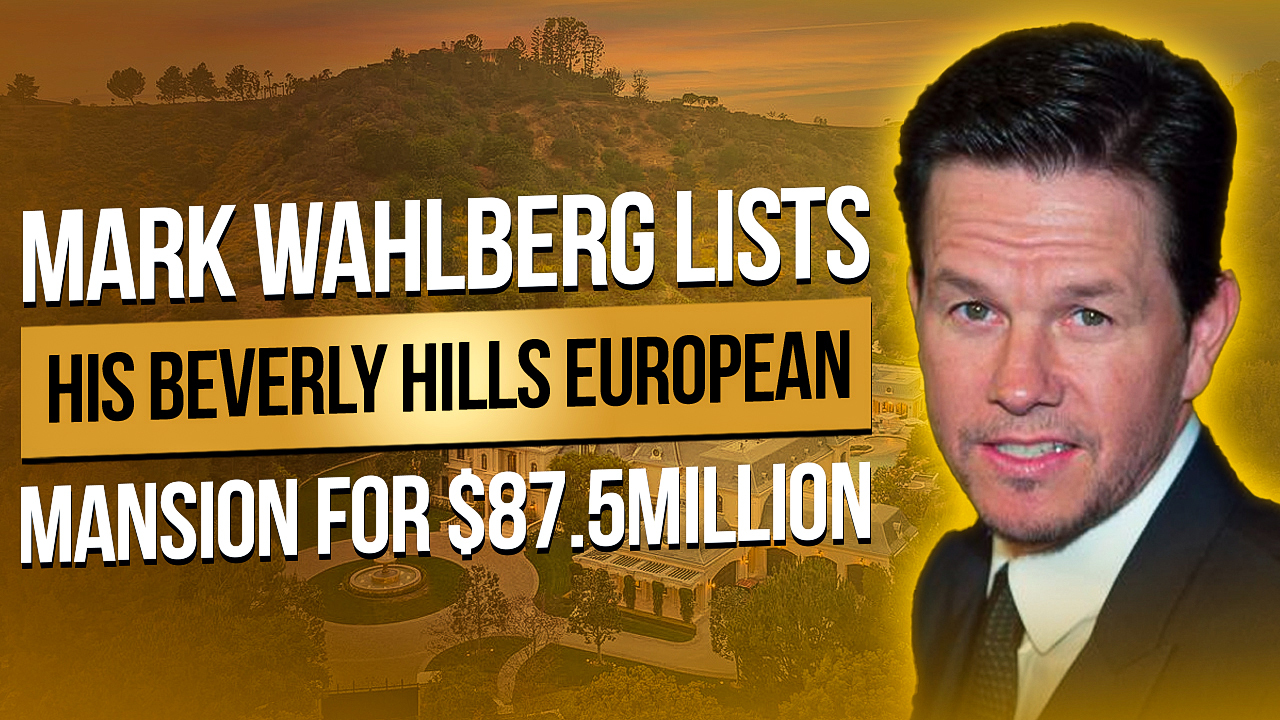 Have you ever been to Beverly Hills?  Or do you know someone who lives or owns a house in Beverly Hills? Maybe you are thinking of buying a house in Beverly Hills?
"Luckily for you, TTP Member, in this blog we will be talking about the $87.5 Million European Mansion in Beverly Hills listed by the owner, Mark Wahlberg. Let's begin this blog!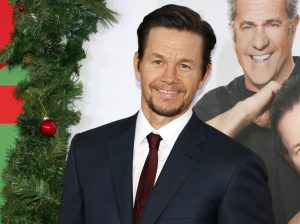 Mark Wahlberg's custom Beverly Hills home was completed less than ten years ago, and the actor is already preparing to leave. According to Dirt, Wahlberg has listed the property for $87.5 million, a colossal sum for a 30,500 square-foot home on a 6.2-acre lot.
A main house, a separate guesthouse, a pool cabana, and a viewing pavilion located next to the sports court make up the grand chateau style home, which has 12 bedrooms and 20 bathrooms. The home, designed by architect Richard Landry in 2014, appears to belong equally in the French countryside as it does in the Beverly Park gated community.
Will the outrageously high price be accepted? This mansion's appeal is aided by COVID-19. You won't ever need to leave the grounds with this property. The front doors open into a double-height space with custom millwork and a sweeping staircase with intricate iron balusters. Coffered ceilings adorn most rooms, and a fireplace can be found in nearly every room, including one of the bathrooms. The main suite has a living and sleeping area, as well as a large balcony with views of the backyard. There are two extra-large walk-in closets (one of which has two island-style storage areas) and two bathrooms with deep soak tubs each. A 5-hole golf course, a sports court, a skate park, and a grotto pool with a lounge area surrounding a fireplace perched on top are among the recreational amenities available out back.
Local real estate agents estimate it to be in the $60 million range, but stranger things have happened in the world of luxury real estate pricing.
It will be the second-largest home sale in Southern California this year if the movie star gets his asking price (or something close to it). The One, who was auctioned off for $141 million in March, holds the current crown. There's a reason for the mansion's high price tag. It's the seventh-largest house on the market in Los Angeles County, at 30,500 square feet, and while many of the top spots are occupied by boxy, modern spec mansions, Wahlberg's place stands out as a European-style showplace that blends Old World style with plenty of modern amenities.
The estate is located in Beverly Park, a star-studded neighborhood where homes regularly sell for more than $30 million. Sylvester Stallone sold his home there to Adele for $58 million in February. Wahlberg, who stars in the biographical drama "Father Stu," paid $8.25 million for the property in 2009 and had it built by mega-mansion architect Richard Landry. Landry completed it five years later, with 12 bedrooms, 20 bathrooms, and a plethora of opulent living spaces crammed into the two-story layout.
Inside, dual staircases set a stately tone in the grand entry, which is approached by a motor court with a fountain. A two-story wood-paneled library, a double-island kitchen, a movie theater, a wine cellar, multiple bars, and a massive gym are among the other highlights. The second story has terraces that overlook a park-like backyard with gardens, lawns, a grotto-style pool, skate park, and a five-hole golf course with sand traps. Wahlberg, a native of Massachusetts, also included a basketball court with the Boston Celtics logo.
Wahlberg rose to fame as a member of the hip-hop group Marky Mark and the Funky Bunch before going on to star in films such as "Boogie Nights," "Planet of the Apes," and "The Other Guys." The 50-year-old has been nominated for two Academy Awards: one for "The Departed" and another for "The Fighter."
With a rash of record-breaking sales in Beverly Park, the favored Los Angeles gated community of choice for celebrities and local and international business titans, Mark Wahlberg has decided it's time to put his own Beverly Park home on the market, asking $87.5 million. Richard Landry, arguably California's most famous architect of steroidal mega-homes, designed the colossal beast of a house for Marky Mark and his longtime wife Rhea Durham in 2014.
The mansion's architectural style isn't specified in the current listing, but it was clearly influenced by Europe's largest chateaus, albeit with a decidedly L.A. and very showy interpretation. The estate consists of a large main house, separate guesthouse, poolside cabana, and viewing pavilion beside the full-size sports court, all hidden behind massive gates and protected by an elaborate security system.
Both the formal motor court, which gracefully wraps around a grassy island with a tall fountain, and the home's two-story foyer, which features an elaborate double staircase, will impress visitors. Limestone floors and hallways lead to a lavish formal living room with two fireplaces, one on each side, and six sets of French doors. The wood-paneled library, which stands two stories tall and has its own marble fireplace, is even more impressive.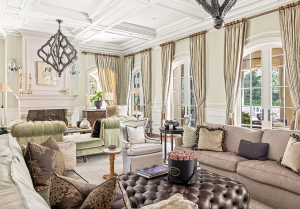 A bright breakfast room looks out over the estate grounds, while a formal dining room with a crystal chandelier, patterned wallpaper, and another fireplace is separate. The family room, which adjoins the main kitchen and its two marble-topped islands, has yet another fireplace — one of at least seven in the main house. The master bedroom on the second floor has dark brown hardwood floors, a sitting area, and a private balcony, as well as dual bathrooms and closets, one with delicate whites and lavenders and the other with wood-paneled everything and thickly veined marble slabs.
The Richard Landry-designed "The Premiere" estate, which sits on 2.5 hectares of land in the North Beverly Park neighborhood, also has a two-story entry and a two-story paneled library. Wahlberg has spent years perfecting and personalizing his home. Wahlberg, at the age of 50, is ready to leave his beloved home, which is perched high in the mountains above Beverly Hills, despite its full complement of amenities. A new patio cover was installed by Wahlberg in 2017. Permits for a new hydro-electric elevator were granted in 2014.
A glass-walled gym, wine cellar with tasting room, movie theater with plush seating for 15+ guests, several wet bars, vast lawns, numerous mature trees, an outdoor skate park, outdoor kitchen, golf greens, a grotto-style pool with waterfalls, and formal gardens are among the other estate amenities. Despite its location high in the mountains above Beverly Hills, the property lacks views of city lights, but the 6.14 acres of land more than make up for it.
From Sofia Vergara and Justin Bieber to Denzel Washington and Rod Stewart, and from Samuel L. Jackson and Eddie Murphy to The Rock and Magic Johnson, Beverly Park has been the gated community of choice for some of the entertainment world's highest earners since its development in the late 1980s. If Wahlberg gets anywhere near his asking price, the house will easily top the $70 million estate and Adele's $58 million splurge as the most expensive Beverly Park property ever sold. The listing is held by Kurt Rappaport of Westside Estate Agency. The exorbitant asking price is likely comparable to what properties of this caliber are currently selling for in LA, which could be the impetus for the 50-year-old to sell his opulent family home. Purchasing one of Los Angeles' great estates is truly a once-in-a-lifetime opportunity.
We all know the owner of this European Mansion, but who really is Mark Wahlberg? Mark Wahlberg rose to fame as the frontman of the musical group Marky Mark and the Funky Bunch before going on to star in films such as 'Boogie Nights,' 'The Departed,' and 'The Fighter.'
Mark Wahlberg: Who Is He?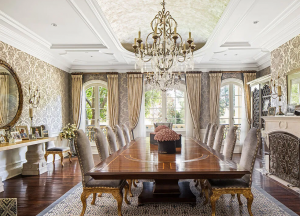 Mark Wahlberg started out as a criminal before following his brother Donnie into the music industry and becoming known as rapper Marky Mark. In the 1990s, he became known for his roles in films such as The Basketball Diaries, Boogie Nights, and Three Kings. Wahlberg starred in the Academy Award-winning films The Departed and The Fighter and has continued to star in films such as Transformer: Age of Extinction, Ted, and Daddy's Home since then.
Early Influence Robert Michael Wahlberg was born in the Dorchester neighborhood of Boston, Massachusetts, on June 5, 1971. Wahlberg grew up in a working-class family as the youngest of nine children. Wahlberg's parents divorced when he was 11, and his mother later blamed her own emotional neglect for her youngest son's subsequent descent into juvenile delinquency.
At the age of 14, Wahlberg dropped out of school and began hustling, stealing, and selling drugs on the streets. He hit rock bottom two years later when he was sentenced to prison for his role in the brutal beating of a Vietnamese man. The 16-year-45-day old's prison sentence was a self-proclaimed turning point in his life; vowing to change his life, he also devoted himself to bodybuilding, chiseling his body into impressive shape.
Wahlberg's personal life was called into question in 1993 when he was accused of condoning blatantly homophobic remarks made by his fellow guest, reggae singer Shabba Ranks, on a British talk show. The public criticism of Wahlberg's career, combined with the disappointing sales of the Funky Bunch's second album, You Gotta Believe (1992), seemed to be steering his career towards certain death. However, the 22-year-survival old's instincts kicked in, and he soon moved into another aspect of the entertainment industry: acting.
Television and movies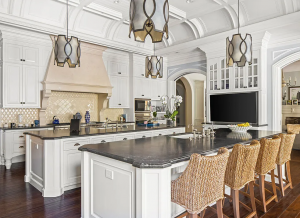 'Basketball Diaries' is a documentary about basketball.Wahlberg made his big screen debut in Penny Marshall's Renaissance Man (1994), playing one of a group of Army recruits taught by Danny DeVito's ex-advertising salesman, after appearing in a 1993 television movie, The Substitute. His natural screen presence landed him the role of Leonardo DiCaprio's drug-addled best friend in The Basketball Diaries (1995), a small-scale but critically acclaimed film based on poet-musician Jim Carroll's autobiography of his adolescent struggles with heroin addiction.
'Boogie Nights' is a series of dance parties. Wahlberg cemented his artistic and commercial reputation with a starring role as dishwasher turned porn star Eddie Adams (a.k.a. Dirk Diggler) in Paul Thomas Anderson's buzzworthy Boogie Nights, following two more attention-getting performances in Fear (1996) and Traveler (1997). (1997). Wahlberg returned with a bang in the acclaimed Three Kings, despite his next two films, The Big Hit (1998) and The Corruptor (1999), being less than successful (1999). George Clooney, Ice Cube, and Spike Jonze co-starred in the film as renegade US servicemen in the Persian Gulf following the 1991 Gulf War conflict.
In 2000, Wahlberg reunited with Clooney (and Diane Lane) in The Perfect Storm, an adaptation of Sebastian Junger's best-selling account of a boat full of fishermen caught in a deadly North Atlantic storm. Wahlberg appeared in the crime drama The Yards with Joaquin Phoenix and James Caan in late 2000. The following year, he starred alongside Jennifer Aniston in Rock Star and starred alongside Tim Roth and Helena Bonham Carter in the remake of the classic Planet of the Apes.
'The Departed,' 'The Italian Job' Wahlberg first appeared in the heist thriller The Italian Job with Charlize Theron in 2003, and then in the existential comedy I Heart Huckabee's with Lily Tomlin, Jude Law, Naomi Watts, and Dustin Hoffman in 2004. For his work on the crime drama The Departed, Wahlberg received his first Academy Award nomination in 2006. Jack Nicholson, Leonardo DiCaprio, and Matt Damon also starred in Martin Scorsese's film.
Wahlberg dabbled in science fiction with M. Night Shyamalan's 2008 thriller The Happening. Both critically and commercially, the film was a disappointment. Wahlberg, on the other hand, received critical acclaim two years later for his leading role in the gritty 2010 boxing film The Fighter. He helped produce the film, which was based on the life of boxer Micky Ward. The Fighter was nominated for an Academy Award for Best Picture.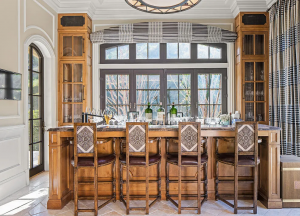 Franchises of 'Ted' and 'Transformers' Wahlberg's career as an actor has continued to flourish. He starred in the Seth MacFarlane comedy Ted in 2012. The real-life military drama Lone Survivor was Wahlberg's return to challenging dramatic fare (2013). Wahlberg, who is still a popular action star, took over the lead role in the Transformers franchise in Transformers: Age of Extinction (2014). He reunited with MacFarlane for Ted 2 the following year and starred alongside Will Ferrell in the comedy Daddy's Home.
Wahlberg has also found success as a producer behind the scenes. Entourage, In Treatment, and Boardwalk Empire were among the shows on which he worked as an executive producer. In 2014, Wahlberg starred in another small-screen project, Wahl burgers, alongside his brothers Donnie and Paul. The show, which airs on A&E, focuses on the Wahlberg family's hamburger restaurant in Hingham, Massachusetts, as well as the brothers' eccentricities and interactions. The series has received a positive response from the beginning and continues to do so today.
'Patriots Day' is a national holiday in the United States. In 2016, Wahlberg starred in Patriots Day, a film about the 2013 Boston Marathon bombing that hit close to home. In 2017, he fought robots from outer space in Transformers: The Last Knight and sparred with Will Ferrell in Daddy's Home 2.
'Every Dollar in the World'. In the same year, Wahlberg starred in All the Money in the World, a film about billionaire J. Paul Getty that sparked nearly as much backstage drama as the film itself. Following the firing of co-star Kevin Spacey in November over sexual harassment allegations, director Ridley Scott gathered Wahlberg, Michelle Williams, and the rest of the cast and crew for an 11th-hour reshoot, with Christopher Plummer taking over as Getty.
Scott pulled everything together, but his achievement was quickly overshadowed by the news that, while Williams was paid a per-diem for the reshoot, Wahlberg was paid an additional $1.5 million for his participation. Despite the fact that his contract allowed it, Wahlberg announced that he would donate $1.5 million to the newly formed Times Up Legal Defense Fund, with William Morris Endeavor, the talent agency that represents both actors, contributing another $500,000.
Wahlberg starred in the American Chinese action film Mile 22 in the summer of 2018, which tells the story of a special CIA unit tasked with protecting a valuable intelligence asset from a group of terrorists. In 2018, he also appeared in the comedy Instant Family.
Private Life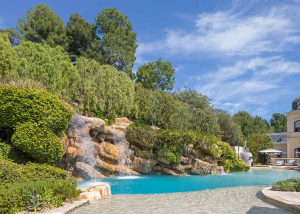 In 2009, Wahlberg married model Rhea Durham. Before marrying, the couple had three children: daughter Ella and sons Michael and Brendan. Grace Margaret, their fourth child, was born in 2010 to the couple. Alma Elaine (Donnelly), a nurse's aide and clerk, and Donald Edward Wahlberg, a delivery driver, are his parents. Wahlberg is the ninth child in a family of nine. He is of Swedish, French-Canadian, English, Irish, and Scottish ancestry (via his paternal grandfather). Growing up, the Wahlberg family didn't have much, especially after his parents divorced when he was eleven. The kids were crammed into a three-bedroom apartment with very little privacy. Mark's mother has stated that she became very self-absorbed with her own life after the divorce. She has attributed her son's subsequent problems and delinquency to herself. Wahlberg dropped out of high school at the age of fourteen to pursue a life of petty crime and drugs (he later earned his GED). He'd spend his days stealing and scamming, occasionally working on a drug deal before indulging in the substances.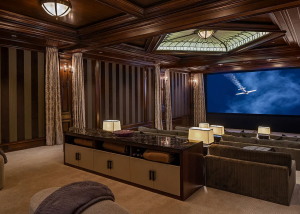 The young man also had a violent streak, which he used against minorities frequently. He was convicted of assault against two Vietnamese men when he was sixteen, after attempting to rob them. He was sentenced to 50 days in prison at Deer Island Penitentiary as a result of his assault conviction. He began working out to pass the time while incarcerated, and by the time he was released, he had transformed from a scrawny young kid to a buff young man. Wahlberg also credits his time in prison for motivating him to change his ways and leave crime behind.
Donnie Wahlberg, his older brother, had become an overnight teen idol as a member of the 1980s boy band New Kids on the Block around this time. The group, which was a forerunner to the boy-band craze, dominated the charts and was at the top of their game. Mark had been a founding member of the band but had left early due to his dissatisfaction with the group's squeaky-clean image. Donnie used his connections in the music industry to help his younger brother land a recording contract, and Marky Mark and the Funky Bunch were born, with Wahlberg portraying a bad-boy rapper who danced in his boxers. Despite his lack of singing ability, promoters were drawn to his dance moves and physique, which they knew would appeal to teenage girls.
That's it for this blog TTP Member, remember to subscribe to our channel and if you feel like we've delivered value please share this blog with ONE person. That's right just one person as a token of your appreciation for the hard work we put into making content that educates and helps you on your mission of building your own fortune.  Remember you can watch blog after blog, but it isn't until you actually take action that you'll start to see results.  See you soon!
#MarkWahlberg #celebrityrealestate #TalkToPaul
---