Matthew Stafford intercepts Drake's Los Angeles Hidden Hills Homes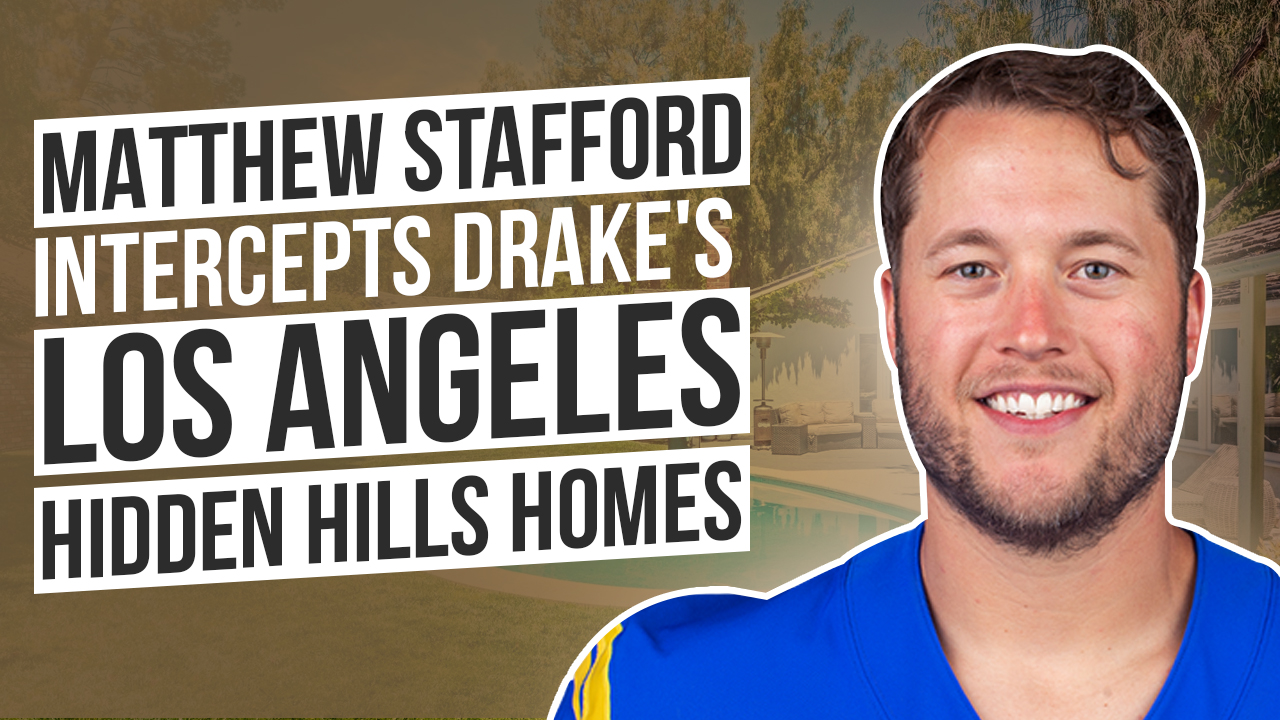 People would have laughed at you if you had told them a decade ago that they could study anything they wanted for free. The internet has made it easier than ever to learn just about anything you want. So with all this content and courses available, how did you know which ones to learn from and which ones actually work?"
Luckily for you, TTP Member, we've produced a list of the ten best and most profitable online free courses available right now. Remember, that while the first step is completing any of these amazing courses, the second and possibly more important step is taking action even if it's imperfect action.
Let's dive headfirst into that list.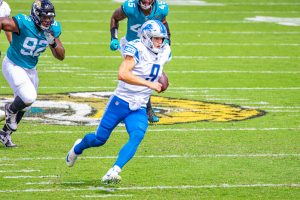 Matthew Stafford, the quarterback for the Los Angeles Rams, has recently moved into a beautiful mansion in Hidden Hills, fresh off his Super Bowl victory. In fact, there are two mansions. And not just any old mansions, either. Matthew is now the proud new owner of two-thirds of Drake's world-famous 6.7-acre "Yolo Estate."
For the past ten years, Drake's principal residence in California has been the Yolo Estate. The Yolo Estate has a fascinating history.
Here's a quick recap –
Drake made headlines last February when he spent more than $70 million on a trophy property in Beverly Crest. The record-breaking transaction marked the culmination of a year-long search for the rapper's first home in the Los Angeles area.
A week later, the Grammy-winning hip-hop artist is on the market for three homes in the tranquil, star-studded town of Hidden Hills, which he owns for a total of $22.2 million
Drake has been building the estate for a decade, beginning with the purchase of an English Tudor-style mansion in 2012 for $7.7 million. In 2015, he paid $2.85 million for the ranch next door, and three years later, he paid $4.5 million for another nearby ranch, resulting in a 6.5-acre triple-lot home.
The "Yolo Estate" – slang for "you only live once" — is the compound's crown jewel, which Drake turned into a party palace during his visit. The home has seven bedrooms, nine bathrooms, six fireplaces, a wine cellar, tasting room, bar, recording studio, and movie theatre. It is rustic on the outside with Tudor-style flourishes and opens to 12,500 square feet of dramatic spaces with seven bedrooms, nine bathrooms, six fireplaces, a wine cellar, tasting room, bar, recording studio, and movie theatre. The primary suite, hidden behind a bookshelf, is 2,000 square feet in size and includes two marble tubs.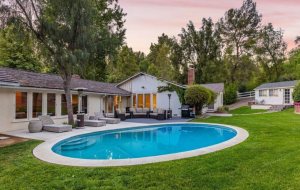 The backyard was designed with entertaining in mind. A unique swimming pool with flowing waterfalls and an 80-foot rock waterslide is surrounded by statues. A grotto with TVs and a bar is located beneath the waterfalls.
A tennis court, sand volleyball court, mechanical bull, and equestrian amenities like a horse stable and riding ring are also available. The property is valued at $14.8 million on its own.
A 3,600-square-foot ranch advertised for $4.5 million and a 2,500-square-foot ranch listed for $2.9 million are the other two homes for sale. Both are more laid-back than Drake's main residence; the larger has an 800-square-foot guesthouse, while the smaller has two acres of grounds covered with pines, sycamore, pomegranate, citrus, and pepper trees.
The listing is held by Beverly Hills Estates' Branden and Rayni Williams. The One, the notorious Bel-Air mega-mansion that sold at auction for $141 million to Fashion Nova entrepreneur Richard Saghian, was also handled by the duo lately.
Since 2006, Drake has released six studio albums and seven mixtapes under the moniker Aubrey Drake Graham. He has sold over 170 million records worldwide and has won four Grammy Awards. In 2012, he started the Toronto record label OVO Sound.
Drake's Hidden Hills mansion is huge, but his new Beverly Crest pad is much bigger. The 20,000-square-foot property, which was previously owned by singer-songwriter Robbie Williams, lies on 20 acres.
The main residence features a pool and a lavish exterior.
The 2,000-square-foot master bedroom is connected to a spa and marble soaking baths.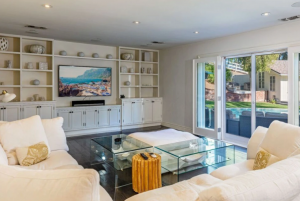 According to The Daily Mail, the Hidden Hills property, which was once owned by Hugh Hefner, is a bachelor's fantasy. The pool is encircled by gigantic statues of naked ladies and includes a swim-up bar. Animal statues surround the mansion, including a 60-foot crocodile next to a mechanical bull.
A full-size beach volleyball court, an 80-foot slide, and an outdoor fireplace are all available. A basketball court, a tennis court, and an equestrian ring are among the amenities. According to TMZ, the mansion has a wine cellar, a tasting room, six fireplaces, and a 25-seat theatre.
After his popular song The Motto, Drake, also known as Champagne Papi, dubbed his house the YOLO (You Only Live Once) estate. He even had a sign outside the property, but it was stolen so he got rid of it.
He told Rolling Stone in 2014 that he discovered the property while looking for the world's strangest residential pools. He paid $7.7 million for the property, which was a bargain since the previous owner, Larry Pollack, had listed it for $27 million.
Rayni and Branden Williams of The Beverly Hills Estates can be contacted if you're interested.
Earlier this month, the famed rapper purchased another Beverly Hills house in an off-market deal for $50 million, which is $35 million less than the asking price. The property was once owned by Robbie Williams. The mansion is 25,000 square feet with a garage that can accommodate 11 vehicles.
There are ten bedrooms and twenty-two baths in this Tuscan-style home. A wine cellar, a game room, a gym, a screening room, a tennis court, an elevator, an outdoor kitchen, and a mosaic-tiled pool are among the luxuries, according to The Daily Mail.
Drake googled "craziest residential swimming pools" when he was just starting out in the early 2010s. He turned one of the image outcomes into his computer backdrop image, according to folklore, to serve as daily incentive.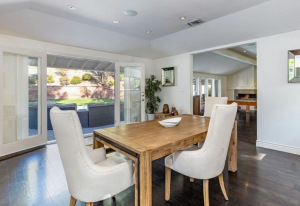 Drake acquired the mansion for $7.7 million two years later, in a wonderful example of turning your ideas into reality.
Drake expanded the estate to 6.7 acres with two more purchases, one in 2015 and another in 2018.
When Drake offered the Yolo Estate a month ago, the total asking price was $22 million. To put it another way, for $22 million, you could have purchased both ranch houses as well as the original property with the ridiculous pool.
Matthew Stafford recently paid $11 million for the two ranches. That's a whopping $3.6 million more than their total asking price.
Stafford has had a good year since being moved from the Detroit Lions to the Rams in March 2021. Last season, he passed for 4,886 yards and 41 touchdowns. Stafford completed 26-of-40 for 283 yards and three touchdowns in leading the Rams to a 23-20 Super Bowl LVI victory over the Cincinnati Bengals, including a game-winning touchdown pass to Cooper Kupp late in the game. Stafford signed a four-year, $160 million contract extension with the Rams on March 19.
Matthew Stafford, the quarterback for the Los Angeles Rams, took Drake's song "Hold On, We're Going Home" to a new level when he paid $11 million for two Los Angeles residences owned by the hip-hop megastar.
Stafford has purchased three mansions in the celebrity-studded Hidden Hills district since arriving in Los Angeles, as well as a four-year, $160 million contract extension with the Rams.
The Staffords sold their lakeside property in Bloomfield Hills, Michigan, for $6.5 million after the trade was completed, bringing him from Detroit to Los Angeles. They now own three residences in California, and Stafford is having another spectacular year on and off the field.
For $14.8 million, the main estate is still available for purchase. Drake's dream pool can be found here once more. A pool with a swim-up, subterranean grotto and an 80-foot waterside that happens to be one of the largest residential swimming pools in Southern California.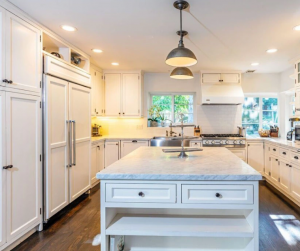 Hidden Hills is no stranger to Matthew Stafford and his family.
The Staffords paid $19.6 million for a still-under-construction spec home less than a mile down the block within the same gated community just one week after being traded to the Rams in early 2021. It's about 18 houses down the road. Kylie Jenner, who lives immediately across the street from the spec house, should be aware.
If I had to guess, I'd say Matthew intends to use his two new residences as granny units. They're close enough that you don't have to worry about your parents or in-laws living in the back yard in an ADU.
Drake was finalizing a $70 million acquisition of a 20-acre property in Beverly Hills when he placed the Yolo Estate for sale last month. Robbie Williams, a British singer, was the home's seller. Robbie has subsequently relocated to a $50 million mansion in Beverly Hills.
Drake did well in the transaction, as he paid $7.35 million for the residences. He's also attempting to sell his opulent YOLO mansion in Hidden Hills. The $14.8 million YOLO estate is still on the market.
Drake first bought Stafford's new homes in 2015 and then again in 2018. A 3,600-square-foot house with five bedrooms and an 800-square-foot guest house is included in one of the houses. The other residence has three bedrooms and 2,400 square feet.
Drake has listed his Hidden Hills houses for sale after purchasing a luxury home in the Los Angeles region. He recently purchased an opulent Beverly Crest property from English musician Robbie Williams.
The home, which spans over 20 acres, is said to have cost $75 million to the Billboard chart-topping performer. Drake's residence has ten bedrooms, twenty-two bathrooms, and an eleven-car garage. It also has a wine cellar, a game area, and a tennis court.
Drake's Hidden Hills estate merely went on the market approximately a month ago. The 6.7-acre combined property was advertised for $22.2 million, with its expansive main estate and two subsidiary properties—at least one of which the R&B/pop/rap star purchased as a means of resolving noise issues.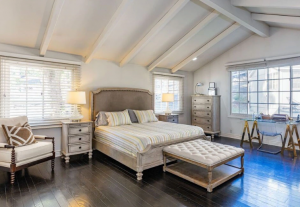 The houses were advertised individually, though, and Los Angeles hometown hero Matthew Stafford stepped up to purchase up the two smaller properties of the trio above this month. According to The Los Angeles Times, the Rams quarterback paid a total of $11 million for the two adjacent residences, which had previously been listed for $7.5 million. Stafford's $160 million salary, which will be paid out over the next four years, lubricated the wheels, making the millions paid out over time more bearable.
But back to the houses. The largest of the ranchos has just undergone renovations, and features beamed and vaulted ceilings, oak plank, sliding glass, a corner fireplace, and built-in shelves on the interior. The kitchen is designed in a U shape with a huge centre island. The smaller one is 2,500 square feet, and it desperately needs interior improvements; the 2.2 acres that surround it are the main story here.
According to the Wall Street Journal, Stafford and his wife, Kelly, paid $5 million and $6 million for the two neighboring homes, which was more than the $7.4 million asking price for the 3.6-acre tracts of land in a celebrity-filled neighborhood of Los Angeles' San Fernando Valley. Last summer, the Staffords paid $19.6 million for a 15,000-square-foot mansion in the same neighborhood.
Matthew Stafford is still claiming his Los Angeles territory! Not only did he pay a whopping $19.6 million for an all-new mansion in the fabled Hidden Hills enclave last summer — following the quarterback's trade from the Detroit Lions to the L.A. Rams — but he also paid a whopping $19.6 million for an all-new mansion in the fabled Hidden Hills enclave last summer — following the quarterback's trade from the Detroit Lions to the L.A. He's still rooting for the Rams, but he's now bought two mansions from music sensation Aubrey "Drake" Graham.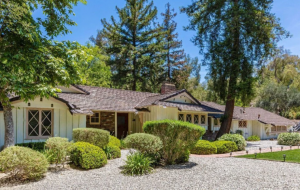 Stafford's newly agreed four-year, $160 million deal extension with the Rams, which will last through the 2026 season, is the second huge spend. The 34-year-old quarterback is coming off a fantastic debut season in Los Angeles, in which he completed 404 of 601 passes for 4,886 yards, 41 touchdowns, and 17 interceptions — and, of course! — guiding the Los Angeles Rams to a thrilling 23-20 Super Bowl triumph over the Cincinnati Bengals in 2022.
According to The Wall Street Journal, Stafford and his long-term wife Kelly paid $3.6 million more than the asking price for a pair of Drake's 1950s ranch-style residences in Hidden Hills, which are only a short drive from Stafford's primary property. The NFL player paid $5 million for one home and then another $6 million for the less expensive home next door. He paid $11 million for the two distinct parcels, which together make up a 3.6-acre totally connected property.
Drake initially demanded $7.4 million for the structures earlier this year, which was around the same price he paid for the pair in two different deals — one in 2015 and the other in 2018. Drake's former main property, a Tudor-style estate near the two properties he just sold to Stafford, is still on the market for $14.8 million.
It is unknown what Stafford intends to do with his two new homes, however it appears unlikely that he will move into either. Perhaps they were purchased for family members, perhaps Stafford intends to demolish them both to make way for something far larger. Or perhaps he'd like to create a horse ranch/compound near his main residence?
The listing agents were Rayni Williams and Branden Williams of The Beverly Hills Estates, with Michelle Graci of the firm representing Stafford.
The first house is a 3,600-square-foot traditional residence with fireplaces, hardwood flooring, and vaulted ceilings. The wood and brick home has floor-to-ceiling doors that open to an al fresco entertaining area, as well as landscaped grounds with a heated pool, BBQ area, and pizza oven, according to the description. There's also a pool house and an 800-square-foot guest house.
The second property contains a three-bedroom, 2,400-square-foot brick-accented house on two acres. In the living area, there are vaulted wood-beam ceilings, an antique brick fireplace, and built-in seating. Finally, a private horse trail in the backyard completes the picture.
Drake, on the other hand, just paid $75 million for English singer Robbie Williams' Tuscan-style villa in the hills above Beverly Hills, and he still maintains a 50,000-square-foot mega-mansion in Toronto's posh Bridle Path neighborhood.
That's it for this blog TTP Member, remember to subscribe to our channel and if you feel like we've delivered value please share this blog with ONE person. That's right just one person as a token of your appreciation for the hard work we put into making content that educates and helps you on your mission of building your own fortune. Remember you can read blog after blog, but it isn't until you actually take action that you'll start to see results. See you soon!
---