NBA's Justin Holiday Selling Fully Renovated Home in Indiana for $2.3M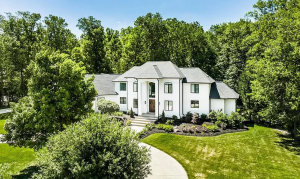 "Have you ever wanted to buy a house in Indiana?" What do you think? Is it a question worth asking? How about "Should I buy a house?" or "Can I afford to buy a house?" If you're questioning yourself, then you should definitely watch this video because it talks about NBA's Justin Holiday Selling Fully Renovated Home in Indiana for $2.3M! Of course it's not too late yet to purchase your own beautiful house and make your dream come true.
There's a lot of questions that our friend is likely wondering. Buying a house can be a very exciting and daunting process. We want to make sure that you have all the information you need to make an informed decision. We can help you find the perfect house for your needs and budget. We also have years of experience in the real estate industry, so we can provide you with sound advice. 
Luckily for you, TTP Member, This is a video that discusses the celebrity and his home in Indiana. We've created a video that will show you some of the features of the homes we've found.  In addition, we'll provide you with an answer to any questions you may have. So if you're looking to buy a home, please watch our video and let us know if there's anything we can do to help. Our team of experts know the ins and outs of the housing market and can guide you to the best option for your needs. We can provide you with a variety of information and resources so that you can make an informed decision. 
But before diving in, let's first know who Justin Holiday is.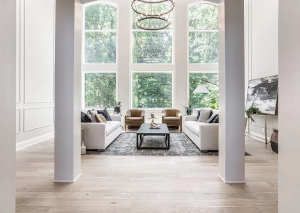 American basketball player Justin Holiday is now a member of the Indiana Pacers of the National Basketball Association. His former team, the Golden State Warriors, won the NBA title in 2015. Justin Holiday, who was born to basketball players Toya and Shawn, grew up with three siblings. After graduating from Studio City's Campbell Hall School, he went on to the University of Washington, where he played for the Washington Huskies and was elected co-captain during his final year.
When he signed with Okapi Aalstar of the Basketball League Belgium, he became a professional in 2011. In the years that followed, Holiday also participated for the NBA Development League's Idaho Stampede and Szolnoki Olaj of the Hungarian Basketball League. He has been married since 2013, and he is a devoted father and spouse. It is his daughter. Basketball players in the NBA also include his siblings.
The first 19 games Justin Holiday played for the Washington Huskies during his freshman year at Washington marked the beginning of his career as a college basketball player. He played 34 games and contributed an average of 5.9 points per game as a member of the 2010 Pac-10 All-Defensive Team during his junior year.Holiday won Pac-10 Defensive Player of the Year honors in his senior year, when he also became the Huskies' co-captain. He played 28.3 minutes per game in 35 games, scoring 10.5 points, dishing out 2.1 assists, pulling down 5.2 rebounds, and stealing 1.2 balls. 
In the 2011–12 season, Justin Holiday made his professional debut with the Belgian team Okapi Aalstar. After brief stints with the Portland Trail Blazers and the Cleveland Cavaliers, he was signed by the Idaho Stampede in October 2012. The following month, he made his NBA debut in a 112-98 loss against the Los Angeles D-Fenders (now the South Bay Lakers).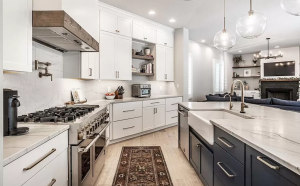 The Philadelphia 76ers acquired the outstanding player on April 1, 2013. Two days later, in the team's 88-83 loss to the Charlotte Bobcats, he made his team debut. At the end of the month, he was selected for the D-League Third Team and the All-NBA All-Defensive Second Team. After that, he participated in the 2013 NBA Summer League. Holiday was acquired by Szolnoki Olaj of Hungary after being released by the Philadelphia 76ers. He played for them for the remainder of the 2013–2014 season, averaging 12.9 points and 1.7 assists in a total of 19 league games.
The Golden State Warriors welcomed him in 2014. In the 2015 NBA Finals against the Cleveland Cavaliers, he played a key role in the Warriors' NBA championship victory, catapulting his career to new heights. Holiday scored 4.3 points on average in 59 games. When the Atlanta Hawks defeated the New York Knicks in October 2015, he had since joined that team and had made a significant contribution. In early 2016, he was exchanged for the Chicago Bulls.
On March 11, 2016, he played in his first game for the Bulls, losing to the Miami Heat 118-96 while averaging a then-season-high of 14 points, 2 steals, and 4 rebounds. After a brief run with the New York Knicks, Holiday joined the Chicago Bulls once more in July 2017. He shot seven 3-pointers, a career high, in a 119-111 victory over the Miami Heat in January 2018. He was traded to the Memphis Grizzlies at the start of 2019. In April, he participated in a losing game against the Dallas Mavericks.
Moving on..
NBA's Justin Holiday is Selling his Fully Renovated Mansion in Indiana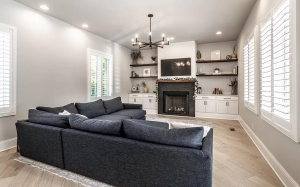 Approximately 20 miles outside of Indianapolis, in Fishers, Indiana, NBA player Justin Holiday is selling his baller mansion for $2.3 million.
While playing with the Indiana Pacers in 2021, the California native purchased the property. He invested $1,364,188 in the opulent home.
He spent his entire career with the Pacers from 2019 to 2022 before being traded to the Sacramento Kings in the middle of the campaign. The Kings traded him to the Atlanta Hawks a few weeks ago.
The 9,271 square foot estate, which was built in 2000, underwent a complete renovation just recently. In addition to freshly painted interior and exterior walls, updates include refinished oak floors.
A fireplace and built-ins can be found in the renovated two-story living room.
A chef's kitchen with brand-new appliances and a waterfall island is also located on the main level in addition to the formal dining area. The breakfast nook and family room are situated close by.
There are five bedrooms total, one of which is the master suite with a spa bathroom and heated floors.
The bottom level has a walk-out basement with a home theater, rec area, and bespoke wet bar. A fitness center and an office are additional benefits.
The house is situated in a parklike setting on 2 acres. The land has a heated pool, hot tub, and spacious deck, all of which are surrounded by thick trees for ultimate solitude.
The house has a four-car garage and a separate boat dock.
The listing was represented by Ashlee Rush of F C Tucker Company.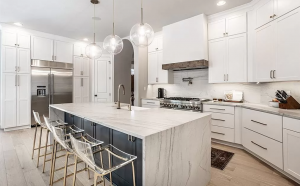 Ashlee Rush works at the agency F C Tucker Company in Indiana as a real estate agent. We have kept track of 2 MLS listings submitted by Ashlee throughout the past year. Ashlee primarily works with single-family homes priced about $327,000.
Real estate success for Ashlee Rush is a result of her enthusiasm, expertise, and dedication to meeting her real estate requirements with professionalism. She never stops learning about the most recent market trends so she can find the ideal home for you or accurately price your home to sell.
All the information you require to buy or sell a home is available on her website. Contact her right away if you need additional details about the homes in your neighborhood so she can provide you the most recent information. 
Let's know more about F C Tucker Company.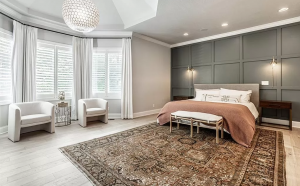 The F.C. Tucker Company is the largest independent real estate company in Indiana and one of the largest independent real estate firms in the country, with over 1,500 agents statewide and over $2 billion in sales. Mortgages, title insurance, a broad variety of insurance products, auctioning, homeowner warranty products, and relocation services are just a few of the real estate services offered by its network of companies. In addition to its 16 offices in the Indianapolis region, Tucker, which was founded in Indianapolis 90 years ago, has 35 associate offices in Indiana and Kentucky. Fewer than 1% of American real estate companies have a history that has lasted as long as F.C. Inc. Tucker Company
The F.C. Tucker Company is owned by H. James Litten, who dedicates himself to continuing to grow and diversify the services provided by the company.
Other companies include Tucker Referrals, Tucker School of Real Estate, and Tucker/Schrader Auction Company, L.P.
Tucker is the first and only Indiana real estate firm to offer Home-Link, a personalized customer service system that allows each homeowner a single point of contact, a Personal Service Coordinator, to call for all home needs.
The Tucker management and sales teams place a strong emphasis on involvement in trade associations and the community at all levels. Representatives of the company have held leadership positions in a number of organizations, including the National Association of Realtors, Indiana Association of Realtors, Metropolitan Indianapolis Board of Realtors, Indiana Real Estate Commission, Crown Hill Cemetery, Goodwill Industries of Central Indiana, Humane Society of Indianapolis, Junior Achievement of Central Indiana, Penrod Society, and the Stanley K. Lacy Alumni Group.
Their objective is to coordinate a procedure that makes the purchasing or sale of real estate a simple and joyful transaction for you. Additionally, they have created a smooth multi-integrated system using the most recent technologies to help all parties.
Moving forward..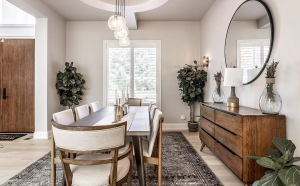 Let me review again all the details of this House for you to keep in mind.
PERFECTLY updated/remodeled estate situated on more than 2 acres! freshly painted inside and out! All levels' floors have been refinished, including the main and top levels' French oak hardwoods. 
A gorgeous, gourmet kitchen is finished with brand-new equipment, a gorgeous waterfall island, and a breakfast nook. Redesigned living room with fireplace, cabinets, and bookcases built in. The master bedroom's en suite bathroom has heated floors and a spa-like atmosphere. 
The walk-out basement has a custom wet bar, a recreation area, and a theater. Suitable for entertaining! contains a workout area with unique gym flooring as well. Step outside to find a tranquil, park-like area with big, old trees that provide just the right amount of privacy. Enjoy the heated saltwater pool, huge deck, hot tub, and greenhouse! exclusive boat dock.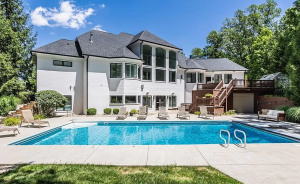 If you want to invest in a house in Indiana, now is the time to do it. The market is still strong, and there are many houses available for sale. You can find your dream home by looking online or calling a real estate agent. If you're interested in purchasing a property, make sure to get pre-approved by your lender. This will help you determine how much money you need to invest and avoid any delays in the process.
The market is still stable and prices are still low. You can also invest in a property that's in a good location. If you're not sure what you want, you can hire a real estate agent to help you find the perfect home. 
Buying a home is an important decision that you will never regret. We understand that and want to help you make the best decision for your needs. That is why we offer our services as a home buying advisor. We can provide you with information on different types of homes and help you find the right one for you. We can also help you negotiate prices and terms, and connect you with local professionals who can help with the entire process. So if you are interested in buying a home, we are here to help.
We hope that our video has helped you find a home. We have spent a lot of time and effort creating it, and we want you to be able to find the perfect one. We would also love to hear your feedback, so please leave a comment below or on the video. We want to make sure that you have the best experience possible when looking for a new place to live, and we'll continue to offer quality videos in the future. 
That's it for this video TTP Member, remember to subscribe to our channel and if you feel like we've delivered value please share this video with ONE person. That's right just one person as a token of your appreciation for the hard work we put into making content that educates and helps you on your mission of building your own fortune. Remember you can watch video after video, but it isn't until you actually take action that you'll start to see results. See you soon!
---