Neil Patrick Harris Finds a Buyer for His Harlem Home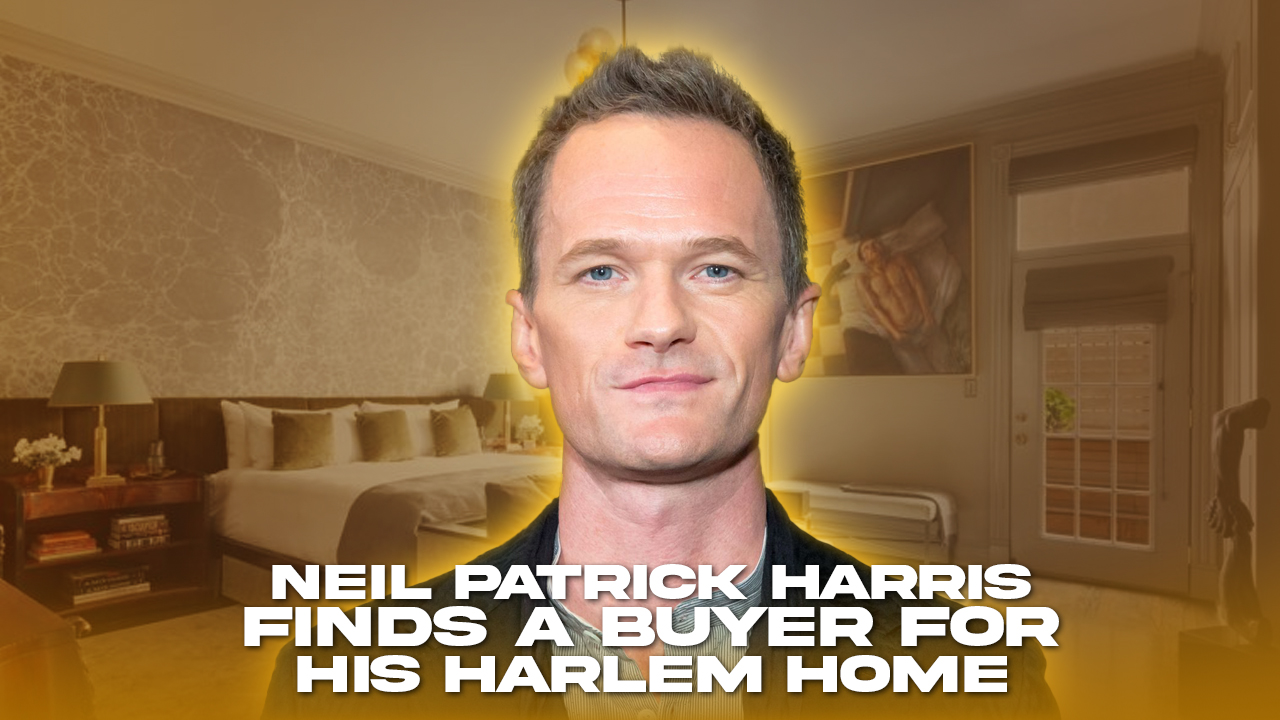 Hello, people. Welcome to the TTP Youtube channel. Do you miss the legendary show, How I Met Your Mother? The award-winning actor, who played Barney Stinson on the show, Neil Patrick Harris has a real estate victory to add to his many accomplishments.
After ridding the family of the Harlem townhouse, Harris and his husband David Burtka just sold it for $7.1 million. The sale price is expected to set a record for the neighborhood. If you want more celebrity real estate content, subscribe to the TTP Youtube channel and hit the notification bell.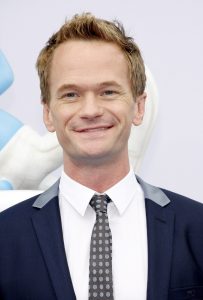 Harris and Burtka paid $3.5 million in 2013 for a 1908 home, which they renovated. The restored 12-foot ceiling, woodwork and wainscoting makes the place a five-bedroom home from 1908.
The interior design features gas fireplaces, outdoor areas, and a bar, providing the perfect backdrop for hangovers.
The five-story home was listed last August for $7.3 million. But, after a damaging storm, the property was taken off the market.
While the furniture was being redone, the sellers had multiple offers.
More than $7 million, we hear, is what a buyer from New York City is willing to spend for this house in the 'hood and love it so much.
Harlem has a new building that's breaking records and is just another great example of the boom Harlem is having.
A staircase leads up to a loftlike living and dining area, which features an adjacent modern kitchen.
On the third floor, the primary suite has a large walk-in closet, a marble bath and an outdoor hot tub.
Other rooms include an office, a library, and a roof deck.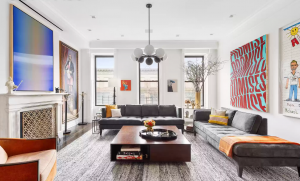 The garden level features a production office and comes with a 10-seat home theater. Features include: a rec room, wine cellar, workshop, or gym, and ample storage.
Harris bought the five-bedroom, 20-foot-wide house in 2013 for close to $3.6 million, as Gimme reported exclusively at the time.
Quirky antiques are everywhere.
Notwithstanding a renovation, the significant details of the house are still undamaged.
The place is an ideal heaven for book lovers.
The location is only a couple blocks from 125th Street which makes commutes easy for people to live near their jobs. It's also close to museums, pocket parks, and transit.
The digs are suitable for an enthusiastic home cook.
The bedrooms have very ample space.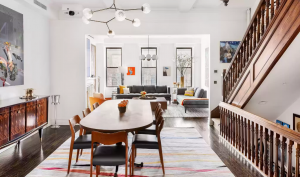 There is a massive five-story home 8,000 square feet which dates back to 1908. Remaining details like moldings and millwork have been updated through Jeffery Povero's updates to New York architect as well as LA designer Trace Lehnhoff.
The quirky details of this penthouse include a top-floor office behind a trick door that opens when you press the eye of a magician on a vintage poster. It also has an antique bar like Jimmy Fallon's Gramercy Park Penthouse, but with new appliances and plumbing.
The home offers formal dining, library, music room, wine cellar and three fireplaces.
An old hotel bar now embellishes the house.
You can sunbathe on the private roof terrace.
The outdoor living spaces are furnished and landscaped with neatly trimmed hedges, and have a cozy dining table for eight, which is set under a wood gallery. The outdoor space includes more than 2,000 square feet of terraces and gardens.
As seen through the eye of Burtka's cookbook, "Life is a Party," Vickey Barron states that the home's kitchen is also recognizable to readers.
According to Barron, "They have so many great memories here and there are great images of the house in the book. It represents what the house meant for both of them ⁠— raising their family and entertaining here."
They are spending more of their time in the Hamptons at their home. The couple and their twin sons; Gideon and Harper; bought the house in East Hampton for $5.5 million in 2017. It's adjacent to a 10-acre reserve.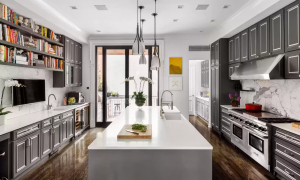 Harris is one of the most versatile actors around. He has starred in movies such as "Harold and Kumar" and "Gone Girl."
Vickey Barron with Compass act for the listing. "They simply don't need two large homes," she said.
Harris was born June 15, 1973 in Albuquerque to lawyer parents and grew up in Ruidoso. Growing up as a child actor, he won the part of Toto from his brother.
Harris was an established actor by age 16, but his career really took off with the series Doogie Howser, M.D. (1989). Harris has acted in many films and plays since then. He attended La Cueva High School with Freddie Prinze Jr., and made his senior play debut in Fiddler on the Roof (1971), which he also starred in.
Upon leaving Doogie Howser, M.D. in 1993, Harris took up stage acting. After a string of made-for-television movies, he acted in his first big screen roles in nine years with a role in Starship Troopers (1997) and then The Proposition (1998). In July 1997, he accepted the role of Mark Cohen for the Los Angeles production of the beloved musical, Rent (2005). His performance in "Rent" garnered him a Drama League Award in 1997. He continued playing Mark Cohen for six nights in his hometown Albuquerque, New Mexico to rave reviews at the end of 1998. Later in 2005 he played Mark again to rave reviews on Broadway as well.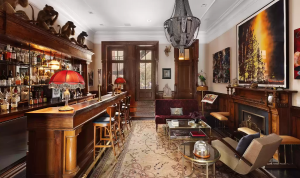 In 1999, Harris returned to television in the short-lived sitcom Stark Raving Mad, with Tony Shalhoub. In 2002 he acted in films such as The Next Best Thing, Undercover Brother and Spider-Man. He has continued his stage work, making his Broadway debut in 2001 in "Proof." In 2005, Harris returned to the small screen for a guest-starring role on Numb3rs and a starring role in the television series How I Met Your Mother. Neil guest starred on the web-only musical comedy Dr. Horrible's Sing-Along Blog (2008), which became #1 TV series for five straight weeks despite not actually airing on television.
Neil Patrick Harris is an American actor, singer, writer and producer. He is known primarily for his comedic roles on TV and his dramatic and musical stage roles. On television, he's known for playing the title character in Doogie Howser, MD (1989–1993), Barney Stinson on How I Met Your Mother (2005-2014) and Count Olaf on A Series of Unfortunate Events (2017-2019). Harris has also starred in Joss Whedon's musical Doctor Horrible's Sing-Along Blog (2008) and a fictional version of himself in the Harold & Kumar film series (2004-2011).
In 2014, he starred in the title role in Hedwig and the Angry Inch on Broadway, for which he won the Tony Award for Best Leading Actor in a Musical. He has hosted the Tony Awards four times: 2009, 2011, 2012 & 2013. Harris has also hosted Primetime Emmys twice: 2009 & 2013. In 2015, he hosted the 87th Academy Awards making him the first openly gay man to host The Oscars.
Harris has starred in various TV sitcoms and on the stage. He has had productions like "Rent," "Cabaret" and "Hedwig and the Angry Inch."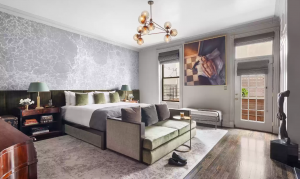 As a young boy, Neil Patrick Harris was 15 when he starred alongside Whoopi Goldberg in the film Clara's Heart. Next year, he was 16 and filmed four seasons of Doogie Howser, M.D. From movies to TV to live theater, Harris has appeared in a variety of creative projects throughout his childhood and adulthood. He is openly gay and the father of twins.
Early in life, Harris grew up in Ruidoso where he got his start in acting as Toto in a grade school production of The Wizard of Oz. He appeared in several plays and musicals while attending La Cueva High School.
In 1988, at the age of 15, Harris won a Golden Globe nomination for his performance opposite Whoopi Goldberg in the drama Clara's Heart. The following year, he landed the leading role as a teenage surgeon on ABC's Doogie Howser, M.D. The show was a hit, and for several years Harris was synonymous with his small-screen persona. He was nominated again for a Golden Globe for his work on the show, which ran for four seasons.
Harris continued to find success in numerous projects throughout the 1990s, though none had the same amount of acclaim as Doogie Howser, M.D. He also appeared in supporting roles on the big screen in films like Starship Troopers, The Next Best Thing and Harold & Kumar Go to White Castle, as well as starring opposite Tony Shalhoub in Stark Raving Mad. Harris has gone on to star on Broadway in Proof, Assassins and Rent with a critically acclaimed performance at the host of Cabaret.
Throughout the 1990s, Harris landed acclaim with his made-for-TV projects such as My Antonia and Joan of Arc, while in 2000 he found success with his role as Barney Stinson on CBS's How I Met Your Mother.
Harris has enjoyed great success as the host of Broadway's biggest award show, the Tonys. Over four Tony Awards hosting and three Emmy's for his. In 2014, Harris won his first Tony outright in the category of Best Leading Actor in a Musical, portraying the title character in Hedwig and the Angry Inch. The show won for Best Featured Actress (Lena Hall) and Best Revival as well.
In 2018, Harris hosted the 87th annual Academy Awards, doing everything from an opening musical homage to appearing in his skivvies during a skit inspired by Birdman.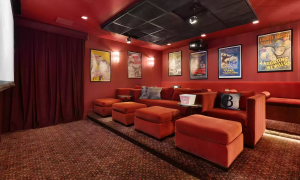 Elton John sang at Harris's wedding celebration. In 2006, he went public about being gay, saying to People Magazine "I am quite proud to say that I'm content gay man and am living my life to the fullest." He married his longtime lover, David Burtka, on September 6th 2014 in Perugia Italy and Harris made a statement in People magazine.
On October 12, 2010, the couple welcomed their son Gideon Scott and daughter Harper Grace with the help of a surrogate mother. Harris and Burtka announced this to the press in August 2010 when they conceived one brother and one sister via a surrogate mother.
Harris has received multiple awards throughout his career; specifically, he was nominated for a Grammy Award and three Screen Actor's Guild Awards. This makes him one of the most well-known celebrities in Hollywood.
Doogie Howser, M.D., on which he starred as the title character and Barney Stinson on the CBS show How I Met Your Mother have both won him Golden Globe nominations. Count Olaf, on Netflix's A Series of Unfortunate Events, is currently in production.
Harris has starred in a number of features, including Dr. Horrible's Sing-Along Blog (2008), Harold & Kumar series (2004-2011), Smurfs films (2011-2013), and Gone Girl (2014).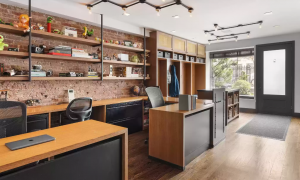 Harris is an award-winning actor who has won awards for appearing on Glee and hosting the Tony Awards in 2013. For his role as Hedwig, he won the Tony Award for Best Actor in a Musical.
He was part of Time magazine's 100 Most Influential People in 2010.
Harris was born in Albuquerque, New Mexico and grew up there with his older brother. They lived part of the time with their parents, who were lawyers, ran a restaurant and are private tutors. Harris graduated high school with honors in 1991, partly because he was privately tutored during the year while working on set.
Harris got his start in acting as a child, playing lead roles in television and films. His breakthrough role came when he was cast by playwright Mark Medoff in the 1988 drama film Clara's Heart and earned a nomination for a Golden Globe. Later that year, Harris starred in the children's fantasy film Purple People Eater.
Starting at the age of 10, Harris's first major role was in the film Animal Room. Though portraying a teenager, his latest films range from supporting roles to a leading role in The Next Best Thing. Harris appears as himself in films 6 times—from 2004 to 2010. In the stoner movie Harold and Kumar Go to White Castle, he plays a hyper-sexed version of himself. This was the first time that Harris was able to fully express his individuality as opposed to playing his sanitized Doogie Howser character. This led him to being in an iconic role alongside Neil Patrick Harris for 9 seasons on How I Met Your Mother as Barneys Brokeperson.
On March 7, 2010, Harris surprised the Academy Awards audience by being called up to introduce the opening musical number. The same year, he played the lead in the indie comedy The Best and the Brightest. While working as a voice actor for movies such as Batman: Under the Red Hood and Cats & Dogs: The Revenge of Kitty Galore, he also played Steve the Monkey in Cloudy with a Chance of Meatballs.
In 2014, in Gone Girl, directed by David Fincher, Harris portrayed the emotionally disturbed and controlling wealthy ex-boyfriend of Rosamund Pike. He received positive reviews for his acting talents.
On February 22, 2015, Harvey hosted the 87th Academy Awards for the first time ever by becoming the first openly gay man to host the Oscars.
Harris announced in October 2019 that he would be starring in the fourth installment of the Matrix franchise.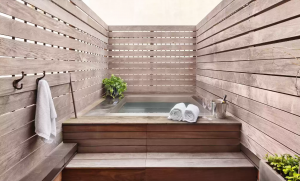 Harris has sung on Broadway in both musical and dramatic roles, performing the dual role of the Balladeer and Lee Harvey Oswald in Stephen Sondheim's musical Assassins. He also belted out the role of Charles (first played by Anthony Perkins in a 1966 ABC telecast) on Nonesuch recordings of Stephen Sondheim's Evening Primrose and Rent. On January 10, 2009, Harris hosted his second edition of Saturday Night Live and satirized his role as Mark Cohen.
In 2010, Harris directed a production of the rock musical Rent. In 2011, Harris appeared as Bobby in Stephen Sondheim's Company with the New York Philharmonic in concert. That same year, Harris directed The Expert At The Card Table at Broad Stage's Edye in Santa Monica.
Tony Awards host Harris has hosted the awards four times: in 2009, 2011, 2012, and 2013. He's among only five people to host the Tony Awards more than once. So far, Harris has earned four Primetime Emmys for his hosting of the Tony Awards.
Beginning in 1989, Harris played the title role in the series Doogie Howser, M.D., for which he was nominated for a Golden Globe. After the show's four-season run ended in 1993, Harris starred as a guest star on television series including Murder, She Wrote. From 1999 to 2000, Harris teamed up with Tony Shalhoub on the NBC sitcom Stark Raving Mad, which lasted 22 episodes. He has played lead roles in many television features, including Snowbound: The Jim and Jennifer Stolpa Story in 1994, My Ántonia in 1995, The Christmas Wish in 1998, Joan of Arc in 1999, The Wedding Dress in 2001, and The Christmas Blessing in 2005.
That's it for this blog TTP Member, remember to subscribe to our channel and if you feel like we've delivered value please share this blog with ONE person. That's right just one person as a token of your appreciation for the hard work we put into making content that educates and helps you on your mission of building your own fortune. Remember you can read blog after blog, but it isn't until you actually take action that you'll start to see results. See you soon!
---