Ozzy, Sharon Osbourne Sells Hancock Park Mansion for $18M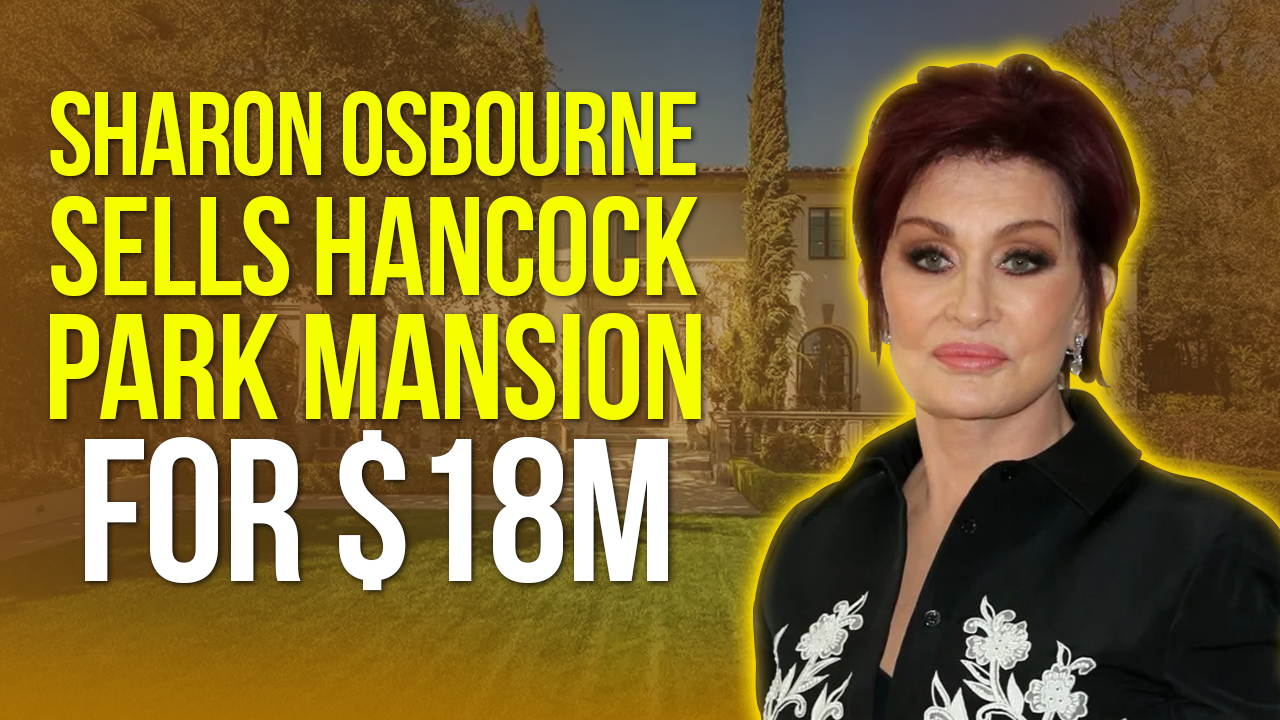 Hello, people. Welcome to the TTP Youtube channel. After spending 25 years living primarily in the United States, Ozzy and Sharon Osbourne are moving back to their native UK. As for California taxes, Black Sabbath frontman Ozzy said he may return, but that it was just too much for him.
The couple's main Los Angeles residence is now for sale. If you want more celebrity real estate content, subscribe to the TTP Youtube channel and hit the notification bell.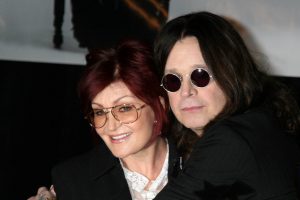 Located on one of Hancock Park's poshest streets with a Mediterranean villa-style manor built in 1929, the estate offers six bedrooms and 11 bathrooms (seven full baths, four powder rooms) in over 11,000 square feet of living space. All that space, style and history will cost a buyer dearly — to the tune of $18 million.
With the purchase of his house in 2015, Oren Koules became a millionaire and was under the assumption that the house he bought was well-worn and never for sale. However, the Osbournes saw photographs of Koules' shiny new home in a glossy magazine and flew him out to California to make him an offer that he could not refuse.
But due to a recent renovation, the home no longer clearly represents the look of its former owners. The Osbourne family renovated many things in the house and have replaced luxuries with a big dose of decadence.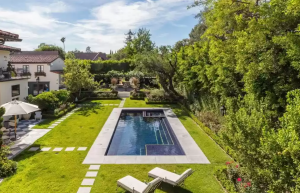 The absolutely massive 11,000-square-foot home was built in 1929 and Ozzy Osbourne's home is hidden from the street behind a grove of olive trees. The detached garage features a guest apartment above it.
The house has a hand-painted ceiling and a gold chandelier in the foyer, as well as a primary suite with two dressing rooms and a chrome-covered bathtub. The backyard has a fireplace and pizza that are also surrounded by an in-ground pool with hand-set mosaic tile.
A contemporary makeover was given to the home before the Osbournes bought it. The musician got the Mediterranean-style home from producer Oren Koules, who did not want to sell it. They saw it in a magazine and offered him an amount he couldn't refuse, according to Dirt.com.
The Osbourne family is moving back to their ancestral estate in Buckinghamshire, England. Ozzy expressed that California taxes are "too much" but may return if the taxes are "better-done." In regards to his career, Ozzy has no plans of stopping making music. He said that he would continue to make music in his barn built on the estate and create a recording studio.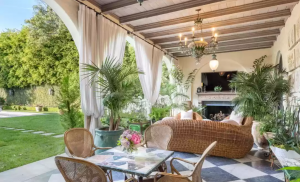 Ozzy and Sharon bought the home from film producer Oren Koules for $11.85 million in 2015, he purchased the home in 2010 for $4.2 million and he worked on renovating the house's interior.
The heavy metal singer and his wife will reportedly spend most of their time at their Buckinghamshire home, Welders House.
Black Sabbath frontman  has said that the band is leaving Los Angeles because of the overwhelming tax burden. He is sad about the decision because he really likes living in California.
Located behind tall gates, in the Hancock Park district of Los Angeles, this 1927 estate is a lavish example of Hollywood's classic entertainers' homes. A.K. Kellogg was hired to design and construct it, and it was restored with the help of remarkable restoration techniques representing an achievement seldom found today.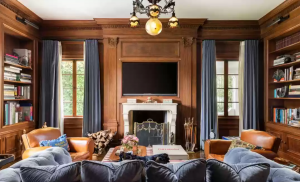 The distinctive architecture has been brought up to modern standards with an unusually large array of amenities for a house this size–a chef's kitchen opens to the family area and outdoor dining area that's perfect for gatherings of friends or parties. An enchanted screening room within easy reach is commensurate with its Hollywood history, complete with fireplace and bar as well as a huge kitchen perfect for viewing or cooking. Traveling into the enlarged master suite are dual bathrooms and expanded dressing room space where guests will love to spend time when they're visiting.
If the family were to sell their house for $18 million, it would rank as one of the priciest homes ever sold in Hancock Park. However, if they are able to sell thOzzy Osbourneeir house it's possible that they could sell out of the same neighborhood and move into an expensive home on Shonda Rhimes' street near theirs.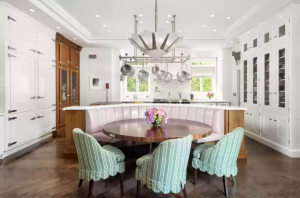 Jonah Wilson and Josh Greer of Hilton & Hyland are the listing holders.
The huge house lies deep inside a fenced off lot, hidden from the street behind gates and a grove of aging olive trees.
Behind a line of inflexible defense, the stylish home is framed by oak trees, Italian cypresses, manicured boxwoods and a grassy lawn. To the left of the house, a driveway passes under the porte-cochère on its way to a detached garage, which sits at the far rear of the property. Atop the garage sits a self-contained guest/staff apartment.
The owners are said to have had a hand-carved door and elaborate moldings that act as a sort of front stage for the grandeur within the home, or the house itself.
In the foyer, you'll find a hand-painted ceiling and a chandelier. These are also throughout the mansion in Los Angeles that costs $18 million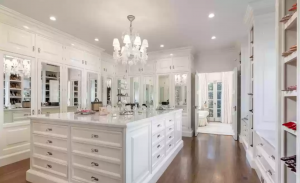 The Osbournes have a chef's kitchen and banquette built into their home.
"We are leaving L.A. We are a bit sad. But the tax is getting too much. I am sad because I really really like staying and living there." Ozzy added they could return in the future "If they do the taxes better then I may come back. I do not know."
Ozzy also shared, "I am taking my recording studio with me. I am going to build a barn there and make my own studio at Welders. I will still be making music and my band will come over."
Ozzy and Sharon purchased Welders House from Oscar-winning special effects legend John Stears in 1993. In her 2013 autobiography, "Extreme: My Autobiography", Sharon said she purchased the house because of its "extreme" distance from any other houses nearby.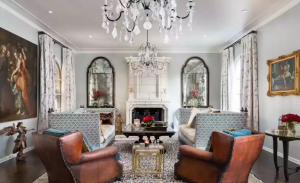 Last October, Variety reported that Ozzy Osbourne and Sharon Osbourne have partnered with Sony Pictures to develop a biographical film of their life. The as-yet-untitled story focuses on the love story between the BLACK SABBATH frontman and his wife and manager, with Lee Hall writing the script. The film has already garnered interest from Sharon's children Jack and Aimée, who own Osbourne Media, along with Michele Anthony and David Blackman on behalf of Polygram Entertainment. Andrea Giannetti has been overseeing development for Sony.
Ozzy remarked about the biopic in 2020: "From what I understand, it's about Sharon and I and our relationship. It's how we met, fell in love, and how we married. She's my other half. She grew up a lot with me, and I grew up a lot with her."
"I hope it will be a story that everybody can relate to. You don't have to be a fan of the music, because it's a story about a survivor," according to Sharon. "No matter what life throws at you, you pick yourself up and you start again. It's just an amazing story of overcoming everything that's thrown at you in your life."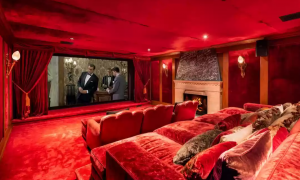 Sharon added that the film will be "a lot more real" than the biopic 'Bohemian Rhapsody'. "We don't want it to be squeaky, shiny, clean and all of that," she said. "It's an adult movie for adults."
The superb craftsmanship provides a grand entrance.
The foyer is a two-story high, with a staircase in the center and a chandelier hanging like an upside-down U in the ceiling. The artwork on the ceiling is not painted, but takes the form of a handcrafted alabaster relief.
Besides the four public rooms on the main level, there is also a family room and library.
The chef's kitchen features a La Cornue range and is open to both the family room and breakfast room, which includes a banquette built into the kitchen island.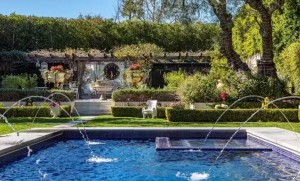 You can find a wood-paneled library and a living room decked out with two chandeliers in John Paul's home before checking Museum Park for live music.
So, Dirt reports that following the Saw movie oscar, the Osbournes bought the home because -and I can't say this enough- they saw it in magazines.
On top of the five bedrooms in the main house, there's also a guest apartment two stories up.
The couple lived in a suite that has its own living room and two bathrooms and two dressing rooms.
There's an outdoor dining loggia complete with a fireplace, pizza oven, and built-in barbecue.
There are four bedrooms and a bonus room upstairs, which could be a fifth bedroom.
The suite is reserved for a specified group that the listing calls "a world unto itself," which offers the bedroom its own sitting area and fireplace, dual baths and closets, and dressing rooms.
Sharon and Ozzy both had their own bathrooms in the primary suite, with one of them having a sick chrome-covered bathtub.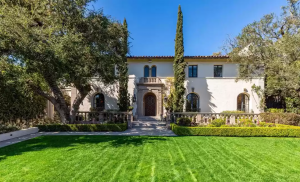 Dirt wrote that the home has an elevator to all floors, which is convenient.
The home features an outdoor living space with a fireplace, TV, and BBQ pizza oven.
The elevator services all floors, including the lower level that offers an all-red screening room.
There are four powder rooms situated on the premises, all of them exquisitely done up to match the rest of the house.
In the back, there is outside space for gardens, another lawn and a swimming pool with an inset spa.
Ozzy and Sharon's home sits on over half an acre and features a pool with a spa, hand-laid mosaic tile, and a Japanese garden.
Now the home they purchased for $12 million is worth $18 million, according to Dirt. They bought the house in Hancock Park and are now making a profit.
But even if the couple sold their Hancock Park house tomorrow, they wouldn't be totally homeless in the US. They still own two side-by-side, but unconnected, condos in L.A.'s Sierra Towers skyscraper that they purchased in 2014 for $4 million and earlier this year for about $2.3 million.
John Michael "Ozzy" Osbourne is an English singer, songwriter and television host. He rose to prominence during the 1970s as the lead vocalist of the heavy metal band Black Sabbath, when he adopted the nickname "Prince of Darkness."
Ozzy Osbourne was fired from Black Sabbath in 1979 due to alcohol and drug problems, but went on to have a successful solo career, releasing 12 studio albums, the first seven of which received multi-platinum certifications in the US. Ozzy has since reunited with Black Sabbath on several occasions and helped record their final studio album before they embarked on their last tour. His longevity and success has earned him the informal title "Godfather of Metal".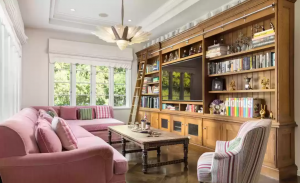 His total album sales from all of his work together with Black Sabbath, as well as his solo work, are over 100 million. Osbourne has been inducted into the Rock and Roll Hall Of Fame as a member of the band and into the UK Music Hall of Fame as a solo artist and a member of Black Sabbath. For his achievements, he has received stars on the Hollywood Walk of Fame and Birmingham Walk of Stars. At the 2014 MTV EMAs, he received the Global Icon Award. In 2015, Osbourne received the Ivor Novello Lifetime Achievement Award from the British Academy of Songwriters Composers and Authors (BASCA).
In the early 2000s, Ozzy Osbourne was a reality television star, appearing as himself in the MTV reality show The Osbournes alongside wife and manager Sharon and two of their three children, Kelly and Jack. Ozzy co-stars with Jack and Kelly in the television series Ozzy & Jack's World Detour. The show's third season debuted in June 2018.
John's mother, Lilian (née Unitt; 1916-2001), worked full-time at a factory during the day and Jack worked in night shifts as a toolmaker for General Electric. He had three older sisters, Jean, Iris, and Gillian and two younger brothers, Paul and Tony. At age 11 he left school because of bullying he received from his peers. He attempted suicide multiple times because of abuse from his home church.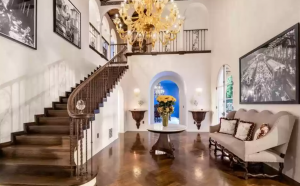 Sharon Osbourne wrapped "America's Got Talent" as a host on NBC this summer. In 2010, she co-hosted the CBS talk show "The Talk" with five other women. She has had success as both an actress and manager, author and producer. Sharon is also a philanthropist and has made many contributions to various charities over her career.
Sharon also starred in Season 3 of NBC's "The Celebrity Apprentice." In the show, she and other celebrity contestants worked towards a greater goal, raising over $1 million for various charities throughout the season. In episode 12 of The Celebrity Apprentice, Sharon was on team  "Tenacity" with Cyndi Lauper, Summer Sanders, Holly Robinson Peete, Maria Kanellis, Selita Banks and Carol Leifer. The season finale aired on May 23rd, 2010.
Her accomplished career in the music industry has spanned over 30 years. Sharon has managed numerous successful artist's careers, including Black Sabbath, Ozzy Osbourne, Electric Light Orchestra, Smashing Pumpkins, Motorhead and Slade. In 1996, Sharon created and produced the biggest and most successful hard rock touring festival . Ozzfest went on to become a prime rock occasion and recently celebrated its 13th year.
Sharon also created and produced the first reality TV show "The Osbournes", and this became a highly successful show on MTV, as a Primetime Emmy award went to the series in 2002.
She has had high-profile credits in both American and British television, including appearances on "Will & Grace", "Days of our Lives", and "Punk'd". She wrapped her fourth season with the X Factor in 2007.
Her latest book, Revenge, was released in the UK and debuted at #7 within a week. The book also finished with 5-star reviews on Goodreads and Amazon. Sharon Osbourne is also the author of her autobiography, My Autobiography: Sharon Osbourne Extreme, which has sold over 2 million copies in Europe.
Sharon Osbourne founded the Sharon Osbourne Colon Cancer Foundation to provide services to those who are suffering from and have succumbed to the disease. With a goal of funding campaigns in California, she has started 4 cancer-related fundraisers with Cedars Sinai Medical Center, including the Colorectal Cancer Screening Program.
She, who starred on the show America's Got Talent five seasons in a row as well as CBS's The Talk, is a celebrated TV personality. Throughout her career she has been not only an acclaimed television personality but also a successful manager, mother, author and producer.
That's it for this blog TTP Member, remember to subscribe to our channel and if you feel like we've delivered value please share this blog with ONE person. That's right just one person as a token of your appreciation for the hard work we put into making content that educates and helps you on your mission of building your own fortune.  Remember you can read blog after blog, but it isn't until you actually take action that you'll start to see results. See you soon!
---