Rams Star Cooper Kupp Sells Lakeview Mansion for $5.25M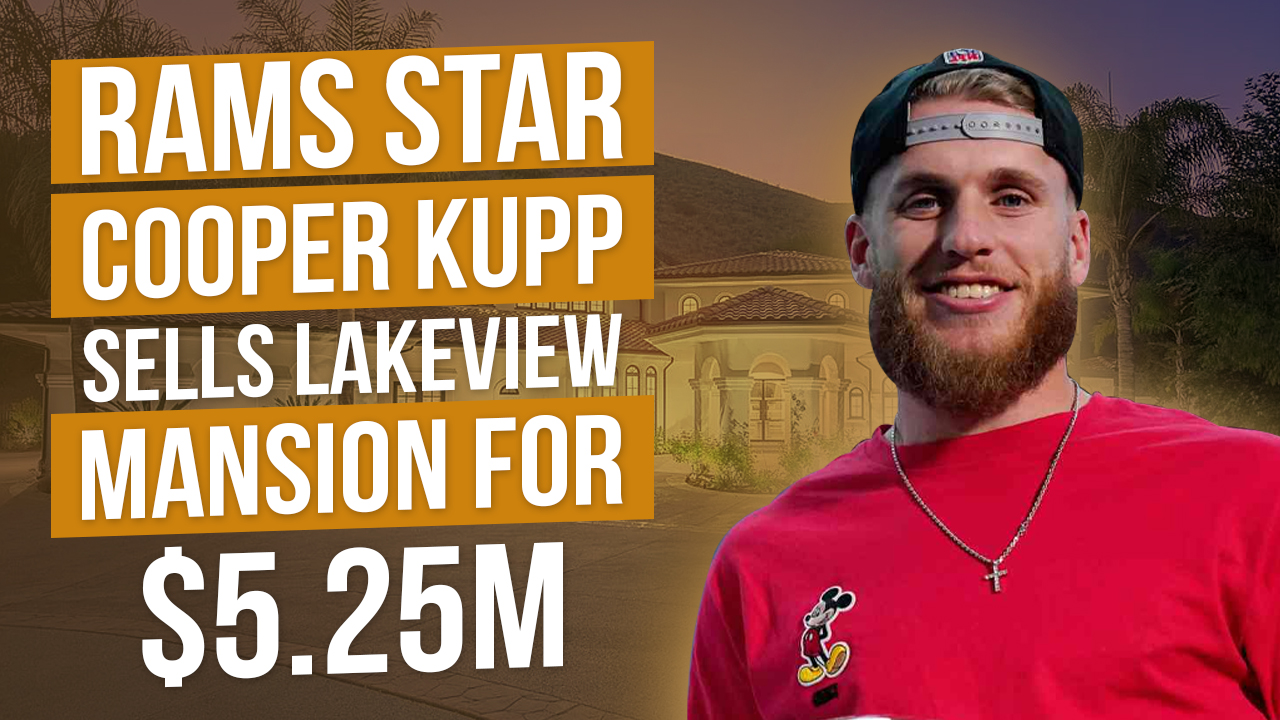 Cooper Kupp of the Los Angeles Rams recently sold his impressive home in Westlake Village, California, for $5.25 million, according to Dirt. Even though the wide receiver listed the house for $6.1 million in August 2021, the recent sale still counts as a win. That's because Kupp paid $4.1 million for the property in March 2021. His change of heart about his living situation turned out to be a wise real estate decision.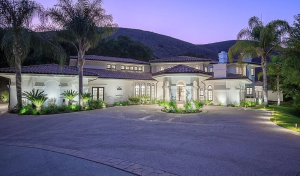 He is now free to attend to some lingering real estate business after being named MVP of Super Bowl LVI thanks to his key role in the Los Angeles Rams' victory over the Cincinnati Bengals. According to Dirt, Cooper and his wife Anna have listed their lavish Westlake Village estate for $8.5 million, which is $2.8 million more than they paid for it less than a year ago.
The wide receiver can afford to indulge his real estate whims now that he has a $47 million contract under his belt. Cooper, a Washington native and Eastern Washington graduate have done just that, spending $6.6 million in three months on two sprawling estates, one in the far-flung L.A. suburb of Westlake Village and the other in the sleepy Oregon town of Wilsonville.
The Kupps paid $3.5 million (US$2.5 million) for the mansion in Wilsonville, Oregon, near Portland, just before buying these Westlake Village digs. The estate includes a main house with five bedrooms and 5.5 bathrooms, a separate guest house/garage, and a converted barn with an indoor sports arena. A freestanding soaking tub can be found in the master bathroom. The cabana is warm and inviting, with a fireplace and built-in grill. It also has a wet bar inside. The property is surrounded by a large patio. The pool and spa are the most appealing features.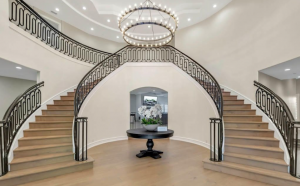 The larger and more expensive house, which was purchased for $4.1 million, is located in a guard-gated Westlake Village community where privacy is assured. It is known for its celebrity residents, including Disney CEO Bob Chapek, WWE star The Miz, Heather Locklear, and YouTube star Trisha Paytas, who lives in a newly-purchased estate almost directly across the street from Kupp's new home. 
According to the listing, the 1.6-acre Mediterranean-inspired compound has undergone some renovations or "chic upgrades.". A circular motor court greets you as you enter the long driveway, followed by a dramatic foyer with a dual staircase. The sprawl has grand living spaces, including a Great Room with an adjoining bar that opens to the outside for entertaining.
A Wolf double oven range and two pro series Sub Zero refrigerators are among the high-end appliances in the chef's gourmet kitchen. A three-meter island bench, breakfast nook, and butler's pantry are also included. An enormous master suite with a fireplace, two walk-in closets, a luxe bathroom with a soaking tub, and a gym area is located upstairs. With one bedroom and bath downstairs, all five bedrooms are newly upgraded with an ensuite. A wraparound patio with a cabana by another fireplace, as well as a sparkling pool, waterfalls, spa, and alfresco built-in barbecue area, can be found outside on the picturesque grounds peppered with mature trees.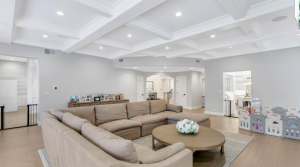 The nearly 7,000-square-foot mansion was built in 1992, though the interiors have recently been given a generically contemporary makeover, with white paint and wide-plank oak flooring throughout. The long driveway and oversized motor court will impress visitors, and the homeowners will have access to a four-car attached garage. The house-flipping seller — realtor Martha Azizi, who also held the listing on the property — managed to eke out a $1.1 million profit on the sale to Kupp, minus the cost of improvements and taxes, when it was last sold in March 2020 for $3 million. Kupp was represented by Barbara Preston of Coldwell Banker.
The home's most distinguishing feature is the large porte-cochere overhang outside the front door, which is quite similar to the entranceways of many upscale hotels. The grand foyer with dual curved staircases greets visitors through double front doors. A fireplace-equipped living room — currently outfitted as a clubby games room — and a formal dining room with a vaulted ceiling can be found on the main floor. A full laundry/mud room provides plenty of storage for miscellaneous items.
The apartment-sized master suite has a sitting area, fireplace, and French doors leading to a private balcony and is best described as cavernous. The landscaping in the back is simple, with mature olive trees shading the hillside.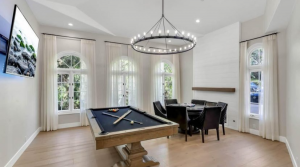 Cooper has downsized his portfolio after selling his Westlake Village home in California. It was sold for $5.25 million, according to TMZ Sports. Los Angeles is about 40 miles west of Westlake Village.
Los Angeles has been home to the reigning NFL Offensive Player of the Year his entire professional career. The Rams selected him in the third round of the 2017 draft out of Eastern Washington.
We know all the important details about the house. Let's now move on to know more about the owner.
Before the start of the 2020 season, the Rams signed Kupp to a three-year, $47.3 million contract extension. His contract appears to be a steal right now, especially when compared to the deals Tyreek Hill, Davante Adams, and Stefon Diggs signed this offseason. Kupp's 2021 season ranks among the best single seasons by a wide receiver in NFL history. He led the league with 145 receptions for 1,947 yards and 16 touchdown catches.
Since the award's inception in 1972, the 28-year-old has joined Jerry Rice (twice) and Michael Thomas as the only receivers to be named Offensive Player of the Year. Kupp had 33 receptions for 478 yards and six touchdowns in four playoff games during the Rams' run to the Super Bowl last season. With 1:25 remaining in Super Bowl LVI, he caught the game-winning touchdown pass to give the Los Angeles Rams a 23-20 victory over the Cincinnati Bengals.
Cooper Kupp was born in Yakima, Washington, on June 15, 1993. Kupp is the son of Craig Kupp, a former NFL quarterback who was drafted fifth overall by the New York Giants out of Pacific Lutheran University in 1990 and went on to play for the Phoenix Cardinals and the Dallas Cowboys in 1991.
Kupp was a two-sport athlete in football and basketball at Davis High School in Yakima, where he graduated in 2012. Kupp was a two-time All-State selection, earning first-team 4A All-State honors as a defensive back and honorable mention honors as a wide receiver. He was also named one of Washington's top 100 prospects. At Davis, Kupp was a unanimous first-team All-Big Nine League wide receiver and defensive back. He set a school record with 60 receptions for 1,059 yards and 18 touchdowns in his senior season, and he scored 22 total touchdowns. He also had 11 rushes for 122 yards and two touchdowns, helping Davis get within one game of the Washington State 4A Playoffs. Kupp had 110 catches for 2,100 yards during his prep career. He also lettered in basketball for three years. During his senior year, he led Davis to a 23–2 record and the State 4A Tournament championship.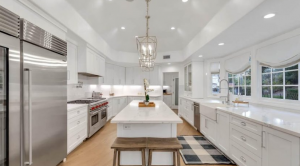 From 2013 to 2016, Kupp attended Eastern Washington University and played football for four seasons. Kupp had 428 catches for 6,464 yards and 73 touchdown receptions. Kupp was a four-time FCS All-American, two-time Big Sky Offensive Player of the Year, and a Jerry Rice Award winner.
The Los Angeles Rams selected Cooper Kupp with the 69th overall pick in the third round of the 2017 NFL Draft. Kupp was the seventh wide receiver drafted in 2017 and became Eastern Washington's second-highest pick ever. He formed a bond with Rams quarterback Jared Goff after spending a few weeks with him after the draft. They spent their free time together practicing, watching films, studying defensive schemes, and memorizing the playbook. Since then, the two have developed into a formidable NFL duo. Kupp has 125 receptions for more than 1,700 yards and 13 touchdowns in only 26 games. He was injured in 2018 while on his way to a career year, but returns in 2019 to a high-powered offense led by Sean McVay. Kupp won the Offensive Player of the Year award in 2021 after leading all receivers in receptions, touchdowns, and yards.
Kupp had five receptions for 61 yards and a touchdown in a 34–11 victory over the Arizona Cardinals in the Wild Card Round. He had nine receptions for 183 yards and a touchdown in the Divisional Round against the Tampa Bay Buccaneers, which he won 30–27. He had a crucial 44-yard reception in the game-winning field goal for the Rams. He also had 11 receptions for 142 yards and two touchdowns in the NFC Championship Game against the San Francisco 49ers, bringing the Los Angeles Rams back to the SuperBowl for the second time since 2018. He made his first career Super Bowl touchdown on an 11-yard reception in the game and ran for seven yards on a critical 4th-and-1 play in the game-winning drive, where he and quarterback Matthew Stafford connected on multiple successful catches, including the game-winning touchdown that earned him Super Bowl MVP.
We love making you happy and entertained, so here are some facts that you probably didn't know about Cooper Kupp!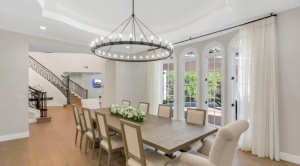 Last February 13, Super Bowl LVI was held at SoFi Stadium in Los Angeles, California. In a tense game, the Los Angeles Rams and Cincinnati Bengals faced off. With 15 wins and five losses, the Rams had a strong season, but the Bengals weren't far behind with 13 wins and seven losses. With a final score of 23 to 20, the Rams were victorious. While there is always an MVP who helps their team win big, there are plenty of key players on both sides, such as Rams defensive tackle Aaron Donalds and Bengals quarterback Joe Burrow. Tom Brady, last year's MVP, has retired from the NFL and has handed the award to Cooper Kupp. Everything you need to know about him is right here.
Contract with Cooper Kupp
Kupp is in the second year of a two-year, $47 million deal with the Los Angeles Rams. His base salary is only $1.5 million, despite the large contract. The bulk of Kupp's contract, which pays him over $14 million in base salary, won't be paid until next season.
Wife of Cooper Kupp
Kupp married Anna Croskrey, his college sweetheart, in June of 2015. Kupp and Croskrey met and began dating at university. The couple married while still attending the Eastern Washington University. Kupp wore an Eastern Washington Eagles football helmet and ran down the aisle with his new wife on his back at their wedding. The wide receiver's tribute to his alma mater was well received by the wedding guests. Croskrey was also a standout athlete at Eastern Washington. She competed in the heptathlon for the school's track and field team.
Number of Cooper Kupp Jerseys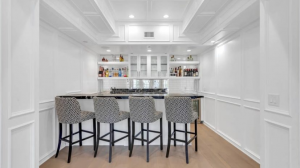 Kupp switched numbers before the 2020 NFL season. Since being drafted by the Rams in 2017, he has worn the number 18 jersey. However, he chose number 10, his Eastern Washington University phone number. Kupp encouraged fans who purchased his number 18 jersey from NFL Shop and Rams Shop to send in proof of purchase, knowing that several fans had already done so. After that, fans were given a mailing address to send their old Kupp jerseys to. After receiving the old jersey, the material was upcycled into custom-made garments by Kupp and his wife, Anna, through the clothing company "Refried Apparel."
Kupp Cooper Throughout his LA Rams career, Kupp has been relatively injury-free.
An injury forced the wide receiver to miss the majority of the 2018 season. In November, he tore his ACL Grade 3 and had to miss the Rams' final six games of the season. The ACL was surgically repaired, forcing Kupp to undergo a four-month rehabilitation program. Kupp spent a lot of his time off in the weight room, trying to regain leg strength. The ACL injury, according to Kupp, taught him patience because it wasn't something he could recover from the next week.
At the NFL Combine, Kupp ran a 4.62 40-yard dash, which was far from impressive.
However, his times of 4.08 seconds in the 20-yard shuttle and 6.75 seconds in the three-cone drill were elite. The LA Rams coaching staff was blown away by Kupp when they met with him at the Combine interview. He communicated with them in ways that other players did not. Sean McVay, the head coach, claimed he was speaking to a wide receivers coach rather than a football player.
When Kupp committed to Eastern Washington, he wasn't considered good enough to play college football.
He had attempted to market himself through services and football recruiting websites. No one responded to him after he sent game tapes to a long list of college coaches. Eastern Washington offered Kupp a scholarship three weeks after his senior year of football, just ahead of Idaho State. Most top high school players receive offers before the start of their senior year, but Kupp had to wait until his senior year was over.
Kupp's grandfather and father were both NFL players.
Craig Kupp, his father, was a quarterback who played for the New York Giants, Arizona Cardinals, and Dallas Cowboys. Craig Kupp was a practice squad player for the Giants after being drafted in 1990. In 1991, he played for the Cardinals and the Cowboys before joining the World League of American Football in 1992, where he played for the San Antonio Riders and the Montreal Machine. Jake Kupp, Cooper's grandfather, played for the Dallas Cowboys, Washington Redskins, New Orleans Saints, and Atlanta Falcons between 1964 and 1975. In 1991, he was inducted into the Saints Hall of Fame as an offensive lineman.
Due to a lack of eye-popping high school stats, Kupp ended up at Eastern Washington.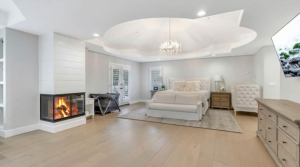 Cooper is a proud alum of Eastern Washington University. Cooper was born and raised in Yakima, WA so he didn't stray too far from home. During his college career, he played for the Eagles which was one of the top FCS teams. He brought his team to the playoffs for three of the four years that he was there. He also broke the record for most receiving yards out of any college division. His speed was far below what big and mid-sized Division 1 schools were looking for. Kupp was not heavily recruited out of high school and did not rank nationally as a high school football player. The future Los Angeles Rams wide receiver was not even considered a must-sign high school football player in Washington.
Cooper Kupp was coached by former Eastern Washington head coach Beau Baldwin in college.
The wide receiver's work ethic and desire to improve astounded the coach. Before spring practices, Kupp began training for the new college football season in February. In the weight room, he was usually the only Eastern Washington player. He would spend time indoors catching tennis balls thrown to him by a ball machine in addition to lifting weights. It helped Kupp improve his timing and hand-eye coordination. Kupp would often be found alone in the film room, according to Baldwin, watching games and practice films over and over. The wide receiver didn't just look at his footage. He also kept an eye on the other players to see what they did in each play.
Kupp had 6,464 receiving yards by the time he left Eastern Washington, which was the most of any college receiver at any level.
With 428 receptions and 73 receiving touchdowns, Kupp set Football Championship Subdivision records. During his time at Eastern Washington, Kupp caught at least two passes in each of his 52 games. 
That's it for this blog TTP Member, remember to subscribe to our channel and if you feel like we've delivered value please share this blog with ONE person. That's right just one person as a token of your appreciation for the hard work we put into making content that educates and helps you on your mission of building your own fortune.  Remember you can read blog after blog, but it isn't until you actually take action that you'll start to see results.  See you soon!
---