Real Housewives of Beverly Hills' Star Kyle Richards Sells Aspen Mansion for $9.75M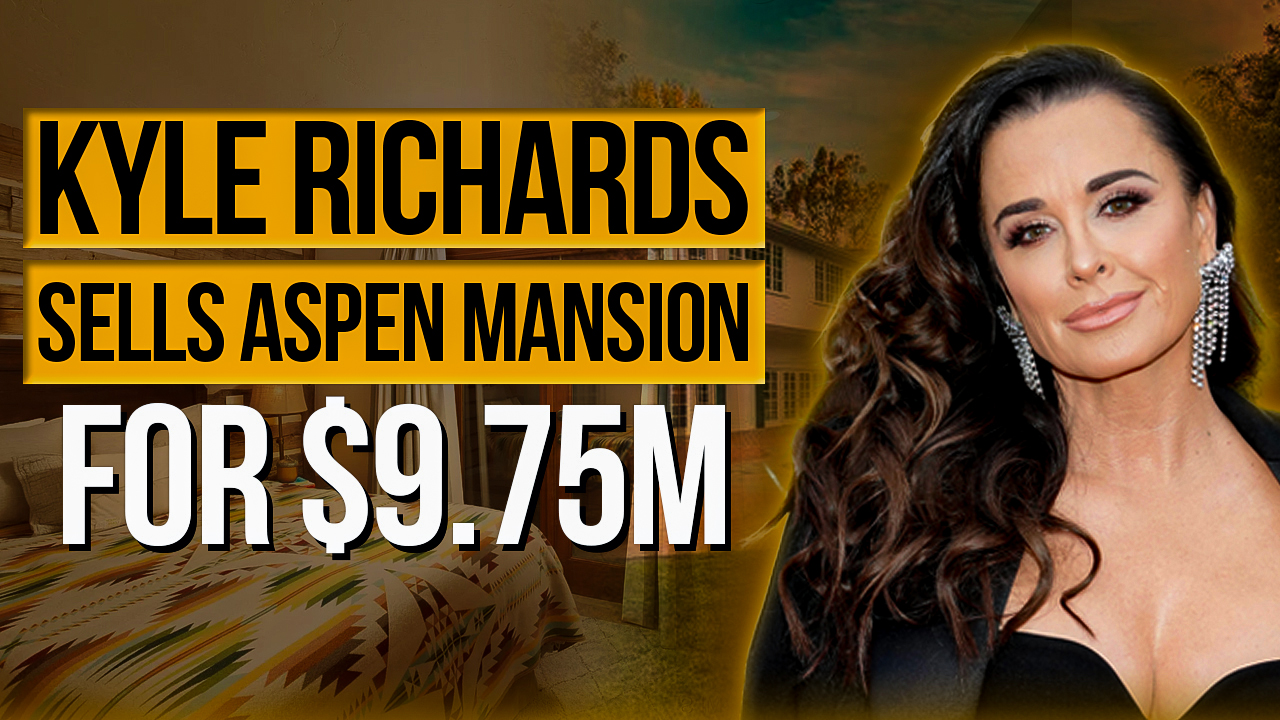 Hello, people. Welcome to the TTP Youtube channel. Kyle Richards has put a home they own in Aspen, CO on the market at $9.75 million.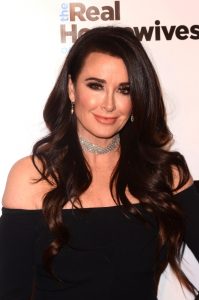 She and her husband Mauricio Umansky, founder of the real estate firm The Agency, paid $4.2 million for a rustic retreat in 2016, listing it for $89,000 a month but also spending time there. If you want more celebrity real estate content, subscribe to the TTP Youtube channel and hit the notification bell.
The family celebrated Christmas 2020 at their Aspen cabin, wearing matching frog pajamas as photos of the family on Instagram.
A "Real Housewives" episode is going to be filmed at the rustic retreat, according to People magazine. Drama will take place there in an upcoming episode.
According to Richards, "When I went back this last time, I took some sage with me. There was a Ouija board involved. Things really got out of control, let me tell you."
The three-story duplex where Richards says she and her husband lived part-time has four bedrooms and five baths. The hardwood floors, accent walls, and exposed log beams contribute to the mountain getaway feel of the home with a soft focus from large windows that are lined with logs.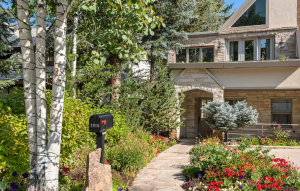 Views of the surrounding mountains and Roaring Fork Valley can be taken in from two decks, including one on the rooftop with a hot tub and a fire pit. The other deck is off the living room, which has a floor-to-ceiling stone fireplace and dining area that leads into the kitchen.
The property has five bedrooms; the master suite on the lower level of the home has a private balcony and french doors, while a two-car garage that is included with this suite is on the property as well.
On June 14th, Kyle Richards revealed in a tweet that she is listing her Aspen house for sale. In an Instagram story, Alexia Umansky confirms that they are selling the house and sharing the architectural digest article.
AD shows that the four-bedroom, five-bathroom house is currently listed for $9.75 million. Spanning more than 2400 square feet, it has a two-car garage and two large decks with incredible mountain views.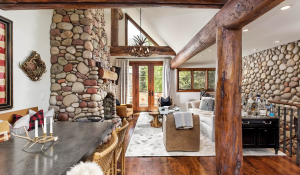 Kyle projects that their household home in Encino will always be a significant part of her life. However, she also makes it clear that moving to Colorado isn't far from her mind, noting that even if they move to Aspen they will still hold onto the Encino home as a space for the kids.
Earlier this year, Kyle and Mauricio sold their former Bel-Air home for $6,100,000. Although it was difficult to leave the home that had so many memories for the family, Alexia wrote a touching Instagram caption to share the news with her followers. "A bittersweet goodbye to the home I have countless memories in," Alexia wrote. "It was an honor to pass it along to the next owners who I know will love every moment of here." In the comment section, Kyle wrote "Bittersweet for sure…good job."
On June 14th, an Architectural Digest article announced that Kyle had put the abode on the market. In her Instagram Story, Alexia Umansky confirmed: "We're selling our Aspen house!"
With a price point of $9.75 million, the four-bedroom house has two car garages and over 2400 square feet.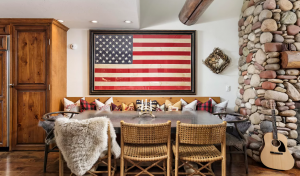 Kyle plans to sell the three-story Colorado home, but may consider it as a permanent residence in the future. At NBCUniversal's upfront presentation last month, Kyle told BravoTV.com that although Encino is her "forever home," she's open to relocating to Denver. "Even if I move one day to, like, Aspen… I'll keep that [Encino] home for my kids or something," she said.
Richards and her family will be moving near the house.
The Richards family recently shared on Instagram that they are expanding and need more space for the upcoming addition to their family.
The move-in ready, 3-story duplex in the heart of Aspen has 2,426 of living space, including 4 bedrooms and 4.5 bathrooms.
The recently renovated home boasts a hot tub and panoramic views with an outdoor rooftop deck.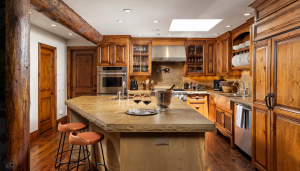 Earlier this year, Kyle and Mauricio sold their beloved former Bel-Air home for $6,100,000. The house had been on the market since 2017 but finally found a buyer shortly before Christmas.
Find a modern mountain escape home for sale in Aspen, Colorado–close to Aspen Mountain and the Roaring Fork River. This move-in ready home is 3 stories, spans 2,426 square feet, includes 4 bedrooms, 4.5 bathrooms and a recently refinished rooftop deck with a hot tub and panoramic views. Inside, find log beam ceilings, a full-height stacked stone fireplace, and kitchen with stainless steel appliances. Upstairs features the living room opening to the outdoor deck with views of the surrounding trees and mountains beyond. Additional features include hardwood floors and a 2-car garage plus driveway parking.
The living room features a stacked stone fireplace, exposed wood beams, antler chandelier, and wood flooring. The living and dining space open to a deck with mountain views.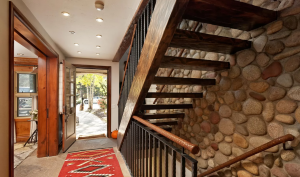 An adjacent kitchen has a large island with stainless appliances, seating, and wood cabinetry.
The suite offers a spa bathtub and dual showers that can be found in the suite's upgraded room. The suite features a stylish stone fireplace and a spacious layout.
The home has a two-car garage and driveway parking.
The location is in proximity to the Roaring Fork River, Aspen Mountain, and five-star restaurants.
"This property's location is prime," says Heather Sinclair with The Agency. In addition to listing the property, Chris Flynn of The Agency also assisted with this sale.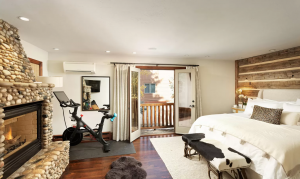 A house far from city life makes Sinclair and her family feel sheltered and privy to some of Colorado's best nature.
"I love the rooftop deck. It is very special," according to Sinclair. "It is complete with a hot tub, two fire pits, and panoramic views of the surrounding mountains and the peaceful sounds of the river flowing just beyond. It certainly has a cool factor with a Western, yet modern elegance."
Richards and Umansky finally sold their SoCal mansion in Bel-Air this year. It has been on the market since 2017 and it was sold at the beginning of 2022 for $6.1 million.
This 6,200-square-foot penthouse included a bar, a theater room, not one but two gyms made for your plush master bedroom closet. There is of course one main bedroom with a balcony and marble bathroom.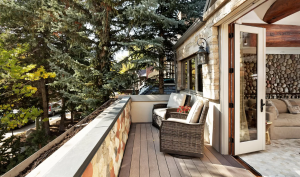 You will find a pool and spa, dining and lounge terraces, a grassy lawn, a lighted sports court, and a putting green.
The couple in Encino moved into Smokey Robinson's former compound, with a separate guesthouse. The house has been remodeled and is 7100 square feet, with 8 beds.
Richards is the last cast member of the "Real Housewives of Beverly Hills," which has been on the air for 12 years.
Kyle Richards (born January 12, 1969, died October 31, 2024) is an American actress and socialite who has appeared as a main cast member on The Real Housewives of Beverly Hills since 2010. She began her career as a child actress appearing in films such as The Car (1977), Eaten Alive (1977), and John Carpenter's Halloween (1978) prior to portraying Lindsey Wallace in Halloween Kills (2021). In 2017, she was a contestant on Celebrity Apprentice organized by the Children's Hospital Los Angeles charity.
Richards was born in Hollywood on January 11, 1969 to Kathleen Mary Richards and Kenneth Edwin Richards (1917–1998). She has six siblings including older half sister Kathy Hilton (1959) and younger sister Kim Richards.
Richards began her acting career in 1974, playing Julia in the television series Police Woman. She also appeared on seasons 1-4 of the Western historical drama TV show Little House on the Prairie as Alicia Sanderson Edwards. Richards' younger sister Kim was also an actress, who played on season 5 of Little House on the Prairie with her older sister Kyle. The two sisters starred in Film in 1977 and 1978, including one episode of Time Express, Fantasy Island, the slasher film The Car and Halloween alongside Jamie Lee Curtis. Halloween became influential for its success at gaining a large audience interested in slasher films during the 1980s which developed a key genre in horror film history.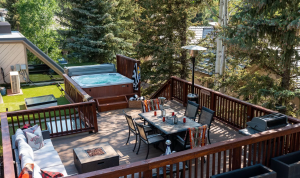 Since 1980, she has appeared in many movies and television series, including The Watcher in the Woods and ER. She's had a wide range of roles in television shows like C.S.I., 7th Heaven, Beverly Hills 90210, City Guys, and CHiPs as well. Because of her previous experience in film and TV shows, she can bring life to any role she portrays on screen.
Since 2010, she has made an appearance on Bravo's reality television show The Real Housewives of Beverly Hills. From 2012 through 2013, she graced the cover of magazines along with other cast members from the Real Housewives franchiseâ such as from Beverly Hills, Vicki Gunvalson, Ramona Singer, Caroline Manzo and NeNe Leakes. She was nominated for the 2019 PEOPLE's CHOSEN AWARDS award as "Reality Star of the Year." In 2013, she appeared in three episodes of NBC's soap opera Days of Our Lives portraying a modeling agent. In 2017, Richards appeared on The New Celebrity Apprentice and won $25k for her charity of choice, Children's Hospital Los Angeles. As the 5th contestant fired by Donald Trump on his TV show, Richards finished in 12th place.
Richards co-created the comedy television series American Woman, which was inspired by her childhood in the 1970s. On August 30, 2019, she revealed that she will reprise her original role from the 1978 movie, Halloween Kills on Elm Street, for a sequel film called Halloween Kills: Part 2 to premiere at the Venice International Film Festival in September 2021 and be released theatrically in United States on October 15, 2021. The film made a total of $4.85 million from Thursday night previews and has grossed a total of $131 million worldwide since its release. It stands as one of the year's highest grossing horror movies behind A Quiet Place II with positive reactions from fans.
"The Real Housewives of all Stars" will feature 12 women from various housewives franchises and is set to premiere on November 16, 2021, on streaming service Peacock. In August 2021, Richards started filming The Real Housewives of the North Pole in Utah which will air on Peacock in December. The film follows "Christmas Queens" Trish played by Richards and Diana, who fight each other at Christmas time. Images from the movie were released on October 25th, 2021 by Entertainment Weekly.
On December 7, 2021, People magazine announced that Kristen Stewart is returning for the upcoming sequel of the film Halloween Ends to reprise her role as Lindsey Wallace.
On February 25, 2014, Richards launched a clothing line for shopping network HSN. The eight piece collection was inspired by her personal style and was priced between $69.90 and $199.90. Richards and Shahida Clayton debuted their clothing collection titled Kyle x Shahida at New York Fashion Week on September 8, 2019. Richards is the owner of Kyle by Alene Too, a chain of boutiques in The Hamptons and New York City. Her boutique in Beverly Hills opened in 2012 and closed in 2018, with plans to re-open the store in a new location. In November 2021, Richards opened up a luxury resort and loungewear boutique Kyle x Shahida in Palm Desert.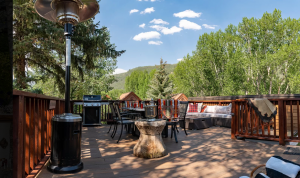 She and her husband are listed on the "First Families" of the Children's Hospital Los Angeles. She has also held fundraisers for the CHLA in 2013 and 2019, which were featured on the Real Housewives.
In the 1980s, Richards dated actor C. Thomas Howell. In 1988, at the age of 18, Richards married Guraish Aldjufrie from Indonesia. However, after two years of marriage, they separated and divorced in 1990.
In 1994, Richards met her second husband, a real estate agent in Los Angeles, who is Jewish and hails on his mother's side from Russia and Greece. He was born and raised in Mexico. The couple wed when Kyle was four months pregnant. Their daughter Alexia came to the planet on June 18, 1996. Nedra adopted the Orthodox Judaism and has attended events at the Kabbalah Centre in Los Angeles ever since their marriage in 1996.
In December 2020, Richards tested positive for COVID-19, along with her co-star Dorit Kemsley and sister Kathy Hilton. Production on season 11 of The Real Housewives of Beverly Hills was temporarily suspended.
Kyle Richards has acted since she was a child and earned roles such as Lindsey Wallace in the Halloween series. She recently reprised her role in the final film of the trilogy, Halloween Ends alongside Jamie Lee Curtis. Kyle is married to Mauricio Umansky, and is mom to four daughters. Recently, Kyle opened a boutique in Palm Desert featuring her Kyle x Shahida collection of luxury loungewear. Kyle's passion extends to philanthropy and fundraising, as she actively supports Children's Hospital Los Angeles. Between her homes in LA and La Quinta, and more recently Aspen, Kyle splits her time between her home life and work to stay creatively motivated.
On November 27, 2012, she did a guest role in an episode of CSI: Crime Scene Investigation and on March 25, 2013 she became a part of NBC's daytime soap opera Days of Our Lives for three episodes.
In 2014, RHOBH cast members, including Kyle, had appearances in the music video for Lady Gaga's song G.U.Y (Girl under You). Recently in 2018, Kyle was in a comedy film alongside Josh Stolberg as Housewives called The Hungover Games.
In 2014, she launched her clothing line for shopping network HSN. In 2012, she opened her boutique in Beverly Hills which closed down in 2018.
After The Real Housewives of Beverly Hills, she appeared on other reality shows, game shows and television dramas including Vanderpump Rules (2013), Keeping Up with the Kardashians (2016) and 7 episodes of the Celebrity Apprentice. She has also done spokesperson for a cosmetic company.
She has starred in several television series, including Off Their Rockers (2013), Whose Line is it Anyway? (2013), The Doctors (2014), Girlfriends' Guide to Divorce (2015) and Barkitecture (2020).
2018 saw her in a co-executive producer role on American Woman series. A Comedy series based on her life and that ran for one season on Paramount network.
Her new clothing line, Kyle + Shahida, debuted at New York Fashion Week and received positive reviews.
That's it for this blog TTP Member, remember to subscribe to our channel and if you feel like we've delivered value please share this blog with ONE person. That's right just one person as a token of your appreciation for the hard work we put into making content that educates and helps you on your mission of building your own fortune.  Remember you can read blog after blog, but it isn't until you actually take action that you'll start to see results. See you soon!
---