Richard Gere Sells NY Country Mansion for $28M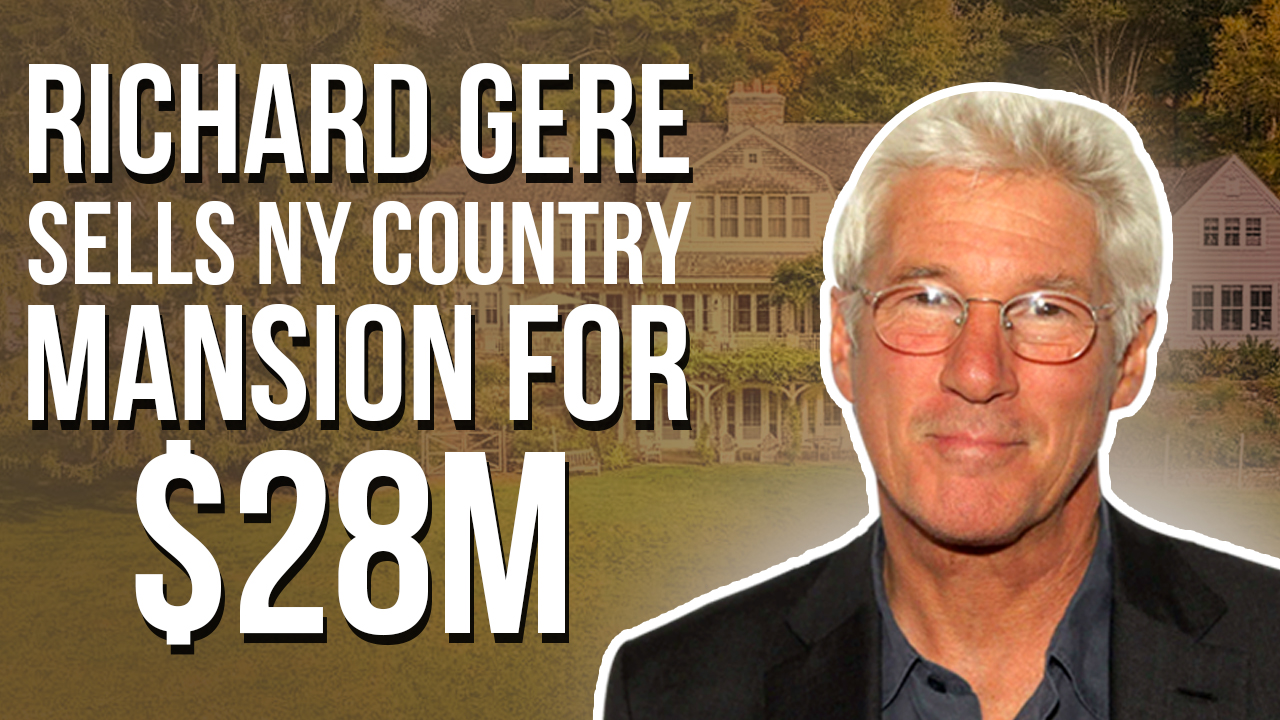 Richard Gere just listed his estate in New York for $28 million. The property is 50 miles from Manhattan and Richard had the house built over 10 years. The property includes 5 homes, 48 acres of land and access to the Ward Pound Ridge Reservation of Westchester County.
Luckily for you, TTP Member, in this blog, we will be talking about Richard Gere and his New York Country Mansion! Aside from his property, let us know more about him!
Richard Gere has listed the upstate New York compound that he's owned for more than 20 years.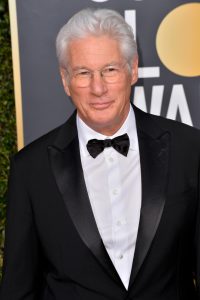 One of the finest American country compounds is only an hour's commute to New York City. The majestic country estate, skillfully woven into its natural surroundings, includes nearly 50 acres and is surrounded by over 4300 acres of protected land, creating an ultra-peaceful retreat with incredible beauty at its core.
This particular actor had bought the property in 1986, and over the years, created multiple structures on the 48.7 acres. The main New England-style residence is the largest at 11,658 square feet, and houses eight bedrooms, nine bathrooms and two half-baths. Located in picturesque Pound Ridge, New York, just 50 miles (or about an hour) from New York City, this land has been listed for $28 million by Muffin Dowdle of Ginnel Real Estate.
The main house was finished in 2000, measuring 11,600 square feet with eight bedrooms and nine bathrooms. Images of the interior show a combination of rustic and refined designs, including stone fireplaces, wide plank floors, coffered ceilings, and abundant millwork throughout the home. This home also contains four other dwellings, one which contains an office space. Other amenities include a six-stall barn, swimming pool court and regulation size soccer field.
Even those not public will enjoy the privacy of the estate. And as it is nearly completely sheltered from the outside world, 4,300 acres of protected land borders the place. Being very extensive in terms of lawns and ample space, this estate is the perfect option for equestrians and those that prefer spending time outdoors. It's a quieter alternative to the Hamptons but just as beautiful.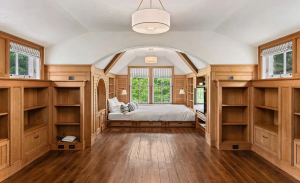 The estate's incredible natural attributes unfold as you walk through the property, a winding country lane relaxes the heart rate on entry, a private lake and sandy beach and island offer fun for rowing opportunities, rolling hills for horseback riding, mature weeping willows become playgrounds and forts; a hidden soccer field provides space for impromptu games; and mature plantings reveal themselves throughout the seasons.
Those looking for outdoor activities may find this estate a perfect match. Some of the activities offered on the property include horseback riding, soccer and nature's beauty in jogging trails and beautiful weeping willows. Other amenities consist of stables and five other structures–including secondary residences, a barn and a shed — where you can store your horses, motorbikes or whatever else you need.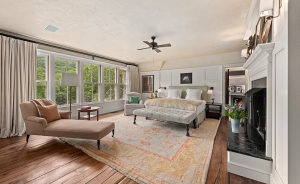 The colonial-style home features three stories, a bright and airy feel, with ample natural light in all 19 rooms. Whether you're enjoying tea and books in the formal living room or jamming out in the music room, the house emanates personality.
It appears that the actor/producer is looking to sell his longtime property in order to have a new fresh start. Gere married Spanish publicist and activist Alejandra Silva, whom he wed in 2018. She gave birth to their second child in 2020.
Now, let's know more about Richard Gere. 
In many ways, Richard Gere is a highly revered and accomplished actor, social activist, and philanthropist. He has been involved in humanitarian issues for more than twenty-five years and has been an advocate of tolerance, justice, and equality.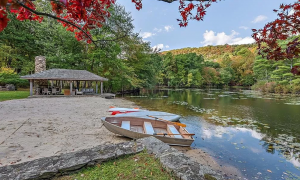 Richard Gere was born on August 31, 1949 in Philadelphia, Pennsylvania to Doris Ann (Tiffany) and Homer George Gere. Richard first gained success as a musician, playing various instruments in high school and writing with his band some of the background music for productions. He graduated from North Syracuse Central High School in 1967 and received a scholarship to the University of Massachusetts to study philosophy (majoring in philosophy). There he studied acting until he left after two years to pursue fame. By 1973 he had found his success as an actor through his role in "Grease" at London's West End Theater as well as other small roles like "Taming of the Shrew."
Richard became known in much of Hollywood for his lead role in "Pretty Woman" opposite Julia Roberts released on December 20, 1990. It earned the prestigious People's Choice Award for best movie of all time, amongst many other nominations and awards, credited with confirming Richard's status as a major star and box office attraction. In addition to acting, Richard is an accomplished painter with paintings hanging in museums around the world and also has grand piano performances across multiple regions.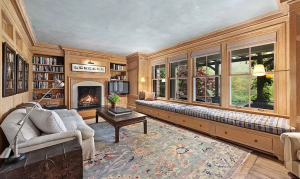 Mr. Gere has been a prominent humanitarian since the early 1980s. Mr. Gere has been an outspoken advocate for human rights and charity causes for the past 30 years. In the 1980s, he began a personal campaign against HIV/AIDS stigma, discrimination and was one of the first to inform society of it in India. Recently, he has collaborated with organizations such as Kaiser Family Foundation and Naz Foundation to raise awareness and mobilize leaders in society to address the HIV/AIDS epidemic in India. He launched the Heroes Project in 2002 with partners Bill & Melinda Gates, Avahan AIDS Initiative of India's Bill & Melinda Gates Foundation.
Mr. Gere has also worked vigorously to protect human rights and cultural survival of the Tibetan people as well as to raise awareness of the Tibetan crisis. Mr. Gere is Co-Founder and Chairman of Tibet House, he joined the Board of Directors for the International Campaign for Tibet, and addressed U.S. Senate Committee on Foreign Relations, Congressional Human Rights Caucus, U.S House of Representatives and the European Parliament in order to bring attention to the issue. In addition, Mr. Gere has sponsored four visits by His Holiness the Dalai Lama to New York City which has helped increase awareness among Americans about the Tibetan crisis and will host His Holiness' return in 2010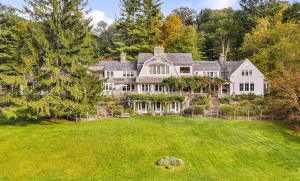 His commitment to philanthropy continued, Mr. Gere founded the Gere Foundation in 1991. Its mission is to alleviate suffering and advocate for the people of Tibet. The small grant-giving organization supports groups which are dedicated to cultural preservation of Tibet; provide HIV/AIDS care, research and treatment, and organizations which address human rights violations worldwide.
Mr. Gere has received numerous honors throughout his career including awards from amfAR, Amnesty International and the Elizabeth Glaser Pediatric AIDS Foundation. Furthermore, he has been recognized for being a recipient of the Eleanor Roosevelt Humanitarian Award, the Marian Anderson Award and receiving humanitarian awards from CARE.
That's it for this blog TTP Member, remember to subscribe to our channel and if you feel like we've delivered value please share this blog with ONE person. That's right just one person as a token of your appreciation for the hard work we put into making content that educates and helps you on your mission of building your own fortune. Remember you can read blog after blog, but it isn't until you actually take action that you'll start to see results. See you soon!
---