Roloff Farm from "Little People, Big World" is on the market for $4M
"Do you want to buy a house?" What do you think? Is it a question worth asking? How about "Should I buy a house?" or "Can I afford to buy a house?" These are all questions that our friend is likely wondering. Buying a house can be a very exciting and daunting process. We want to make sure that you have all the information you need to make an informed decision. We can help you find the perfect house for your needs and budget. We also have years of experience in the real estate industry, so we can provide you with sound advice. 
Luckily for you, TTP Member, We've created a video that will show you some of the features of the homes we've found for sale. In addition, we'll provide you with an answer to any questions you may have. So if you're looking to buy a home, please watch our video and let us know if there's anything we can do to help.Our team of experts know the ins and outs of the housing market and can guide you to the best option for your needs. We can provide you with a variety of information and resources so that you can make an informed decision. We have years of experience in the real estate industry and can provide you with a comprehensive list of potential homes. We can also help you find the best deal on a home, and negotiate the best terms for you. 
But before diving in, let's first know who the Roloffs are.
The Roloff family consists of Matt, Amy, who is a small achondroplasia patient, and four kids: fraternal twins Jeremy and Zachary (born 1990), Molly (born 1993), and Jacob (born 1997). The other three kids are ordinary height, whereas Zach, like his mother, has achondroplasia. In 1987, Matt and Amy crossed paths at a Little People of America convention. The pair shortly became engaged, and on September 12, 1987, they were wed. The couple announced their separation in March 2014. The pair made their divorce announcement on June 5, 2015. In May 2016, their divorce was finalized.
In 1990, the Roloffs purchased a farmhouse in need of repair on 34 acres in Helvetia, Oregon. Roloff labored to build the current Roloff Farm, which includes a mine hole, a pirate ship on a lake, a three-story treehouse, a full-size Medieval castle, a volleyball court, a soccer field, and tunnels in addition to pumpkins. Additionally, there are renovated barns and outbuildings.During specific times of the year, such as the pumpkin season, Roloff Farm is accessible to the general public. Every year, it gets about 30,000 visitors. The Roloffs grew their business by acquiring the farm's neighboring 80-acre property in 2010.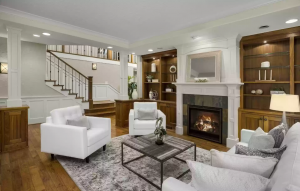 In August 2005, Little People, Big World made its debut. For six seasons, 320 days a year of filming were done. The program's executive producer is Roloff.Filming for the first season lasted seven months. Little People, Big World's first season ends with Roloff accepting a position in computer sales for Amdocs, a software business where he had previously served as a consultant. Roloff visited Iraq in 2008 to help a family there who had three dwarf children who required medical care. His journey was the focus of the season-ending episodes of Little People, Big World's fourth season, and it was reported by CNN and other major news organizations.
In 2008, the complete family made an appearance on The Oprah Winfrey Show.Little People, Big World completed its sixth full season in December 2010. After a little interval, TLC/Discovery contacted the Roloff family once more to film 4 "Little People, Big World" Specials lasting an hour each.The Roloffs started filming Little People Big World: Wedding Farm, a spin-off season, in the summer of 2012. The television series has six episodes, and it debuted in November 2012. Conquering Mt. St. Helens: Little People, Big World debuted in March 2013. In this episode, Matt constructs a one-room schoolhouse while Amy and Zach prepare to climb Mount St. Helens. Like this, other programs also broadcast.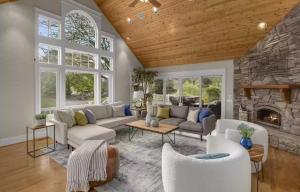 Moving on..
The setting for the wildly popular TLC television series Little People, Big World, Roloff Farm, is well known throughout the world. This expansive property, which is nestled in the hills of the Swiss-Esque unincorporated hamlet of Helvetia, Oregon, provides endless opportunity to the buyer looking for land and peace.
Matt Roloff, star of "Little People, Big World," is planning a significant sale of his Hillsboro, Oregon, house.
The reality TV star revealed on Instagram that he has made the decision to sell a significant piece of the farm, which has served as the setting for the long-running series.
Roloff wrote on Instagram, "Today 16 acres of the farm's 109 acres, including our original family home and brilliant red barn, go up for sale." It's time to move on to the next season of life, which is "a little bit terrifying but largely thrilling."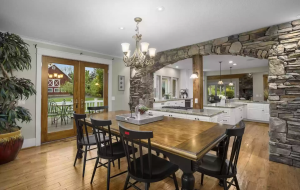 He continued, "For the past 30+ years, all of the rolofffarms has brought me and our family immense joy! "
According to the New York Post, the listing comes after his ex-wife, Amy Roloff, sold her share of the home in 2019 for $667,000.
The complex consists of the main house, a nine-car garage, and a number of wacky structures, such as a pirate ship, a Western town, a medieval castle in the German style, and a "Bridge to Nowhere," which is actually a covered picnic area.
In 1990, the Roloffs paid only $185,000 for the property.
Over time, alterations and additions were made, including the construction of the 5,374-square-foot family residence. The house has five bedrooms and 5.5 bathrooms. It also has twin offices, a living room with a fireplace, a kitchen with granite countertops, and a dining space nearby.
You may locate a TV production studio and a guest suite inside the striking barn.
Roloff doesn't seem to be ready to give up his farm life just yet.
He stated on his website, "I am decreasing acres to widen my activities. Despite some consolidation and simplification, the remaining acres will still host the spectacular 2022 pumpkin season and new adventures.
The site also has a pool, a farm stand and gift shop, as well as a network of trails and bridges.
The renowned farm undoubtedly attracted internet interest. It was the most popular listing on Realtor.com last week.
Will the high level of interest in the house result in a sale? The property undoubtedly provides a wide range of alternatives. The "world-famous Roloff Farm hidden in the highlands of Helvetia offers boundless possibilities for solitude, freedom, and lifestyle," according to the listing.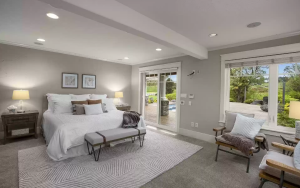 The listing is held by Julie Martin of Luxe Forbes Global Properties.
Julie Martinez has built a reputation for creating enduring relationships with those she serves because she is driven to assist her customers in acquiring wealth through real estate.Julie's dedication to providing top-notch customer service stems from her 15 years of success as a customer service manager in the banking and financial sector. She is aware that mutual respect and trust are the cornerstones of developing the best possible customer connections.
In 2017, Julie started her career in the real estate industry. She first worked in commercial real estate before focusing on residential sales. Her strategy for giving exceptional care begins by first working with her clients' real estate goals. Understanding the buyer's objectives and ideal way of life is necessary in order to choose the ideal house in the ideal location. Drawing on her many years of real estate experience and her extensive network of business specialists, Julie skilfully negotiates the local real estate market and creates one-of-a-kind solutions for any kind of housing demand.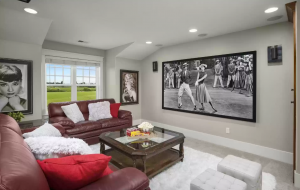 Due to her upbringing in the region, Julie shares her knowledge about Sacramento, the Bay Area, and the neighboring cities. Whether buying or selling, every customer benefits from her meticulous commitment to superior care.Her two young sons, who serve as her daily motivation, are the reason Julie loves to spend time with her family. She enjoys going on hikes with her dogs, traveling, and supporting the Oakland A's and Las Vegas Raiders when she's not busy assisting members in her community with their real estate goals.
Moving forward..
Let me review again all the details of the farm for you to keep in mind.
The 100-year-old farm has a very rich history and offers spectacular views of rolling hills, lush surroundings, and coastal mountain ranges. The 16-acre property, which has only been owned by three families over the previous century, is surrounded by fertile soil that is perfect for producing fruit trees including apple, plum, cherry, and peach as well as pinot noir grapes, blueberries, pumpkins, and other vegetables.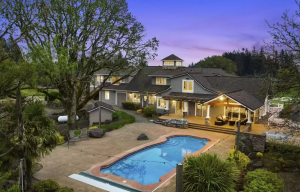 Helvetia, which is 15 miles west of Portland, was established in the early 1900s by Swiss immigrants who were attracted to the area by the many similarities to their native country. This close-knit neighborhood is sometimes referred to as "Little Switzerland," and the scenic environment, dotted with Swiss chalets throughout the glossy hills, is nothing short of magnificent. Many of the people are related by their Swiss history.
"The old saying location, location, location has been replaced by location, location, lifestyle," commented listing agent, Juli Martin, Luxe Forbes Global Properties. "In a post-pandemic era, home buyers are seeking space, privacy and security. This is exactly what you will find at Roloff Farm."
Granite worktops and stainless-steel appliances were thoughtfully incorporated into a recent remodel of the old farmstead. Five bedrooms, five full bathrooms, and a powder room are all located on the main level of the 5373 square foot farmhouse mountain home. Additionally, there are his and hers offices or "zoom rooms" on the main floor, which are excellent for remote working and learning. There is also a sizable bonus room, and the unfinished basement would be perfect for a hobby area or home gym. Finally, the roomy six-car garage offers plenty of space for toys, and the outdoor pool and balcony that extend from the great room provide countless gathering opportunities.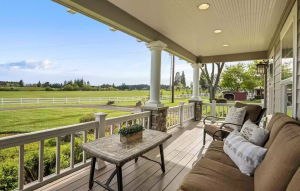 The exceedingly uncommon property also has a number of other buildings that add to its charm and distinctiveness, like a 3594 square foot traditional red and white barn. The building is configured for managing a small business and is being used as office space. Additionally, the barn has a studio apartment with an entrance that would make an excellent au pair suite or caregiver residence.
The grounds of the property, which are bursting with personality, are best described as an elaborate fantasy world for kids. A full-scale pirate ship, a western town with a jail, bank, sheriff's office, general store, hotel, and blacksmith's shop designed after Knotts Berry Farm, and a medieval castle with German influences are a few of the wacky installations.
This selling also appeared  on Real Estate News & Insights | realtor.com. Visit their page for more information.
If you want to invest in the farm, now is the time to do it. The market is still strong, and there are many houses available for sale. You can find your dream home by looking online or calling a real estate agent. If you're interested in purchasing a property, make sure to get pre-approved by your lender. This will help you determine how much money you need to invest and avoid any delays in the process.The market is still stable and prices are still low. You can also invest in a property that's in a good location. If you're not sure what you want, you can hire a real estate agent to help you find the perfect home.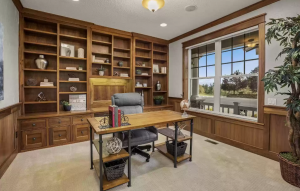 Buying a home is an important decision that you will never regret. We understand that and want to help you make the best decision for your needs. That is why we offer our services as a home buying advisor. We can provide you with information on different types of homes and help you find the right one for you. We can also help you negotiate prices and terms, and connect you with local professionals who can help with the entire process. So if you are interested in buying a home, we are here to help.
We hope that our video has helped you find a home. We want to make sure that you have the best experience possible when looking for a new place to live, and we'll continue to offer quality videos in the future. 
That's it for this video TTP Member, remember to subscribe to our channel and if you feel like we've delivered value please share this video with ONE person. That's right just one person as a token of your appreciation for the hard work we put into making content that educates and helps you on your mission of building your own fortune. Remember you can watch video after video, but it isn't until you actually take action that you'll start to see results. See you soon!
---