Russell Wilson Purchased Cherry Hills Mansion $25 Million

Hello, everyone. Welcome to TTP. Denver Broncos quarterback, Russell Wilson, has paid $25 million for a trophy mansion in the Rocky Mountains. 
The final sale price hasn't been disclosed, but the transaction is likely to set a record for the area. If you want more of this content, subscribe now to TTP and hit the notification bell.
Wilson's tenure with the Seahawks has ended, and his wife Ciara wants to sell their posh property in Bellevue.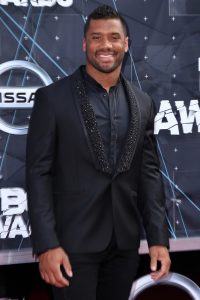 The high-end property on the market is asking for $36 million. It is also the most expensive listing in the state of Washington. The estate is an elegant single-family home with five bedrooms and four bathrooms.
The price of a house set the costliest price at $15.75 million in October 2021, but it also has connections to the Broncos. That happened after the sale of former Broncos coach Mike Shanahan's home when someone paid $16.7 million for it.
This house has a private pool, theater and basketball court. Its estimated size is at 20,060 square-feet with plenty of room to spare.
The house also has four bedrooms, TWELVE bathrooms and a nine-car garage. Why does this house need 12 bathrooms? We have no idea. 
Despite the uncertainties surrounding Wilson, he's bought a house in Denver to indicate that he might remain with the Broncos.
More recently, ESPN's Adam Schefter reported that Wilson would likely sign with the Broncos and that he plans to be the quarterback of this franchise for the next six years; Russell is likely not looking to end his tenure as a starter of this team.
Seattle traded Wilson to the Broncos after 10 years of dominance with the Seahawks. Wilson played a solitary Super Bowl victory and had nine Pro Bowl selections.
According to the real estate website Front Office Sports, the single-family home recently sold for a record-breaking price, making it the most expensive sale in Denver of all time.
Shanahan's 13-bedroom home was in the same neighborhood as Bill Gates' mansion, when he bought it for $15.72 million.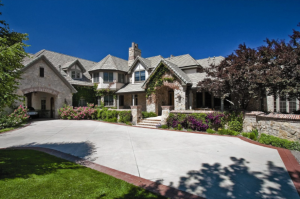 This 20,000-square-foot home includes four bedrooms, 12 bathrooms, and a game room.
Their new Colorado property is located in the posh enclave of Cherry Hills Village. It sits on a lot of 5.34 acres measuring 20,060 square feet.
Built in 2018, this mansion has a double-height entry with a spiral staircase, a living room with a stone-surround fireplace, an elegant dining room and kitchen, as well as adequate seating.
With a walk-in closet and a bathtub, the primary suite has all the amenities you need.
The house includes a backyard theater, indoor sports court, bar, office, library, indoor pool and spa.
Now that you're wondering how long the build-out on this house is, building codes vary from state to state. In Virginia, the Wilsons' new home has over six full baths, five half-baths and one three-quarter bath. This should make the Wilsons glad that they are hosting less parties and going out more often.
The Wilsons are downsizing from their home in Seattle. Their 11,000 square-foot home in Washington is currently on the market for $28 million according to a recent listing.
In an effort to create a stronger community among Colorado's basketball and baseball teams, Wilson has been sitting courtside of games and also throwing out the first pitch at Rockies games recently.
Wilson was drafted by the Rockies in 2010 and followed his dream all the way to coming to Denver as a Seahawks player, but was traded to the Broncos in March.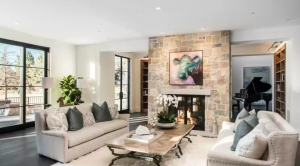 Perfect for socializing during the day, the mansion's grandeur dazzles with its mountain views and beautiful greenery.
Cherry Hills Village is around 12 miles from the Broncos stadium.
However, the nine-time Pro Bowl QB is looking to complete a big deal back in Washington. The star player's Bellevue estate is facing Lake Washington and has nearly 2 acres of waterfront property and a dock.
The price is reduced to $28 million without the adjacent 1.06-acre parcel.
Wilson's contract is up after the 2019 season, but it's not surprising that the Broncos would extend Wilson in the near future. He has earned more than $180 million on the field since being drafted by Seattle in 2012.
After being traded by the Seahawks to the Broncos in March 2019, a Super Bowl victory decorated Wilson's career. Due to injuries and other issues in 2021, he was traded.
Wilson listed his Washington house for $36 million. His previous home had 11,104 square feet with six bedrooms and seven bathrooms.
The couple pipped former Broncos coach Mike Shanahan to the post with their $15.7 million property set in the same neighborhood as his $16.9 million estate.
When the Seattle Seahawks traded Wilson to the Denver Broncos, the Nine-time Pro Bowl QB will deal with a third year of his four-year $140 million contract with his new team.
Wilson was traded to the Broncos late last month in a big move that surprised many observers. It looked pretty likely that the Seahawks were going to keep him for 2022 until they got an offer they couldn't refuse.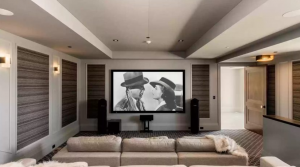 Seattle Seahawks quarterback Russell Wilson and his singer-songwriter wife Ciara are now listing their Bellevue, Washington mansion. The home includes six bedrooms, seven bathrooms and 11,104 square feet of property. But they'll be moving to Colorado for their home where the square footage will increase to 20,060 square feet.
Almost a month prior to the sale of their Englewood property on April 1, Mango Cherry Hills LLC sold it to Duchess Investment LLC.
Wilson has a childhood friend named Scott Pickett, who is listed as the manager of Duchess Investments. Pickett serves as president of the Russell Wilson Quarterback Academy, the co-founder and camp director for the Russell Wilson Passing Academy and a board member at Wilson's Why Not You Foundation.
The buyer of the nearly 5.5-acre spread in Adams County has yet to hit the internet and it is unknown what was paid for the property, but the sale set a record for the most paid for a residential property in Denver, blowing away the previous one set in 2020 when a penthouse atop downtown's Four Seasons Hotel was sold for $16 million.
Tax records and other documents reveal that the seller of the property is an LLC owned by billionaire Gary Magness, a businessman, investor, and occasional film producer whose handful of credits include the acclaimed 2009 film Precious. Magness acquired the property in 2012 for $7.5 million and re-built the house from the ground up. Marketing materials from when the property was last on the market show it occupying a long drive that swoops across its manicured grounds.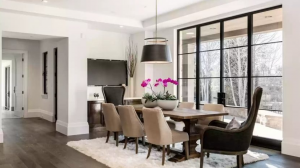 Despite their new digs costing them much less than the $36 million they're asking for their deluxe Seattle-area home, they are increasing living space from 11,000 square feet with six bedrooms and seven bathrooms to more than 20,000 square feet with four bedrooms and seven bathrooms. They also have a section of an apartment plus two separate guest rooms and bathrooms.
The three-story home is decorated with several fireplaces, a double-height foyer, a circular staircase that floats in the air, numerous entertaining spaces including a paneled formal dining room and a lacquered library. Every bedroom includes its own en suite bathroom, and the principal suite has two luxurious marble baths. The mansion also features an indoor swimming pool and spa, a state-of-the art screening room, an indoor basketball court and yoga studio and gym that overlooks it.
Duchess Investments LLC., an independent investment firm based in Seattle, bought the two-story Englewood listing, according to a deed filed with the Arapahoe County Clerk and Recorder's Office, according to Lily O'Neill at BusinessDen.
The former Seattle Seahawks quarterback PAID for a home purchase with Duchess Investments, per GeekWire.
Cherry Hills Village, a suburb of Denver, is ranked No. 7 in Colorado as the best place to raise a family by Niche.com. It has an overall grade of A+. For three categories it rates Cherry Hills Village, it has a grade of an A+, "public schools", and "good for families."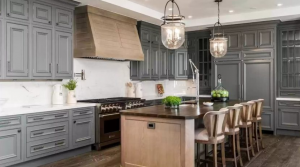 The Rocky Mountain estate is exquisitely sophisticated, situated on one of the highest points in the Front Range. The grounds are filled with an outdoor fire pit, surrounded by thirty-foot trees, and covered with a large chandelier that hangs from the center of its circular sward.
Cherry Hills is no stranger to sports stars connected to the Broncos franchise. Peyton Manning and John Elway have both called the small town home. And until last year, when it was sold for $15.7 million, former Bronco's head coach Mike Shanahan owned a 32,000-square-foot mansion just two doors down from Wilson and Ciara's new home.
Russell Wilson's move from Seattle to Denver is complete after the quarterback and his family purchased a home in Cherry Hills Village.
Wilson, after 10 years and two Super Bowl appearances with the Seahawks, agreed to a trade to Denver in March, praised as one of Seattle's biggest sports transactions.
When the athlete and "Boy Like a Boy" singer left Bellevue, they left behind a stunning home they had purchased.
The couple bought their lavish home in 2015 for $14.9 million and boasted about the grandiose details of its interior.  One of the "grand details" included a kitchen that was hand-carved by Romanian artists to fit their dimensions.
The house has five fireplaces, skylights, a private dock and panoramic views of the lake, skyline. Moreover, there is a fitness room, library and bedroom space with a 200-square foot custom closet.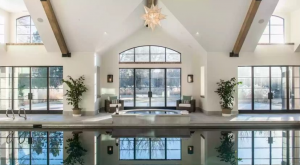 Russell Wilson was traded from the Seattle Seahawks to the Denver Broncos during the NFL offseason, so it's only fitting that he find somewhere to live in his new work city.
The Wilson family's Washington home was just over 11,000 square feet (compared to their new one which is 20,060 sq. ft.).
The 11,104-square-foot home has a gym, dance studio, and yoga studio on the bottom floor, a cinema theatre room on the top floor and a private boat dock. The house also includes 2 parcels of land that are each appraised at $8 million.
Russell Carrington Wilson is an American footballer who currently plays for the NFL team Seattle Seahawks. Prior to playing football, Wilson was once considered unfit for athletics due to his quarterbacking abilities. However, a breakthrough at college and immediately after pro-stage allowed Russell to prove people wrong and earn himself the fans he commands today. The following year, 2016, Wilson signed a new contract with his team valued at USD 87.6 million.
While Wilson is busy winning championships for his new team, Ciara is getting set to play the next cast member of The Color Purple. According to Entertainment Weekly, she'll be staging the show from Broadway later this year.
A film is being filmed based on American Idol winner Fantasia Barrino's autobiographical novel, which will tell the story of Celie, a young Southern woman living in the early 1900s. The project will star Ciara as Nettie, an adult that befriends Celie and aids her to escape a life of oppression towards freedom.
The cast includes stars Danielle Brooks, Taraji P. Henson and Colman Domingo. Some other actors in the production are Corey Hawkins, HER, Louis Gossett Jr. and David Alan Grier.
Steven Spielberg and Oprah Winfrey produced the highly anticipated project. Quincy Jones, Scott Sanders, Alice Walker, Rebecca Walker, Mara Jacobs, Carla Gardini and Kristie Macosko Krieger are also producing alongside executive producers Adam Fell.
That's it for this blog TTP Member, remember to subscribe to our channel and if you feel like we've delivered value please share this blog with ONE person. That's right just one person as a token of your appreciation for the hard work we put into making content that educates and helps you on your mission of building your own fortune. Remember you can read blog after blog, but it isn't until you actually take action that you'll start to see results. See you soon!
---