Shaq Gets a New Shack in a Dallas Suburb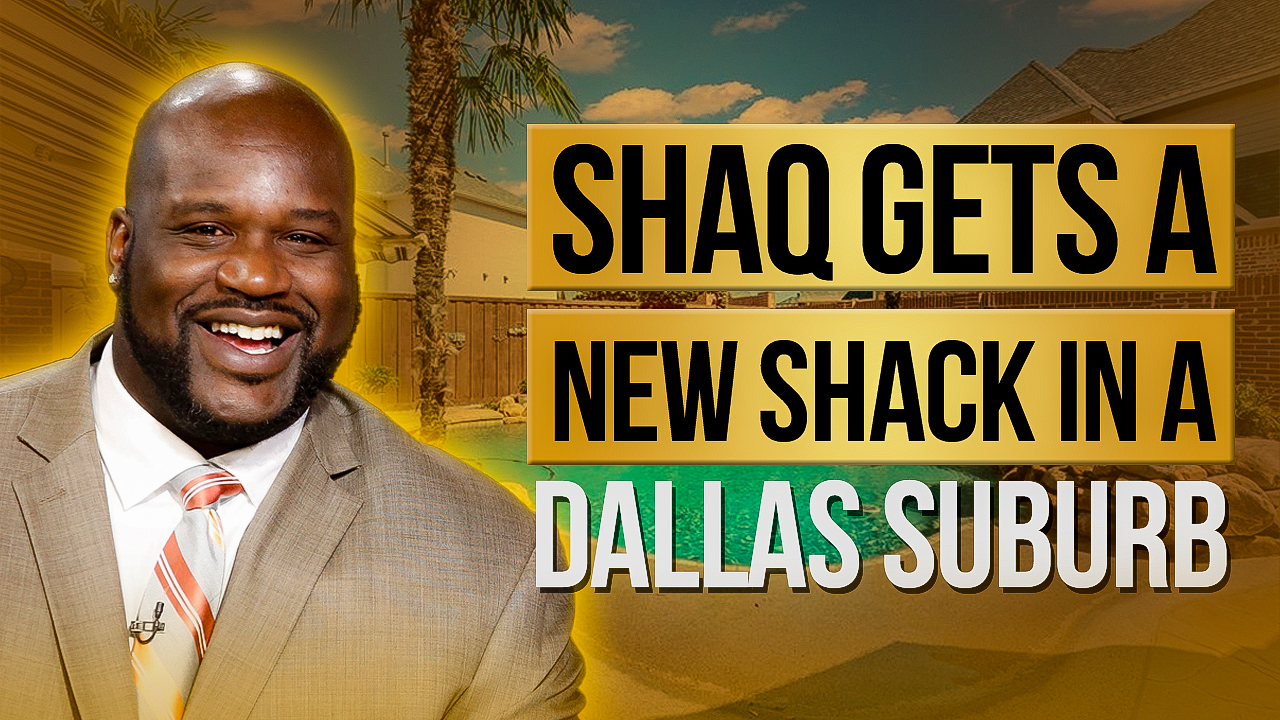 Hello, people. Welcome to the TTP Youtube channel. They say everything is bigger in Texas, but Shaquille O'Neal's suburban Dallas home is only one-sixth the size of the massive Florida mansion he sold last year. 
News of Shaq's house sale is only now making headlines as Dallas Morning News and Candy's Dirt have obtained records of the final sale price. If you want more celebrity real estate content, subscribe to the TTP Youtube channel and hit the notification bell.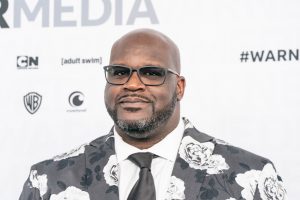 The purchase was made in late September, but the exact price on the house is unknown. With a net worth that typically estimates to be around $400 million, his new residence must have cost him much less than he could afford.
With a three-story elevation, the stately stone-quoined European-inspired mansion covers 5,300 square feet with five bedrooms and five bathrooms.
The striking front door boasts four fluted columns outlined in stone, and between those are two Corinthian columns. In the foyer is an elegant formal dining room with a library office on one side and an expansive great room. The high ceilings must have been quite appealing to Bryant.
The property cost more than $1.22 million dollars last year, but what price can you expect to pay? There is no final sale price yet, but given the booming real estate market here in the last year, it's likely that it will cost more. 
The European style manor comes with 5,000 square feet, featuring a foyer with two Corinthian columns and five bedrooms with seven bathrooms. There's also a formal dining room and library/office that highlight its well-designed modern fireplace. Its swimming pool is lined by glass pools to allow backyard guests an expansive view of the rest of the property.
There is also a three-car garage with ample room for the seven-foot-one giant.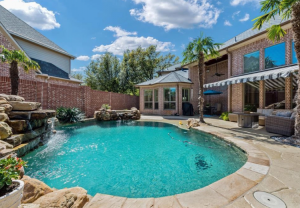 He's becoming a generous neighbor to those in need of food, paying for their shopping and giving them cash.
Shaq stated, "I just want to make people happy."
However, the power of the retired NBA veteran may be priceless when he passes by one more in his Dallas, Texas area.
There is a video of Shaq giving someone food and money on the Instagram handle of Hot Freestyle.
Dallas' newest celebrity resident seems to be making a big difference for his community by giving back.
Shaquille O'Neal recently visited a Dallas-area Best Buy store, and traded some cash for a washing machine the couple was there to buy, per a Page Six report. The former NBA player also threw in a 70-inch TV for them, just for the fun of it.
The interaction was captured on video and posted to Instagram on the 4th of July.
Real estate agent Zac Gideo posted on his Instagram about the home sale in late May.
O'Neal is reconnecting with his roots. He spent some of his childhood in San Antonio, where he played high school ball and won the title of the Texas 'Mr. Basketball.'
Realtor.com notes that the home was priced at $1,224,900 in April, when it was last on the market.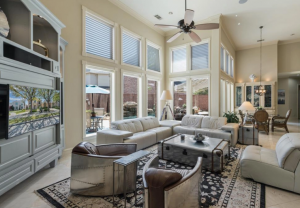 The 5,269-square-foot home includes five bedrooms, seven bathrooms, a "deluxe" office with built-in shelving and fireplace, according to Realtor.com. Other listed accommodations include a gym, home theater, three-vehicle garage, spa and the exterior of the home features a covered patio, pool and waterfall.
Gideo found the perfect home for him virtually, which helped with the process.
It's not a luxurious Park Cities estate like Dirk Nowitzki's. It's not a sprawling Southlake mansion like Jermaine O'Neal's.
It's a typical suburban Texas home where dues to the homeowners association require people to recycle twice per year.
The house has five bedrooms, five bathrooms, a couple of powder rooms, a standard-size kitchen, and an in-ground pool complete with a waterfall and spa. That's not even mentioning the dirt.com described it as a "stone-quoined European-inspired manor."
It has a beautiful exterior, warm interior lined with polished hardwood paneling and marble floors. On the great-room side walls is a three-piece electric fireplace with high ceilings to create a luminous atmosphere.
Upstairs a movie theater with tan leather seats, and a three-car garage. Other amenities of the house include a gated motor court, a patio which has an awning overlooking your pool and spa that is connected to the neighbors and is also directly accessible from the backyard.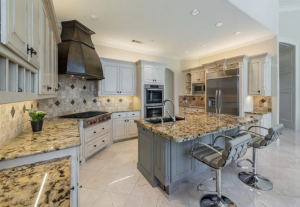 Shaq sold his 31,000 square foot Windermere Florida home last October for $11 million. He currently owns a modest home in Ladera Heights and a 14 acre compound 30 miles from Atlanta. 
Born in San Antonio, O'Neal graduated high school at Robert G. Cole High School and was later attending LSU when his NBA career began to take off.
He has played for many teams, including the Orlando Magic, Los Angeles Lakers and Boston Celtics, but O'Neal never played for a Texas team.
In February, the basketball legend announced "The Big Chicken" expansion into Texas. With the popularity of "The Big Chicken" increasing, it is possible to see more of him in the near future.
There's a second floor master bedroom with an oval window, along with four more bedrooms and bathrooms. The home theater seats people in leather recliners.
The home features two attics, a three-car garage and more, perfect for summer weekends. There is also an awning-shaded patio on the side of the pool with a stone fountain and fountain spa that can be enjoyed by guests.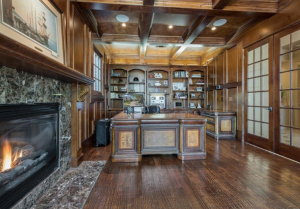 Cindy O'Gorman at Ebby Halliday represented the seller; Zac Gideo of Rogers Healy and Associates handled the transaction for Shaq.
According to Gideo, "Shaq & Zac has a nice ring to it. It was a pleasure and an awesome opportunity to help you find your new home in Dallas."
After more than four years on and off the market, Shaquille O'Neal finally sold his 31,000-square-foot Windemere, Fla., mansion for $11 million last October. The asking price was $28 million before it finally sold for less than half of that at the end of 2016. He still owns a modest home in the Ladera Heights area of Los Angeles and an estate outside of Atlanta with 14.3 acres.
Shaq recently visited the St. Philip's School and Community Center here in Dallas as part of a fundraising effort to help fund their school and community center operation.
With four NBA Championship rings to his name, becoming a billionaire is easy for the tireless businessman–and he is also a rapper! Being part of films and TV shows is just his normal everyday routine. He has appeared in over two dozen films and shows and he started his own restaurant chain.
It is a typical suburban home in a gated community, where homeowners' association fees are paid twice a year. It's required to separate recycling materials every other week.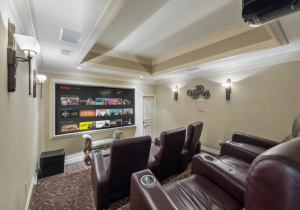 It is far removed from the 12,000-square-foot Windermere, Florida house O'Neal sold for $11 million in October. In 2018, Shaq told Ellen DeGeneres that he only used two rooms regularly in his 11,000-square-foot mansion.
"The kitchen, because I like to eat — and the bedroom, because I like to sleep," he shared.
This new Shaq Shack is located near bus and train station homes, has highly sought after restaurants nearby, and is within close proximity to one of the top known for its delicious Beaver Nuggets.
Shaq is planning to expand the Big Chicken Restaurant chain Texas, so this particular location makes it convenient.
The front door is flanked by four fluted stone columns with two more Corinthian columns standing between the foyer and the formal living room.
His library/office boasts hand-crafted paneling and brown marble floors and a large fireplace.
The front room is modest in size, but it's been staged with a piano where O'Neal and Barkley can sing and play duets.
The main-floor primary suite has an oval window that adds elegance to the bathroom. The primary suite was staged in photos with a standard king-size bed. It's not known whether Shaq will bring in his Superman-themed bed, the 15- by 30-foot bed – where do you get sheets for that sized bed? – he showed off on MTV Cribs.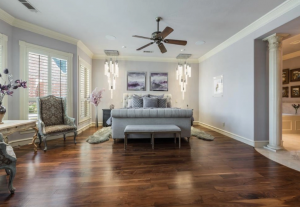 The house has a small home theater with tiered seating in leather recliners, featuring TNT's show "Inside the NBA" analyst Shaquille O'Neal.
The kitchen features a large venting hood, just high enough for O'Neal to bump his head. The range has six burners.
There is a motor court, three-car garage and two attic spaces for the trophy crates.
A patio looks out over the lagoon-style swimming pool. The pool is too tempting, in fact, and reminds O'Neal of a time he did a cannonball into his neighbors' pool in Florida. Now that Shaq is living back in LA with some of his former gang members, the connection to this nostalgic moment is stronger than ever.
For whatever kind of neighbor Shaq turns out to be, he's already endeared himself with North Texans — buying things for needy residents, posing for selfies and showing up at a basketball camp.
Although he can't speak on behalf of the company specifically, Gideo says that it has a lot to do with travel. It turns out he travels frequently for different reasons.
Mark Cuban, the owner of the Mavericks and also the owner of a 35-acre estate in Preston Hollow, says he hasn't seen Shaq's home.
According to Cuban, "I'm sad he hasn't invited me. Particularly since he has been to my house!"
Shaquille Rashaun O'Neal, often known as "Shaq," is a 7-foot-1-inch (2.16 m) and 325-pound (147 kg) former center for six teams, four NBA champions, and a Hall of Fame player.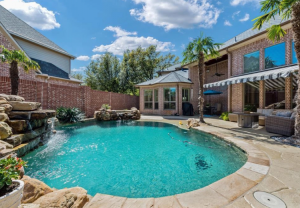 O'Neal has been honored with many individual accolades throughout his career that includes being awarded champion in the NBA MVP, Rookie of the Year, All-Star Game MVPs and Finals MVPs. He was recognized as one of the greatest players to ever play by being inducted into the Hall of Fame twice.
O'Neal is an avid NBA player, also known as 'Shaq'. Aside from playing basketball, he has released four rap albums and has been involved in the creation of electronic music under a pseudonym called DIESEL. He also plays a DJ in nightclubs and stars in his own reality shows about himself. O'Neal is part owner of the Sacramento Kings and is the General Manager of their gaming team entitled King Guard Gaming.
O'Neal was born on March 6, 1972, in Newark, New Jersey, to Lucille O'Neal and Joe Toney, who played high school basketball (he was an All-State guard) and was offered a basketball scholarship to play at Seton Hall. Toney struggled with drug addiction and was imprisoned for drug possession when O'Neal was an infant. Upon his release, he did not resume a place in O'Neal's life and instead agreed to relinquish his parental rights to O'Neal's Jamaican stepfather, Philip Arthur Harrison (died in 2013), who also provided stability for him growing up. Toney remained estranged from Dr. J for decades; although O'Neal grew close with his biological father after he died in 2016.
He was born to tall parents, his father and mother were 6 ft 1 in (1.85 m) and 6 ft 2 in (1.88 m) tall respectively and by the time he was 13 years old, O'Neal had already grown to be 6 ft 6 in (1.98 m). O'Neal attributed his success to the Boys & Girls Club of America, saying that the organization made him feel safe and kept him out of trouble. "It gave me something to do," he said "I'd just go there to shoot or cut." The family moved often due to his stepfather's career as a military man but he eventually ended up living with O'Neal for six years after his return from Germany.
After returning from Germany, O'Neal's family settled in San Antonio, Texas. At the age of 16, O'Neal had grown to 6 ft 10 in (2.08 m) and he began playing basketball at Robert G. Cole High School. He led his team to a 68-1 record over two years and helped the team win the state championship during his senior year. He also earned 791 rebounds during the 1989 season with a tendency to take hook shots that he became most known for in comparison to Kareem Abdul-Jabbar that influenced him to wear Bron James' number 32.[25] One issue though that high school did not assign 33 jersey numbers, so Paul chose 32 instead before college.
After graduating high school, O'Neal attended LSU and played basketball for Coach Dale Brown. He was first put in contact with Brown as his stepfather was stationed on a base in Germany. O'Neal played for Coach Brown at LSU and received two All-American awards, two men's basketball conference player of the year honors, and the Rupp Trophy from NCAA as college Player of the Year.[26] When he entered the NBA, O'Neal continued his education, graduating from LSU with a degree in business. His bronze 900 pound statue is located outside of Memorial Gymnasium.
O'Neal led the Magic to a 20 game improvement in the season before becoming their leading scorer and winning Rookie of the Year honors. O'Neal, drafted first overall as Terry Catledge would not give up his jersey number 32 said that he picked #32 because Toronto Raptors great Terry Catledge refused to give him any of his retired jerseys. He won NBA Rookie of the Year honors for his effort averaging 23 points, 13 rebounds, and 3 blocks per game. The main goal for the Magic was not making it into the playoffs which they did by losing out a tiebreaker with Indiana, resulting from similar team records.
In 1993-1994, Shaquille O'Neal was in his second season and coach Chuck Daly had put Penny Guokas in charge of the front office. With more minutes per game and a higher field goal percentage this season, Shaquille was the second highest scorer in the league, with 29.4 points up to David Robinson's 31.8.
In the 1995 NBA Playoffs, Shaquille O'Neal led the NBA in scoring with a 29.3 point average and finished second in MVP voting to David Robinson and entered his third straight All-Star Game. They formed one of the league's top duos and helped Orlando to a 57-25 record and the Atlantic Division crown. The Magic won their first ever playoff series against the Boston Celtics and then defeated the Chicago Bulls. After beating Reggie Miller's Indiana Pacers, they reached [the] NBA Finals by beating Hakeem Olajuwon's Houston Rockets in four games.
That's it for this video TTP Member, remember to subscribe to our channel and if you feel like we've delivered value please share this video with ONE person. That's right just one person as a token of your appreciation for the hard work we put into making content that educates and helps you on your mission of building your own fortune.  Remember you can watch video after video, but it isn't until you actually take action that you'll start to see results. See you soon!
---