Valerie Bertinelli Asks $2.54 Million for Her Lovely Los Angeles Home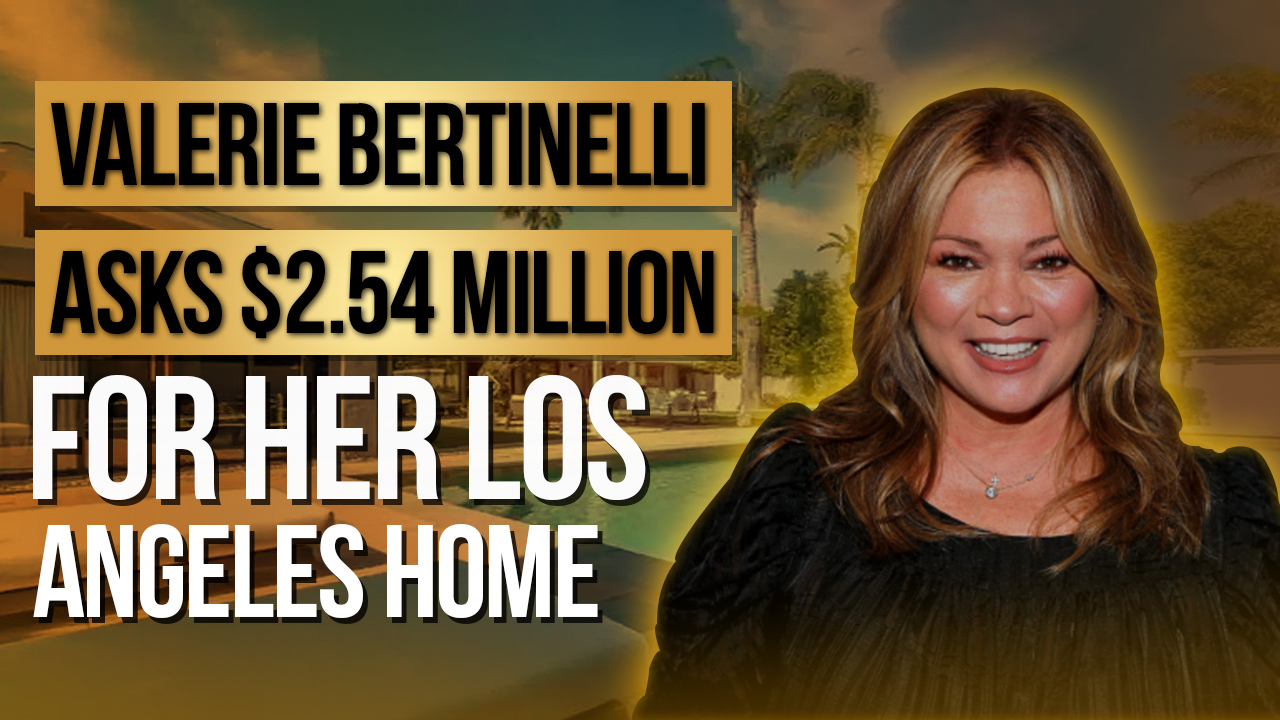 Food Network star Valerie Bertinelli has served up her delicious digs, according to the website Dirt. Her Los Angeles abode is now on the market for $2,549,000. For today's blog, exclusive to our TTP members, we will be talking more about the food network star, Valerie Bertinelli, and her lovely Los Angeles home. Now without further adieu, let's get into the blog.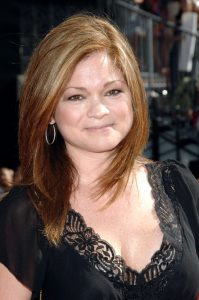 Considering how short a time she has had, Valerie Bertinelli has found interest in one of her homes in the L.A. area. She is a television veteran and has been on Food Network several times. The house, which is perched high in the Hollywood hills and is situated on Mulholland Drive, has been updated extensively with three bedrooms, three bathrooms and more than 2,500 square feet. The home is now up for sale at a profitable amount above the $1.92 million she originally paid for it. Chiefly remembered for her breakout role on the 1970s and '80s sitcom "One Day at a Time," which earned her a couple of Golden Globes, Bertinelli has since appeared in dozens of television shows and TV movies, including "Touched by an Angel" and, most recently, the early 2010s sitcom "Hot in Cleveland."
Passionate about food, since 2015 she's hosted a couple of Food Network cooking shows and recently closed a new deal to continue creating content for the Discovery-owned network. According to Bertinelli, the decision to sell her home in the Hollywood Hills may or may not have a connection to her recently filing for divorce from her second husband, financial planner Tom Vitale. While their divorce proceedings are underway, Bertinelli's first husband was late and legendary rocker Eddie Van Halen; they share an adult son Wolfgang.
The home is an endearing single-family mansion that has a stunning panoramic view of the San Fernando Valley and was constructed in 1962. It also offers one of a kind views of the great sprawl and sits on a quarter acre lot. The heart of the home is the great room, which has ash brown flooring, walls with beamed ceilings, and a three sided fireplace. With glass sliders that provide access to the backyard from inside, this home is full of character. The kitchen comes with all new appliances and trendy black-and-white patterned tiles. The pantry is separated from the cooking area. The center of the floor is made of snow-white quartz while the cabinets are dark blue and the shelving is made from rustic wood planks.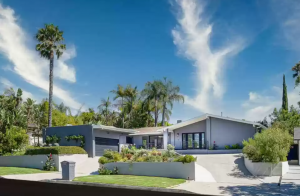 Valerie Bertinelli has had two Daytime Emmys, of which she received in 2019, as well as 4 additional nominations. The property boasts Valerie's Food Network show "Valerie's Home Cooking", and the open-concept kitchen in the listing is featured on that show. Fans of Valerie's Home Cooking will recognize the kitchen. It has been featured in Seasons 1, 2 and 3 of the show. The appliances are stainless steel, the counters are quartz, and there is a full-size fridge. There is also a large island with bar seating to host friends while cooking up a feast. Bedrooms are average in size and the guest bathroom is contemporary. The primary suite has a walk-in closet custom fit for an ebony-tiled bathroom, where retractable windows open it to the backyard.
Bedrooms are average in size and the guest bathroom is contemporary. The primary suite has a walk-in closet custom fit for an ebony-tiled bathroom, where retractable windows open it to the backyard. This backyard has great privacy with tall and foliage, which provides a semi-nude atmosphere. It was designed for lounging and relaxation. There is plenty of space for outside dining and there is a vine covered canopy. There is also a fire pit near the rectangular pool. The elegant primary suite looks out to the pool and comes with a custom closet and an updated bathroom.
A bestselling author of several books and cookbooks, who maintains an Instagram account dedicated to her cats and frequently uses her own Instagram to both inspire others and talk candidly and emotionally about her own struggles with weight and body issues, Bertinelli has long made her primary home in Malibu, where she has owned the same traditional home set on a high bluff above scenic Lechuza Beach since she and Van Halen bought it way back in 1984. This specific property is worth many times more than what they paid for it. Records also show that she has long owned a contemporary home in the hills above Studio City. She acquired this home not long after she and Van Halen split up.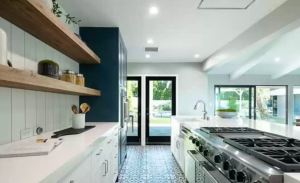 So who is Valerie Bertinelli? Valerie Anne Bertinelli is an American actress. She has won many awards, including two Emmy Awards and two Golden Globe Awards. She was awarded a star on the Hollywood Walk of Fame in 2012. Though she first gained recognition as a child actress on TV show One Day at a Time, Bertinelli has been in many movies and TV shows since. She won two Golden Globe Awards for her work on One Day at a Time and was nominated for another Screen Actors Guild Award for her role as Melanie Moretti on Hot in Cleveland. In December 2020, Bertinelli signed a new contract with Food Network.
She is currently hosting several programs for the company, such as cooking shows Valerie's Home Cooking and Kids Baking Championship. These have both been nominated for multiple Daytime Emmy Awards, with Valerie's Home Cooking taking home two of them. Bertinelli has been married to Eddie Van Halen for 29 years as of 2018. They have one son together, Wolfgang. In 2011 she divorced her husband Tom Vitale and in 2021 they separated. Bertinelli was born in Wilmington, Delaware to Nancy and Andrew Bertinelli.
Her father is of Italian descent and her mother is of English descent. She has three brothers: David, Patrick, and Drew. Her elder brother died at 17 months old from an accidental poisoning before she was born. The family has moved around a lot due to her father's occupation. At various times, they lived in Claymont, Delaware; Clarkston, Michigan; Shreveport, Louisiana; and Oklahoma City. The family then settled in Los Feliz, where Bertinelli attended classes at the Tami Lynn Academy of Artists and studied acting at Granada Hills High School.
Following her appearance on an episode of the Apple show, "Way", she was approached by producer Norman Lear to audition for the role of cooperative daughter Barbara Cooper in a new sitcom called One Day at a Time. The show debuted when Bertinelli was 15 and she appeared in all but one/every episode before it left the air on May 28, 1984; she won two Golden Globe Awards for her performance. On an episode of the television show One Day at A Time, which was released in 2005, Bertinelli had a reunion with some of her original cast members from the show, Bonnie Franklin, Mackenzie Phillips, and Pat Harrington Jr. They were watching clips of the show and talking about additional actors who were no longer on the show, as well as Mackenzie Phillips's struggles heroin addiction to produce drama on set.
After One Day at a Time, Bertinelli started starring in made-for-TV movies and miniseries, as well as making many guest appearances on TV shows. From 1990 to 1997 she starred in two short-lived sitcoms: Sydney, with the title role of a private detective (with Matthew Perry and Craig Bierko), and Café Americain. For Touched by an Angel's last two seasons, Bertinelli became the spokeswoman for Jenny Craig until 2007. The first book is an autobiography of Jenny's life and ends with her experience with the Jenny Craig weight loss program. The second is a continuation of the first and focuses more on how she regained her life after the program.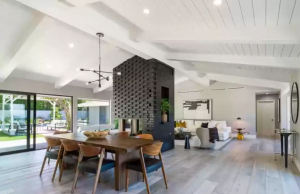 In 2010, she began starring in the TV show Hot in Cleveland. She was one of four women, along with Betty White, Wendie Malick and Jane Leeves. The last episode aired on June 3rd of 2015 and it had a successful 6 season run. In 2015, Bertinelli began hosting two shows on the Food Network, Valerie's Home Cooking with cake artist Duff Goldman and Kids Baking Championship. She won two Daytime Emmy Awards for her work. In 2019, she hosted two other Food Network shows, Family Food Showdown and Family Restaurant Rivals. In 2021, it was announced that Bertinelli will star with Demi Lovato in the pilot for an NBC comedy. In December 2021, she also starred in a new Food Network series. In her memoir, Enough Already: Learning to Love the Way I Am Today, available now, she talks about her struggles with weight and body image.
She married Eddie in 1981. They had a son, Wolfgang, who bears a name that is well-known internationally. Bertinelli used her privilege to pass on famous cultural names to her son as opposed to Americanizing his name. The couple separated in 2001 and divorced in 2007. According to her autobiography, one of the main reasons for Bertinelli's divorce was her husband's cocaine addiction. He also refused to quit smoking, despite being diagnosed with oral cancer and losing one-third of his tongue during treatment. In May 2010, Bertinelli announced her engagement to financial planner Tom Vitale, with whom she had begun a relationship in 2004.
Bertinelli and Vitale were married on January 1, 2011 in Malibu, California, with Bertinelli in a custom-made dress by designer David Meister. Bertinelli has four step children with her ex-husband, Eddie Van Halen. They also have mutual custody of their son, Wolfgang Van Halen. Sammy filed for divorce from Eddie on November 24th of 2021, with the reason being irreconcilable differences. Bertinelli, who has struggled with her weight, lost a total of 40 lb (18 kg). Bertinelli ran in the April 2010 Boston Marathon to benefit the Dana-Farber Cancer Institute, completing it in a time of 5:14:37. In 2014, she appeared on Who Do You Think You Are? and found out that she is descended from King Edward I of England. 
There you have our TTP blog for today. Now, what do you think about the mansion? Let us know in the comments below. Don't forget to subscribe to our channel, click the notification bell, and like this blog. If you think that we have delivered value please share this blog with one person. Just one share is enough for us, for you to show your appreciation for the commitment and hard work we all put together in creating this blog that teaches and helps you on your mission of building your own fortune. And you don't know that one share could go a long way. And keep in mind that no matter how many times you're going to read this blog, you won't see any results unless you take action. Good bye and see you at the next one!
---